History of my Morris Cowley Tourer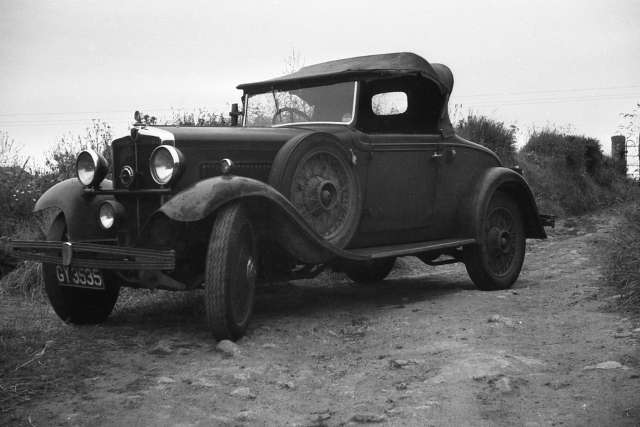 The car was first purchased in my family by my brother, in February 1957 when he was a Houseman at Hillingdon Hospital. He removed the body and cleaned the chassis and applied under-seal before replacing the body and the hood and other items. The photo shows the car as it was in 1958.
When he had the opportunity to buy a 1930 Aston Martin International he gave me the Cowley as a Christmas present in 1960 – when I was 23. I have had it ever since.
After I had known of the gift but before I took over the car it threw one of its (duralumin) con-rods on a main road near Aldershot and I came down from College in Newcastle to fix it. Regrettably in the intervening period the hood frame, pedal rubbers and various tools were stolen. We located a spare engine at a scrap yard nearby and removed its cast iron con rods. With no time to fit all four con-rods, only one of these was fitted and the big end shell scraped in with engineers' blue by the roadside – making practical use of an earlier engineering apprenticeship at Metro-Vicks in Manchester. A hood from a Morris 8 Tourer at the same scrap yard was found to fit and this frame is still with the car today. After this, I drove the car all the way to Newcastle on Tyne; joining the AA en route for safety…
The car served me well whilst I was at College during which time I brush painted it – using Dulux grey for the body and black for the wings I remember, since I had no access to cellulose paint, and I made my own double-duck hood to fit the frame. Because I had no access to a sewing machine - let alone an industrial one - I formed all the seams using Bostik and used rope to form and stiffen the edges round the side screens. The car served to transport many other students on overloaded trips to and from Whitley Bay and then came with me when I resumed my apprenticeship and later took a permanent job with Metropolitan Vickers (by then AEI Ltd) in Manchester.
In 1963/4 and as a result of running with the three duralumin con-rods and one cast iron one, the crank shaft broke across inside one big end journal. It made an extraordinary noise that brought people out of their homes thinking there had been a collision! A spare engine was identified (It was CB348548) and the crankshaft from it used in a restoration by Roscoe Howard & Tickle Ltd of Pendleton in Manchester - now sadly out of business since 05/09/1995 . Whilst then a reliable runner, the Bishop's cam steering had developed a great deal of play and was very stiff at full lock. After it jammed at full lock in Washway Road in Sale (Cheshire) in the rush hour too – the wheel had to kicked straight to get home – the car was pensioned off pending restoration. That was 1965.
Since then it has followed my wife and me wherever we have moved and its garaging needs have been a major decision factor in choice of house. Several false starts at restoration then occurred until, in 2000 and following my retirement, I commissioned the Cooke Group to un-seize the engine and make several other repairs etc. They also got the engine to run!
At last in 2011 more time was devoted to it and by 2012 the engine was run at a special 80th birthday party!, though it is currently (and, I now know, mistakenly) fitted with a magneto. Following years of believing that the 'original' 'terrible' coil conversion was a later addition I now know it was the actual Morris approach. Something else to be fixed. (2015: A new coil conversion was purchased and later fitted!)
In the past few years I have been greatly indebted to Dave Ward of Caddington, Bedfordshire who has helped bring the car to within a whisker of running.
The car was aged 80 on 18th June 2012. By 2014 it was repainted, had new seats and as of June 2014, it had a new hood. Nearly ready for a run.
The Cowley subsequently made it to the 2014 Kop Hill Climb and 'did' the hill too! OK it was trailered there - but it had only been round the block at home once before (and had never even got into top gear either) and Kop Hill is an 80 mile round trip from here!!
See a video of the start of the 'run' here... http://bit.ly/cowleykophill. Below is a 'still' taken when we had just got the car into top gear (for the first time in decades) but just before the hill really starts to get much steeper and changing down to bottom gear whilst on a very steep hill, something never performed on this car since 1965, was imminent! Hence the concentration on the faces of the occupants!! Thankfully 'memory served' and all was well, but we took it slowly coming back down the other side of the hill since the brakes too had never really been tested before then either. Exciting times.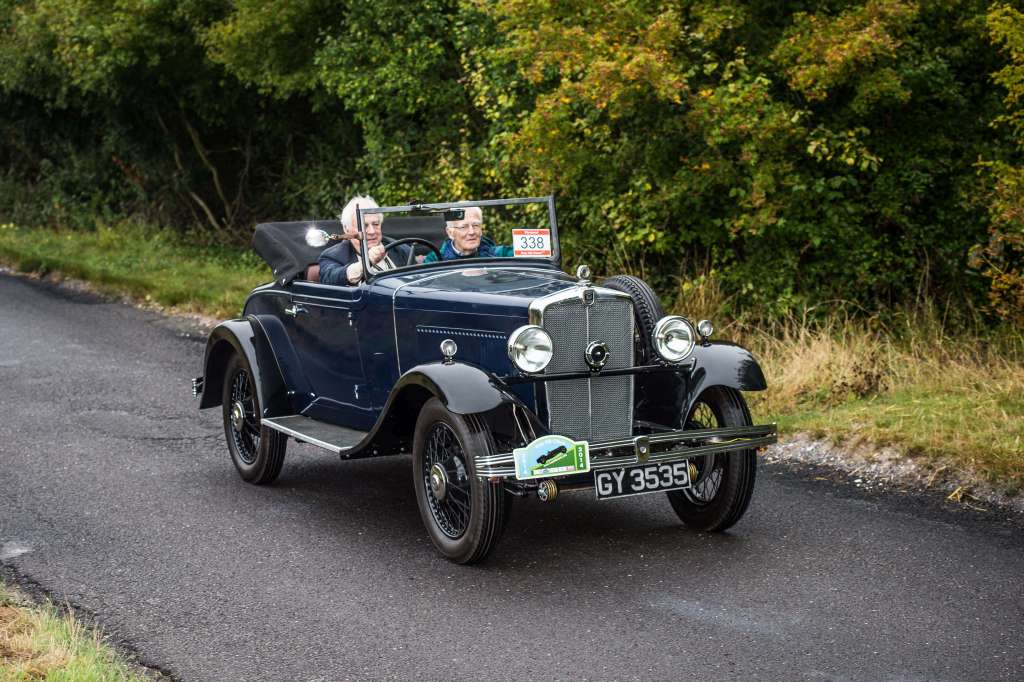 Click here to look at - or even purchase from Snapfish if you wish! - a series of photographs showing stages in the restoration...
You only need to log into your Snapfish account - or of course to register if you haven't got one yet
29/05/2019