Sunshine at Clifton Park - Rotherham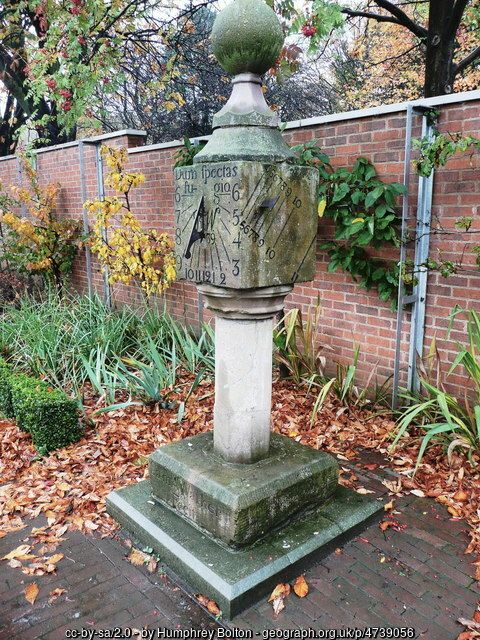 Image copyright Humphrey Bolton and reproduced here with permission

A NEW 'Sunshine Corner' has returned to Clifton Park in Rotherham. The refurbished Grade II listed Walker Sundial has been unveiled in its new home–the park's walled garden.
The stone structure was commissioned and made by sun dial maker Samuel Walker in 1739.

Samuel (1715-1782) ran a School at Grenoside until 1746, but boosted his income by making sun dials. Now they are regarded as of historic importance. In the 1970s, his sundial was moved from its previous home at Ferham House and placed in the sunken garden behind the Clifton Park Museum. It stood there until about eight years ago when it was laid flat after being damaged by vandals.
But now the sundial, complete with brass gnomon, has been fully restored thanks to the generosity of 19 different companies who have worked as sub-contractors for UCS Civils Ltd, the company which has spent the past year working on the park's massive £7.5 million renovation programme. Paul Turner, site agent for UCS Civils, collected the contributions because he wanted to put something back into the park as the contract nears completion.
He said: "This has been a very different contract. It has been something very special and now with the collection all the companies involved have been able to put something back with the restoration of the sundial."
Elaine Humphries, chairman of the Clifton Park Friends Group, said the group was deeply indebted to the contractors and added: "Thanks to their kind donation we have been able to restore an important listed structure which is also an important piece of local history."
The new walled garden is just one of a series of major renovation and improvements works made to the 56-acre park during the past year thanks to funding through the Heritage Lottery Fund and Big Lottery Fund's Parks for People programme.
The dial is dated 'R.W. 1739', resited 1971. Ashlar sandstone. Chamfered square plinth inscribed 'Sam.I- Walker / Fecit '; shaft octagonal becoming cylindrical with moulded capital beneath cuboidal sundial; iron gnomons on principal faces beneath the inscriptions 'Dum spectas fugio ' and ' Sic transit gloria mundi ' and with date; flat, projecting blades on side faces. Two-stage plinth to ball finial.

Samuel Walker was one of the principal iron founders of Rotherham. Originally situated at Mr. Habershon's house at The Holmes, later moved to Ferham House before relocation at Clifton House. Illustrated in present form at original location by John Guest. J. Guest, ' Historic Notices of Rotherham ', 1879.
Historic England Record
Date: 28 May 2001 as part of the Millenium Survey
Reference: IOE01/04253/16
Rights: Copyright IoE Paul Eggleston. Source Historic England Archive
Archive image, may not represent current condition of site.
Restored 2009 Dial maker: Samuel Walker Fecit

Catalogue description
J.J. HABERSHON & SONS, ROTHERHAM, STEEL MANUFACTURERS
This record is held by Rotherham Archives and Local Studies
See contact details
Reference: SY/389/B
Title: J.J. HABERSHON & SONS, ROTHERHAM, STEEL MANUFACTURERS
Date: 1824-1958
Held by: Rotherham Archives and Local Studies, not available at The National Archives
Language: English
Creator:
JJ Habershon and Sons, Rotherham, steel rollers

Physical description: 8 Series
Access conditions:
Records are open for consultation unless otherwise indicated

Immediate source of acquisition:
On abolition of South Yorkshire County Council on 31 March 1986, the records passed from South Yorkshire County Record Office, by agreement of the four South Yorkshire District Councils, to the custody of Sheffield Archives as lead authority. They were then transferred to Rotherham Archives

Subjects:
WT Beesley and Co Ltd, Sheffield
Rotherham, West Riding of Yorkshire
Steel
Administrative / biographical background:
The works were built by Walker Brothers who bought the land and a slitting mill at Holmes Mills, Rotherham from the Earl of Effingham in 1757. In 1782 Matthew Habershon was employed by the Walkers. In 1829 he bought the Holmes Tin Plate works and shortly afterwards, with his sons Henry and John Jonas, he converted them into steel rolling mills.

In 1920 the company of J.J. Habershon and Sons Ltd was formed. It made steel strips, sheets and sections for pen nibs, cycle wheel rims and the motorcycle and car industries. The firm rolled the material for the stainless steel girdle strengthening the dome of St. Paul's Cathedral, and during the Second World War it made an extensive contribution to the aircraft industry.

W.T. Beesley & Co Ltd was set up in 1888 to purchase the Universal Steel Works, Rolling and Wire Mills in Attercliffe Road and Effingham Street, Sheffield from William Thomas Beesley. It was taken over in 1954 by J.J. Habershon and Sons Ltd, which was closed down in 1981
DISCE DIES NUMERARE TUOS. Learn to number thy days.

On an old school-house at Wortley, near Sheffield; at Dirtcar House, Wakefield, with No. 1172; and also on a large vertical stone dial in the kitchen garden at Barnes Hall, near Sheffield. The date upon this dial is 1738, and without doubt it was the handiwork of a very remarkable man, Samuel Walker, of Masbrough. He was of humble origin, born in the parish of Ecclesfield, and began life as a parish schoolmaster and a dial-maker. When fixing this identical dial at Barnes Hall, then occupied by Sir William Horton, that gentleman remarked to a friend, "Sam Walker will on day ride in his carriage." The words were prophetic, for in a few years Walker had laid the foundation of the largest ironworks in the country at Masbrough, near Rotherham, and his descendants have since occupied and still maintain a good position as country gentlefolk. See No. 248.

The first three words of this motto, with the date 1744, are also on the wall of Arundel Church, Sussex.