David Le Conte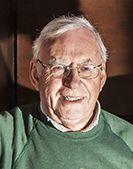 SunInfo is saddened to announce the death of the famous Guernsey diallist David Le Conte on the 11th August 2020.
David designed the wonderful Liberation Monument that stands in the square of St Peter Port. The monument includes a granite marker from which each anniversary (May 9) its shadow falls precisely on to a series of inscriptions linked to the time of day in 1945 when the Island was released from German occupation.

He also helped to design the Guernsey flag that was adopted in 1985 and was a Jurat of the Guernsey Royal Court. After taking his degree, David worked at the Royal Observatory in Edinburgh. Then he moved to Aberystwyth, Wales, where his research led him to work for the USA Smithsonian Institute in 1964, tracking satellites with optics and lasers on NASAís space programme.

He later became manager of the SI Maui, Hawaii astrophysical observing station and while there he photographed the 1968 Apollo 8 trans-lunar injection rocket burn, the first manned mission to orbit and return from the Moon.
Promoted to executive director of SIís Washington Research Foundation, he later moved to become department manager at Kitt Peak National Observatory in Arizona.
After his return to Guernsey, he became heavily involved in the Guernsey Astronomical Society.

16.11.20