The Recorder - Greenwich 2014 Edition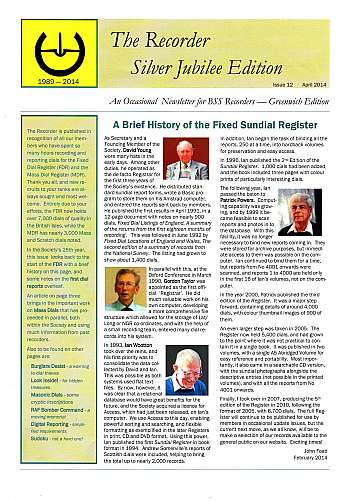 In line with past practice the Registrar, John Foad, produced a lovely 25th Anniversary Greenwich edition of the Recorder, the four page leaflet published to reflect the interests and issues associated with dial recording.
This Silver Jubilee Edition dwells predominately - though not exclusively - on the history of dial recording in the Society.
Contents include:
A Brief History of the Fixed Sundial Register - a compact history of the contributions made by the Society's various Registrars
Burglars Desist - a warning to dial thieves - A reproduction of the elaborate inscription on the equally elaborate fountain that holds the dial SRN 1209 at Dundas Castle in Lothian.
Look Inside! - A reminder that an exquisite Francis Barker EoT table is to be found inside, rather than outside, the church at Boreham in Essex.
Reports - The First Thousand; a description of the way in which Ian Wootton personally bound, free of any labour charge to the Society, the first 4001 submitted paper dial reports. Later ones have been electronically scanned and archived.
Mass Dial Recording - A history of the way in which mass dials have been recorded by key people over the years - all held in a separate society database.
Calling All Masons - again - Answers to questions posed in the Edinburgh edition of the Recorder regarding two inscriptions on Masonic related sundials.
Sundials with Stories - RAF Bomber Command - A simple dial on a very moving memorial in East Kirkby Lincs to downed WWII airman Christopher Whitton Panton.
A Sudoku-like puzzle - Strictly a 'Wordoku' puzzle; try your hand at solving this dial related puzzle.
Digital Reporting - A succinct summary of all that is needed to report a newly found sundial using email and digital images.
***The Recorder is distributed in printed form to all attending Conference delegates and up to and including, the time of 2012 Cheltenham Conference it has also been published later as a PDF on the Society's website. Sadly the 2014 Greenwich edition has still (2016!) not yet appeared on the BSS web site so denying this interesting publication to the majority of society members and of course to those non-members visiting the BSS web site. When this edition is made available, we shall alert members to it. In the meantime BSS members may contact the Registrar directly for an electronic copy of either or both of them***
23/04/2016