The Amble Dial 2001
Amble is in Northumberland, on the East coast of Northern England. It is at Latitude 55° 20' 12" N ; Longitude 1º 34' 18" W. Until recently a large and rather unsightly car park was situated adjacent to the war memorial at the end of the main street . For the Millennium, the Town decided to develop this car park in such a way as to provide a focus of interest for the town and to integrate the new development with the existing memorial clock tower in an imaginative garden and piazza scheme which has plaques describing events of local significance inset into a winding path that leads from the entrance to a small 50 seater amphitheatre at the rear. The whole is surrounded by gardens.
The centre piece of this scheme is a large horizontal sundial some 12m in diameter with inset numerals and a 7m high tubular stainless steel gnomon. The square and the dial were officially opened on the 27th May 2001 as a part of the Annual Amble Carnival Celebrations.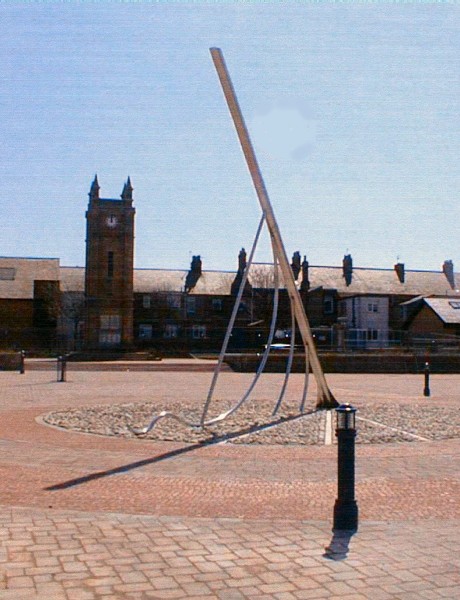 Picture: Jane Darbyshire and David Kendall Partnership
This imaginative development was designed by the Jane Darbyshire and David Kendall Partnership of Newcastle upon Tyne. It is a part of a more embracing regeneration of Amble which includes the shopping area, reconstruction of derelict areas and provision of a community resource centre.
The dial was delineated, the gnomon dimensions were established and the dial's installation was supervised, by Patrick Powers. Other consultancies were responsible for the artistic design work of the gnomon, the plaques etc. DP Builders of Amble were responsible for the works.
In February 2003 it was announced that the whole development of the Town had won the 2002 Award for Town Regeneration from the Royal Town Planning Institute. Congratulations are due to all who have contributed to this success.
More information from the JD&DK Partnership and the Royal Town Planning Institute..
Click HERE to see photographs of the final tests and the Opening Ceremony
Click here to go to Patrick Powers' own Web site: Sundials & Horses
09/02/03