The Discovery and Restoration of 'Enid Blyton's Sundial'.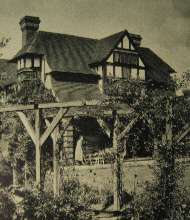 For the last 30 years of her life Enid Blyton lived at Green Hedges, 42 Penn Road in Beaconsfield. Green Hedges was the name given to the house by Blyton after a poll amongst her 'Sunny Stories' readership.
The eight bedroomed house had been built by one Charles Maggs around 1912 and it was he who commissioned a sundial which originally was positioned high up on the side (south) gable of the house. The dial as it was may (just!) be seen in this early image, below the window in the mock Tudor gable. Also to be seen is the style of brick pillar used to support the loggia underneath the dial.
All trace of the dial was lost after the house was demolished in 1973. Then in the summer of 2013, just after an Enid Blyton week of celebrations organized on behalf of The Beaconsfield Society and which had attracted national attention, a retired builder contacted Kari Dorme, a committee member of The Beaconsfield Society to say he had rescued Enid's sundial when 'Green Hedges' was demolished in 1973. He had been going to send it to auction but first wanted to know if she was interested in buying it. Kari Dorme bought it and with help from BSS it has now been restored and installed at Bekonscot Model Village and Railway which is not far from the original location of Green Hedges in Beaconsfield. Enid loved to take her two daughters to Bekonscot Model Village and she even wrote a small book about it called the Enchanted Village, which is still in print.
The dial as rescued was remarkably intact and it has now been duly restored to its original glory with gold plated gnomon and fixings and is complete with gilded lettering and time scale. In the absence of its original setting it has been placed on a brick pillar constructed to the same style as those that supported the loggia at Green Hedges and is set in a wooden mount redolent of a gabled house. Very fitting. On 21 September 2016, an audience of more than 50 gathered in glorious sunshine at Bekonscot Model Village to celebrate the unveiling.
If you happen to be in the vicinity do try to visit this dial at Bekonscot Model Village and Railway.

Images here of the restored dial are ©Kari Dorme 2016 and the text is drawn from the report published by Kari Dorme for the The Beaconsfield Society www.beaconsfieldsociety.org.uk
All © Kari Dorme 2016 and reproduced by kind permission of Kari Dorme. All rights reserved.
The Dial
The dial is a lovely, well proportioned vertical declining dial in slate. It declines by some 12 degrees East of South and indicates hours and half hours between 6am and 4:45pm Local Apparent (Solar) Time. The limit of illumination of the dial is about 30 minutes either side of these indicated times. The dial has Roman numerals and uses the conventional IV for 4pm rather than IIII. The motto (by Milton) is unusual for British dials and appears to be unique. It is interesting to note that this dial was originally commissioned by the man who caused the house to be built, Charles Albert Milton Mount Maggs. No doubt the family appreciated Milton's writings.
The motto is a quotation from one of two Sonnets Milton wrote to his wonderfully-named friend, Cyriack Skinner. Skinner was admitted to Lincoln's Inn on 31 July 1647, and became a lawyer by profession. He came to live near Milton in 1654, and probably began to help the poet at that time. He remained close to Milton during the 'difficult period'* that followed the Restoration of the Monarchy in 1660, and was present at Milton's death from kidney failure in 1674. This sonnet has different reference numbers in some parts of the literature.
Sonnet XXI
Cyriack, whose Grandsire on the Royal Bench
Of British Themis, with no mean applause
Pronounc't and in his volumes taught our Lawes,
Which others at their Barr so often wrench:
To day deep thoughts resolve with me to drench
In mirth, that after no repenting drawes;
Let Euclid rest and Archimedes pause,
And what the Swede intend, and what the French.
To measure life, learn thou betimes, and know
Toward solid good what leads the nearest way;
For other things mild Heav'n a time ordains,
And disapproves that care, though wise in show,
That with superfluous burden loads the day,
And when God sends a cheerful hour, refrains.
[* NOTE: Milton's attitudes to republicanism and divorce cut right across the grain of popular opinion of the time, which swung decisively behind the restoration of the Stuart monarchy that took place later in the year. Milton, an associate of and advocate on behalf of, the regicides was silenced on political matters as Charles II returned. By then he had been alienated from the Church of England by Archbishop William Laud, and then moved similarly from the Dissenters by their denunciation of religious tolerance in England].
[Back}