---
| | | |
| --- | --- | --- |
| | The | You can now follow SunInfo ona Twitter! @SunInfoWeb |
---
---

Using the Method of Aristarchus
Here is an interesting
trial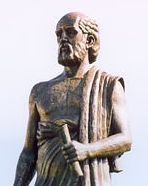 of the
method of Aristarchus for determining the distance to the Sun and Moon. Aristarchus of Samos (c. 310 - c. 230 BC) was an ancient Greek mathematician and astronomer from Ionia. Aristarchus' revolutionary astronomical hypothesis was that the Sun, not the Earth, was the fixed centre of the universe and that all the planets revolved around it. He also said the stars were distant unmoving suns and the universe was much larger than thought. Here his method is used together with some of today's values to establish the distance to the Sun and Moon for ourselves. Fascinating. Click the image or HERE to read more.

03.09.21
---

A British Dial found in New Zealand?
A sundial originally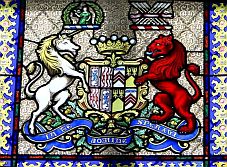 designed for use in the grounds of Glamis Castle in Sotland - childhood home of the late Queen Mother - and probably taken to NZ as some sort of 'not now functioning' trophy has thrown up aspects of Scottish dialling in the 17th and 18th centuries.
Here
John Davis tells the fascinating story of its discovery and analysis. Well worth a read.

17.06.21 [EU C-466/12 as retained and amended]
---

How to estimate the Earth-Sun Distance
by means of trigonometry and a model of the Phases of Venus by Lars Petersen, Alan C. Pickwick, Rosa M. Ros, Mogens Winther (EAAE)
Level: Some mathematical ability is required.
Using the transit of Venus to determinate the distance to Venus and to the Sun.
Click
HERE
to follow the procedure based on the transit of Venus in 2004!!

03.06.21
---

The Stanier Family - Railways and Sundials
Dr Margaret Stanier (who sadly died in 2007) was an esteemed member of the British Sundial Society and her appointment as Bulletin Editor after Charles Aked's resignation, is still remembered for her welcome and logical change to the Bulletins' numbering scheme and its implementation of a new fair rigour in the standard of articles that were published. However she came from the highly esteemed family of Sir William Stanier - the famous British GWR and LMS steam engine designer. Her connexions are mentioned in SunInfo's obituary to her and a new Internet link has emerged that tells the Stanier railway story in reminiscences from the Stanier family members living today. Click on these links to read more about these Reminiscences and about Margaret's Obituary Well worth a look - especially for steam railway buffs with a co-interest in dialling!.
31.08.21
---
The Mystery of The Dial in Dial Lane
Over in Aldeburgh,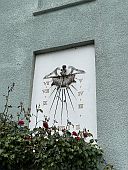 Suffolk, there is a most interesting dial on the wall of Dial House. It is known to the National Register as SRN 0596. It carries the motto 'Semper Fidelis'under the thriving foliage HERE. It is a painted vertical west declining dial - declining about 10 degrees - but it has an elaborate metal(?) gnomon support in the form of a cast four spiked sun which also appears to show some of the hour lines. However these do not (seen from this angle) appear to align with all of the painted hour lines lower down. Could this gnomon support have come from another dial or perhaps the painted lines are not accurate? Sadly the sun was not shining in this otherwise very this clear photograph so the dial's accuracy could not be determined. If any diallist can throw light on this matter do let the webmaster know. Click HERE or on the thumbnail to see a larger version of the image.


Since this article was first posted 'Dial-finder extraordinaire' Ian Butson has submitted his own close up of the gnomon support and kindly given SunInfo permission for us to show it. (HERE). It indicates that it was probably at the head of an original Vertical South dial and from the slight damage at the top left, it may well be hollow rather than solidly cast. Ian also wondered if the material was lead. Given the slight rusting of some screws in the

surround

, rather than the body, it might seem that the top scrolling is separate and possibly made from galvanised steel. How provision of no fewer than 18 mounting holes - just for the gnomon support came to be provided remains a real mystery. The present gnomon is not fitted to align with any of these earlier lines. It has the appearance of being possibly from a continental dial, perhaps of Austrian, Italian or maybe German origin. Any reader who can contribute more to this puzzle should contact the webmaster.

25.05.21 Image

© VL Thomson 2021 and Ian Butson 01.06.21
---

The Hidden Dial of Ham House
Ham House is a 17th-century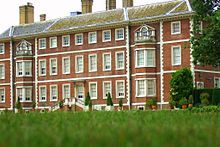 house set in formal gardens on the bank of the River Thames in Ham, south of Richmond. It was completed by 1610 by Thomas Vavasour, an Elizabethan courtier and Knight Marshal to James I, but came to prominence during the 1670s as the home of Elizabeth (Murray) Maitland, the Duchess of Lauderdale and Countess of Dysart and her second husband John Maitland, the Duke of Lauderdale. Originally the house was constructed in an 'H' shape.
The house retains many original Jacobean features and furnishings and is claimed by the National Trust to be "unique in Europe as the most complete survival of 17th century fashion and power." Today it is a Grade I listed building
In 1671 Lauderdale was granted by Letters Patent full freehold rights to the Manors of Ham and Petersham and the 289 acres of leased land. In 1672 Elizabeth and Lauderdale were married, and, with Lauderdale's part in the CABAL, the family remained close to the heart of court intrigue. The couple made extensive changes to the house from 1673 extending the house into the south part of the "H", making it "double pile", two rooms deep, across its breadth. This filling in of the 'H' shape was what caused the original painted declining sundial to be hidden but not destroyed. An edition of the recent TV programme 'Secrets of the National Trust' allowed a glimpse of the dial showing the 4am mark and part of the scroll of the motto
.
Click
HERE
to glimpse two images of part of the painting of the dial.
22.03.21
---


Fer DeVries
was surely one of the most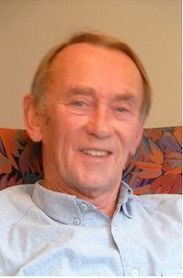 eminent diallists of recent years. The first winner of the NASS Sawyer Dialing Prize he sadly died in 2015, by then well into his seventies.

Fortunately his website contents were preserved by De Zonnewijzerkring, the Netherlands Sundial Society, so we still have his legacy today. Fer's Legacy

is a treasure trove of 360 articles on every possible topic in gnomonics. From 2003 to 2012 he put three articles together each month, in three series: Sundial of the Month, Article of the Month and Work by Members. They have even been translated into English by member Ruud Hooijenga and SunInfo has received permission from De Zonnewijzerkring to place some of his works here for your interest and enjoyment. We are most grateful to De Zonnewijzerkring for this. The link to the first of these will be uploaded shortly. Watch this space! It will be very interesting

03.01.21
---

Richard Mallett's Twitter Page
Richard died in November 2016 - his obituary is at this link and in the reference section below. However recently it was discovered that his twitter account up to the time of his untimely death has survived him. It was of course written for his many followers and the topics range all over his interests from daily events, television and to sport. His humour comes out wonderfully in the many wry comments which also show his depth of knowledge on so many topics. Those who remember him - and those who perhaps do not - will surely be interested to look at this fascinating resource. Click
HERE
to see more.

18.08.21
---
BSS Issues Apology to Members
An apology has been issued by BSS notifying its members that the 2021 Solar Data Card included with the December 2020 Bulletin contained a number of inaccuracies, in no way reflecting on the accuracy of the information provided to BSS by Fiona Vincent. A corrected version has now been included with the March 2021 Bulletin. Although these cards are usually only available to Members of BSS, this corrected version is also being made available by BSS to everyone as a PDF HERE. It can be printed on a single sheet of A4 and folded to provide a two-sided A5 "card".

21.03.21
---
BSS Accounts Reporting Performance 2018 & 2019
The Charity Commission reports on its web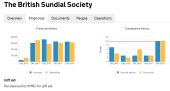 site that the 2018 results were only filed at nearly the last minute. It took about ten months - virtually the permitted limit - for the 2018 accounts and report to be filed.

The 2019 accounts for the year ending 31st December 2019 were finally filed in August 2020. Click on the image for the reporting performance last year. The Accounts for 2019 can be seen
HERE
. They show a fall in assets and apparently a significant conference spend.

18.07.20, 06.09.20
---
Forecasting Weather and Climate in 2021
The science behind forecasting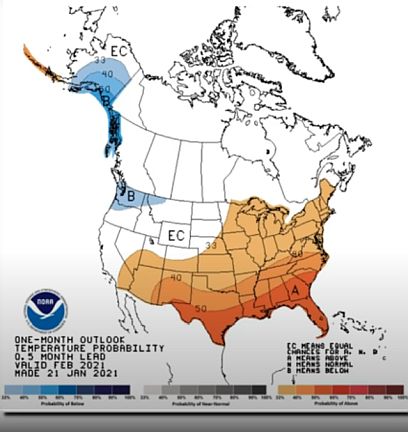 of both weather - and separately of climate - is increasingly being shown to be faulted. Richard Feynman said that if an hypothesis cannot be demonstrated by experiment or in reality then it is wrong. Not nearly wrong or nearly right, but wrong. Then we have suggestions that we should stop eating meat because the animals being raised for meat emit too much methane. This simple analysis of the science behind these things gives food for thought. Do read to the end too. It's only 13 mins. Click HERE or on the thumbnail to find this interesting article.

14.04.21
---
Manipulation of Satellite Data? Now it seems that even the published satellite data regarding climate change is being manipulated.
Just see this latest discovery.
Then see more proof here
about the same with temperature data.
Can you ever imagine Richard Feynman or Albert Einstein agreeing to do this?
07.10.19, 13.10.19
---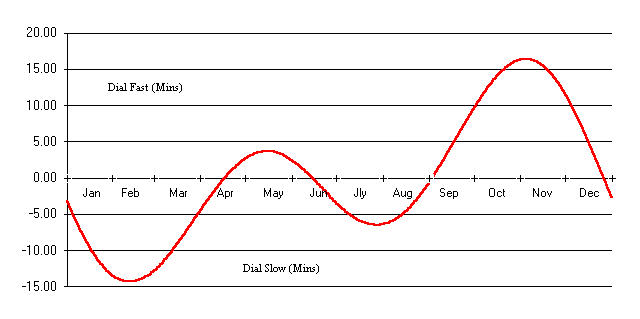 Want to see the values of the Equation of Time 2021?
See all daily corrections here
together with a link to a PDF of the same data all printed on one A4 page.
16.02.21
---
BSS 2018 Accounts show a correction of an
Accounting Error.
The 2018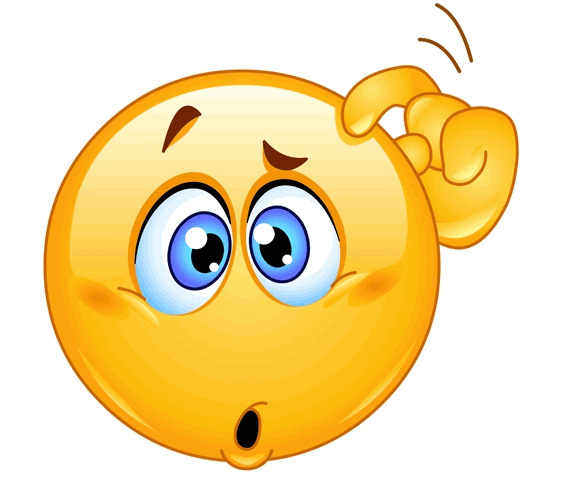 Accounts for
The British Sundial Society disclose an error in the statement of Gift Aid for the previous year which was not spotted either by the Trustees or by the Examiners employed to check the Accounts each year. The
Accounts for 2018 may be seen and downloaded here
.

28.02.19, 02.05.19
---

Is Pluto really a planet after all? Scientists are now coming to argue that the
official definition of a planet is 'sloppy' and that Pluto should never have been downgraded in the 2006 review by the IAU (International Astronomical Union). The 2006 definition was devised (it seems) more to stop too many planets being declared than ever it was to provide a sensible definition. The discovery in 2005 of Eris, a body more massive than the smallest then-accepted planet, Pluto forced the issue and the new definition thereafter has required a 'true' planet to be roughly spherical, orbit the sun and to clear its orbit. Pluto and Eris fail, not surprisingly, to clear their part of the Kuiper belt and in any case
University of Central Florida's planetary scientist Philip Metzger points out
that strictly speaking no planet clears its orbit not least because of the newly discovered dust rings in the orbits of
Mercury
and
Venus
. Maybe the definition of a planet should be set by diameter and whether or not a sundial can be constructed for it anywhere on its surface?

24.03.19
---

Time Lapse Videos of sundials and shadows? YouTube is an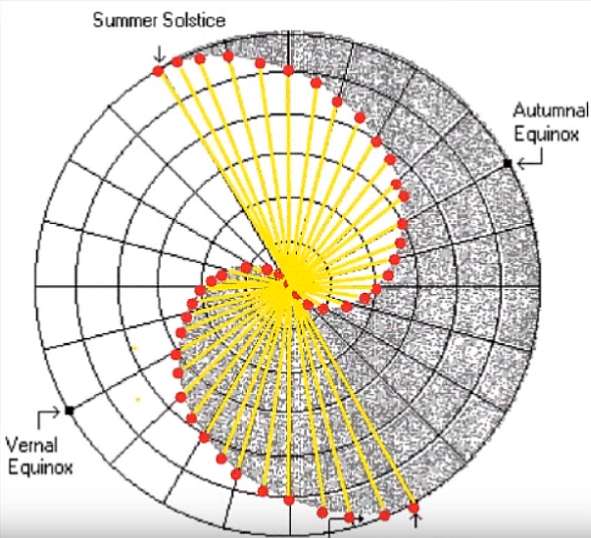 excellent source of interest where sundials are concerned.
If you have ever wanted to see a time lapse video of shadows moving with time and/or with the seasons and related aspects do take a look here.
15.02.19
---

A Form of Violence?
Some climate scientists still struggle to cope with people who disagree. So some time back, Cliff Mass – a Professor of Atmospheric Sciences at the University of Washington as well as a radio weatherman – decided to write something about the wildfires in California, and in particular, the question of whether climate change had played a role. At the end of a long analysis of climatological trends in the area, he drew his conclusions:
Was Global Warming A Significant Factor in California's Camp Fire? "The Answer is Clearly No". [See full article here]
Now take a look at some of the replies! And you thought scientists were logical?
02.12.18
---

Reality finally dawns about urban warming! Now actually verified by NOAA (the National Oceanic and Atmospheric Administration of the USA). Poor weather station siting leads to artificial long term warming. How long has it taken to get to this point? But here we really are - let all
real
scientists rejoice.
All the links are here.

See "Impacts of Small-Scale Urban Encroachment on Air Temperature Observations", Ronald D. Leeper, John Kochendorfer, Timothy Henderson, and Michael A. Palecki
HERE
06.05.19
---
---
Mike Shaw's Web Site
has sadly been discontinued but some of Mike's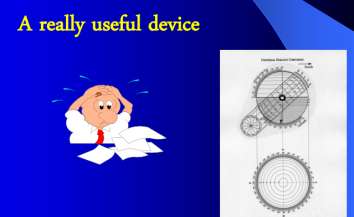 excellent contributions to dialling can still be found elsewhere on the Internet. One such is his 'Really Useful Device', a slide presentation showing ways in which you may construct a
Diallist's Companion
for your own location. The presentation is clear and well worth looking at. It may still be found for download as a PDF (12.5MB) at
https://nanopdf.com/download/udc_pdf

Then click on the Orange button in the upper left of the screen marked "DOWNLOAD PDF (12.3MB)". The file will then be downloaded to your PC. Get it whilst you can!!
19.08.18
---
J
im Tallman's Artisan Sundials
page is well worth a look.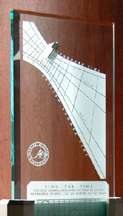 Artisan
sundials are specially designed and constructed to provide accuracy as well as a genuine sense of presence in time and space. They are authentic scientific instruments that are carefully constructed and capable of telling very accurate time.

There's more here

14.07.18
---
Jay Campbell's New Dial Have a look at Jay

Campbell's new sundial in New Mexico USA. It (like his accompanying website) is just nearing completion but there will be an article about it in the December issue of Sky & Telescope magazine, available in late October.
See more about this venture
01.10.18
---
"Have you ever purchased a delightful sun dial
for your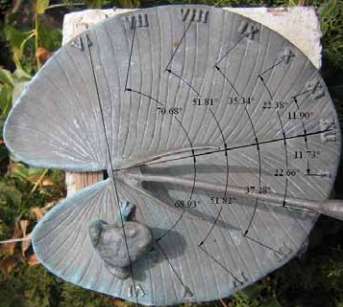 garden, but found it does not work? No problem". That is the encouraging beginning of an excellent article in PDF format that discusses how to take a store bought dial and then adjust it so it will work for you. Entitled
"REVERSE ENGINEERING STORE-BOUGHT GENERIC DIALS"
It is just one extract from the fascinating book "ILLUSTRATING TIME'S SHADOW" by Simon Wheaton-Smith
whose website
(already mentioned elsewhere on this page) is an incredible resource for all diallists.

20.07.18
---
The National Oceanic & Atmospheric Administration of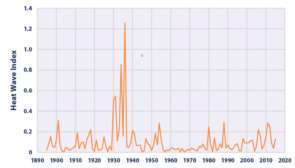 America (NOAA) is well known for its research into greenhouse gas and carbon cycle feedbacks, changes in clouds, aerosols, surface radiation, and recovery of stratospheric ozone. In Sept 2018 it released a report claiming that the summer of 2018 was the fourth hottest on record in the US, and it went on to claim that this summer was just as hot as 1934. Yet, when this claim is examined it turns out that it may not be correct.
Listen to a US scientist's analysis
of this and read about some of
Heller's other concerns about climate science misinformation
today. Form your own opinion.

15.09.18
---
---

Kevin Karney's new website As well as Kevin's earlier site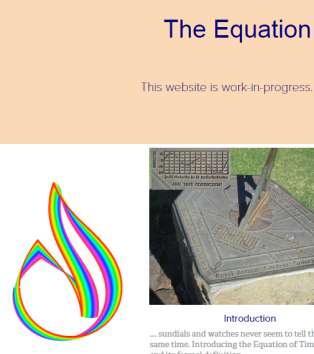 ►
here
which provides a wide variety of data for those interested in sundials and solar parameters, a 2018 site
►here is now up and includes three sections:
- The Equation of Time - 8 pages.
- Sundials that are (or can be) Equation corrected - 8 pages
- Mechanical Means to Simulate the EoT - 6 pages.
Well worth a look!

9.9.18, 22.04.20
---
An On-line Sundial Register. There's an interesting browse to be had of the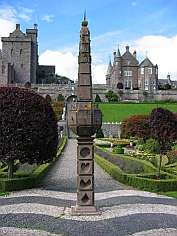 Sundial Website that is operated by
Dennis Cowan
of Fife. As well as giving an excellent introduction to the sundials of Scotland, the site includes a 92 page
Sundial Register
of dials known to him, (not just those in Scotland), five sundial trails, several safaris and seven articles about dials and dialling. A really excellent site.
Image used with permission
---
Have a look at Karen's Page! Want to make a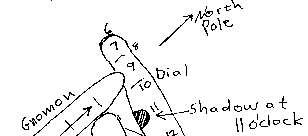 sundial and compass from your own fingers, a sundial and compass from an embroidery hoop. an origami sundial wristwatch. a horizontal sundial using only compass, straight edge and protractor or use your hand as a nocturnal or even make a Universal Capuchin sundial?
This is the place to come!
29.08.18
---
SunInfo's
Archive Pages. This, our main page, gets larger and larger as time goes by and of course the page would get slower to load. However, many of the stories, comments and information in it are still of interest even though they may not be recent. Accordingly we archive most of the older entries so that little or nothing is permanently lost. Our
Archive Page 1
and, from 2018, our
Archive Page 2
are available!! Have a browse of them for yourself.

04.05.15, 15.07.17, 06.05.18,23.09.18
---
Interesting News, Articles & Links
---
Is the answer simply Scientific Apophenia - all along?
Climate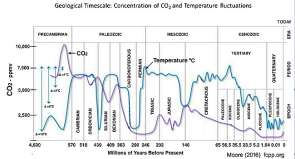 scientists are looking for evidence that supports the AGW hypothesis — and because they are looking for it, Kip Hansen believes they see it in everything. The evidence, so far, simply does not support the inference that the Earth's climate is changing dangerously. Perhaps only persons suffering from
Scientific Apophenia
see dangerous climate change in the chaotic, random patterns of long-term climate metrics? Click on the image for a bigger version and
read this for more.
03.11.18
---
A visit to Windsor.. In 1998 Jane Walker and her husband Peter

found an interesting booklet that led them to a viewing of the Queen's Dial in Windsor Castle. The dial stands on the North Terrace with the Queen's private garden to one side and a splendid view over the town of Windsor to the playing fields of Eton on the other. The gnomon is beautifully engraved and carries the King's monogram "CR" intertwined so that the initials can be read from either side.
Read all about Jane's experience
25.06.18
---
Peter Daykin's Derbyshire Sundials Page is well worth a visit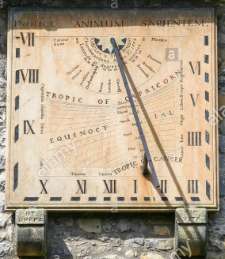 - not least because it includes such examples as a cross dial and of course the famous Eyam Dial. The website includes details of many Derbyshire dials and even includes three sundial calculators. On almost every page there is a description of the location as well as of the dial. A delight to peruse.
You can get to this excellent page Here
16.05.18
---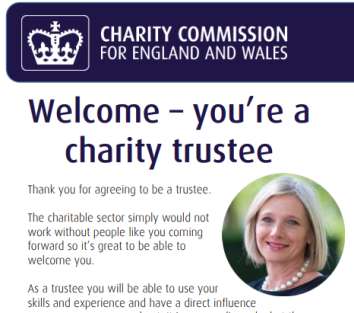 CC issues a new Trustee Welcome Pack

The Charity Commission has issued a pack to welcome new trustees. They send it out to new trustees. Might be worth making this a part of your induction pack as there could be a delay advising the Commission of new trustees.
Read it here
09.06.18
---

Interested in browsing our library or our archives? Our extensive library of Dialling Documents and related material is HERE. It is regularly added to.
ALSO our earlier stories and News Items up to 2017 are Archived HERE and, from 2018 onwards HERE .In both archives entries are stored 'earliest-deleted' at the top, 'most-recently' deleted at the bottom. We hope you enjoy them.
06.08.15, 13.10.17, 06.03.18, 06.06.18
---
SunInfo's Equation of Time figures, with a one page output

available too!
Click on the image to be taken to our EoT page! where you can check the value of EoT at Noon GMT on any date in 2018 (or even some earlier years) and can even print all the year's data on one A4 sheet too. There's more there describing how to correct a sundial's solar time reading to GMT/BST and even a way to buy a little card that allows you to do this when out and about anywhere in the UK or Ireland!
06.10.17, 06.09.20
---
Some Complications of Dial Refurbishment as considered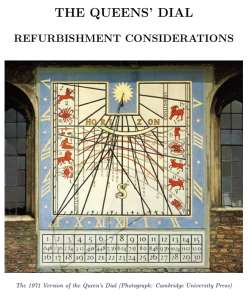 prior to the restoration of the Queens' College dial in 2006/7. This is an interesting document which is well worth a read by those facing similar problems! Includes the oldest known photograph of the dial and consideration of the several issues that remained after the previous repainting in 1971.

To read the document click here:
The Queens' Dial
09.06.18
---

Andrew Somerville's Interesting Letter of 1986 concerning the Queens' College Sundial in Cambridge was published in the BSS Bulletin in 1997 and those with an interest in dialling might like to read it again. One matter concerned the marking of the dial with the word
Longitudo
and whether or not there was an error in the dial's markings. Andrew was of course the first Chairman of the Society and this correspondence was dated 1986 only a few years after the Society's formation.
Read the correspondence here
05.08.17
---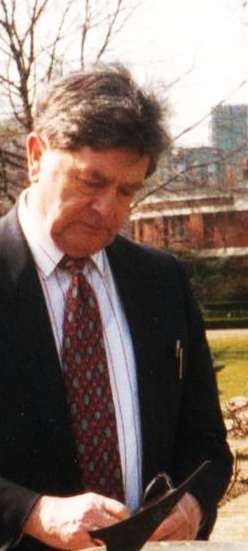 The John Churchill Collection! SunInfo is delighted to be able to present a collection of just some of the photographs of dials that former BSS Trustee John Churchill and his wife took during his lifetime. They represent an eclectic selection of his interests and as well of course, a valuable and lasting record of the condition of the dials up to the time of the millennium.
Click to be taken to the John Churchill page.

***More images by John C hurchill now added***
14.08.15, 14.03.17, 02.04.17
---
The Dial of William Hughes of Bryngola.
In what can only be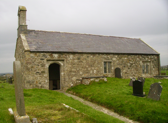 described as a tour de force of investigation, John Davis recently studied a dial dated 1775 which was made for William Hughes of Bryngola in Llangwyllog, a small village and ancient parish in the centre of Anglesey, Wales. The church of St Cwyllog (illustrated) still bears memorials to the family to this day. John deduces that the elaborately engraved dial may have been made for Hughes by one of the Owen dynasty of clockmakers perhaps using components from the clockmaking area around Prescot in Lancashire. A fascinating BSS article which may be read at John's website at this link Dial of William Hughes.
1.11.17
---
A lovely selection of Italian sundials Here is a link to a whole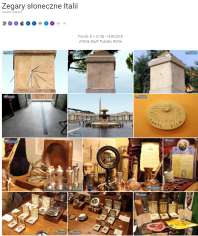 load of images of Italian sundials that have been taken by photographer
Darek Oczki in the areas of Umbria, South Tuscany and Rome between August 2010 and September 2018. Some (under the Activity sidebar) are earlier.
Well worth a look! "Zegary słoneczne Italii"
Check these out here.
26.09.18
---
Great Circle was thought to be back!!
Those diallists who liked to rely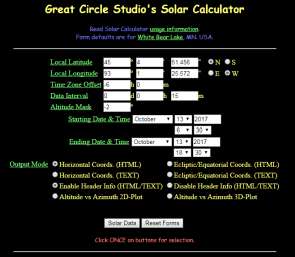 on
Great Circle Studio's solar data calculator
to obtain or print off a table of solar parameters at any time interval have recently been troubled by its apparent absence. Then it was thought to be found at
Great Circle Studio Solar Data
. However, it does not 'work', the server side links are not made.
But, after contact, the website owner claimed to be 'on the case'
. In the meantime you could try
MIDC SPA Calculator
(max intervals of one hour) or
Sun Ephemeris
,

13.10.17, 15.10.17, 18.10.17
---
The Sundials at New College Oxford. In an interesting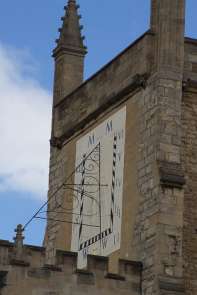 article Harriet James describes the dials that have existed at New College Oxford - the college that was 'new' in 1379 - and gives an interesting insight to her replacement of one that was on the Muniment Tower in 1696.
Read the text of Harriet James' BSS Article in 2000 to know more about the Sundials of New College past and present.
20.10.16
---
BSS Member Ian Maddocks has really started something by finding a whole load more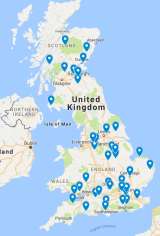 dials that are apparently currently unknown to BSS! In two messages to the International Sundial Mail List he announces his discovery that Twitter® and Instagram® contain many mentions of UK dials that are not recorded in the most recently published BSS Register of Dials - though of course some may be held on file by the Society's Registrar ready to be published next time. Whatever, this is excellent news for all those interested in dialling. Not only that but Ian has combined a list of these on his Google drive. They may be viewed here. There is also a 'map' of their locations here.
Now with Graham Stapleton's help he has added even to this amazing number and with pics too here.
12.09.16, 22.11.16
---

BSS President Christopher Daniel's web site has now been seen more than 890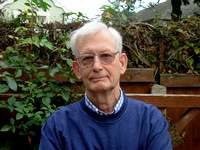 times since it was set up only a little time back. The site contains images of all of Christopher's dials and images of other related matters taken during his long and varied career.
To see this wonderful collection of several hundred images just follow this link - or of course you can always simply Google "Christopher Daniel Collection". You can even see his pictures as a slideshow!
04.07.15, 17.08.16, 21.12.16, 08.03.18
---
Newton's Sundial
Courtesy of Ian Maddocks and the Objectivity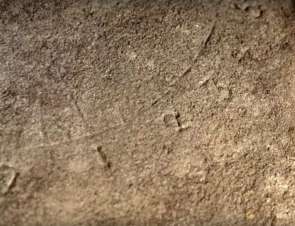 YouTube channel we are able to see a short video clip which, after half way, shows one of the stone dials scratched by Isaac Newton into the walls of his home. Click on the image for a larger picture,
Here
to see the video and
Here
to see the record document of items like this from Newton's home.

27.04.16
---

The Mass Dials of Gloucestershire. Tony Wood, in a reprint
from Gloucestershire History No. 21 (2007) pages 16-22, describes the many mass dials of Gloucestershire. Mass dials, or scratch dials, are mediaeval sundials found on churches. Chronologically they appear after Saxon dials (c650 — c1050) and before the present day's 'scientific' dials,
which have a sloping gnomon, which appeared in the 16th century but which only came to some rural areas in the mid 17th century.

Read Tony's article here
01.05.17
---
The increasing importance of European Mass Dials
The growing interest in mass dials in continental Europe is evidenced by a flow of reports and photographs. BSS of course has quite enough to do without compiling registers of overseas dials but the reports are filed and available for comparison with dial types and locations recorded in Europe.
Here Tony Wood reflects on the similarities and origins of mass dials in the British Isles and Europe.
---
Astrolabes, Cross Staffs and Dials. Way back in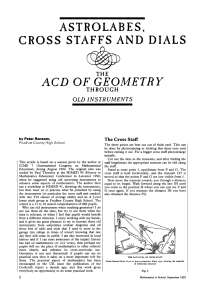 1992, Peter Ransom, later to be elected President of the
Mathematical Association
, published a fascinating article extolling the use of old scientific instruments when teaching geometry in schools. His article makes wonderful reading and gives the background to (and the use of) the Cross Staff, a Horizontal Sundial and even a quadrant. Click
here
for a link to this article. NB Free registration to MyJStor allows
free on line reading of this article
. A small charge is required to download and keep the whole article.
18.11.15
---
Mystery of a Missing Dial. Way back in September 1992 super-sleuth John Ingram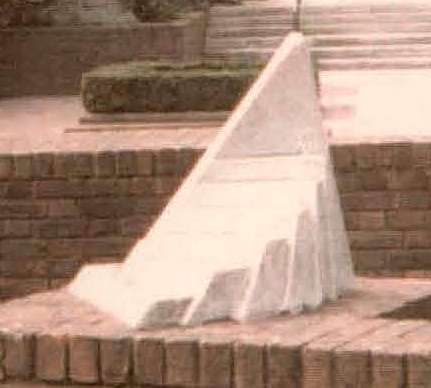 spotted this unusual and it is believed, unique, dial where steps on a triangular block were used to tell the time. When he returned in 2004 to York Rd on the South Bank in London to record it for the BSS Register, it was missing! Enquiries of the Council were all to no avail. Was it stolen or was it lost in the then recent Jubilee Line Tube works? Click on the image for a wider view. The telegraph pole in the middle right of the larger image is said to mark the place where the Festival of Britain Skylon stood in 1951. Anybody able to tell us more about it, its designer and who made it? Replies to the Webmaster please. Photo courtesy of J Ingram.
01.12.15
---
SunInfo
opens a New Page!
- listing the HUGE bibliography of BSS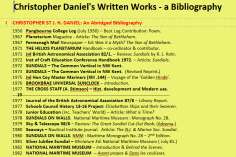 President Christopher St JH Daniel MBE. Listed
here
are his published articles, the full list of his many contributions to
Clocks Magazine
and even a summary of the sales of his extraordinarily popular
Shire Publications
book 'Sundials'. We are delighted to be able to provide as an academic resource the incredible output of the UK's foremost Diallist.
---
Have a look at Illustrating Shadows. The website of Simon Wheaton-Smith is an excellent dialling resource with lots of downloads, presentations, dial designs etc. Most free and all well worth a look. You can access it
here
.
---
The Sundial Removed? Here Harriet James tells the story of the 'Simmons Bequest' that threw up the idea that the huge dial in All Souls College Oxford might be returned to its earlier place in the College. The early history of the dial is here, Christopher Wren and William Oughtred both make an appearance and all is followed by the final decision by the College. Read the BSS Bulletin article dated 2006 for yourself here [C-466/12].
14.07.16
---
Sundials to see.
A new venture for
SunInfo
. Here is a changing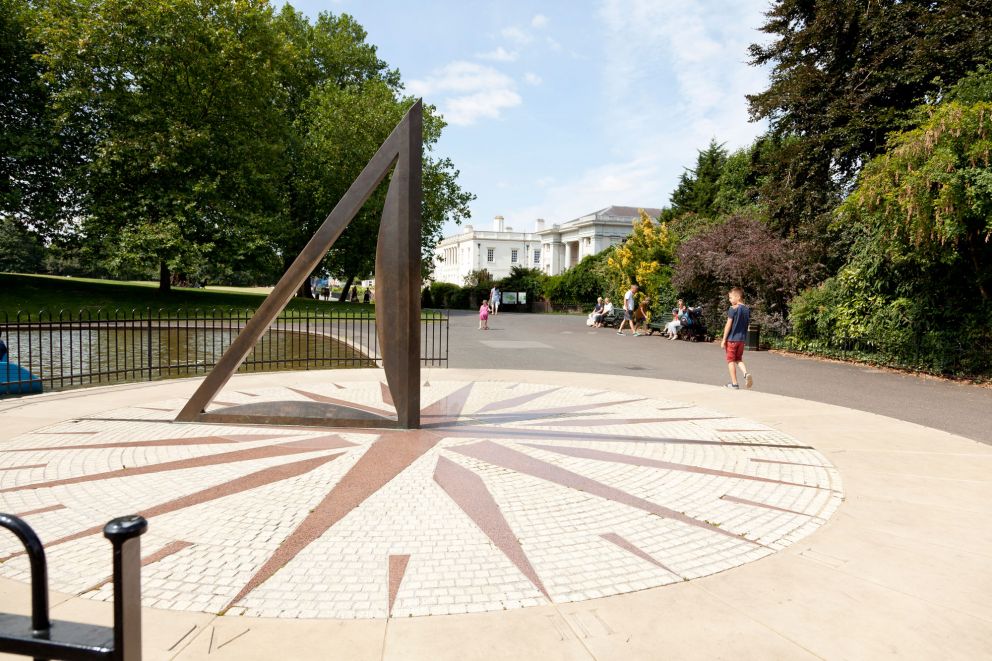 section of dials that are worth visiting.
This time it is the Millennium Dial in Greenwich Park in London. It was designed by BSS President Chris Daniel.
Click on the picture for a larger image
---
BSS 2016 Accounts finally available. Owing to what is
presumed to have been an administrative problem at the Charity Commission, anyone wishing to see the
2016 accounts for the British Sundial Society
had not been able to view them on the Commission's website - only the Trustees' Report was initially available. Both may be now viewed at the link above
(courtesy of the CC) or at the Commission's website. The latest accounts show a welcome profit after the earlier years
of worrying losses.

11.07.17
---
Want a little card to carry with you to help you check a sundial's displayed time against your watch at ANY Longitude or Latitude in the British Isles? Hurry if you want one of the few remaining printed versions...

Click the picture for more details!
---
Why not get The Recorder's Reference? It provides anyone interested in dialling with a way to estimate by how much a non-direct-south vertical dial declines and also finds the design latitude for any horizontal dial.

Click the picture for more details!
---
Hans Holbein the Younger's 1533 painting of The Ambassadors is available to view at the National Gallery in London. However it is also available on Google's Art Project and at astonishing resolution too - probably better than even if you were looking at the original! It shows all sorts of early dialling instruments as well as the famous anamorphosis. Can you identify the instruments? Check it out here.
Papers discussing the instruments can be read for free on line
►
here (1962)
or
►
here (1999)
04.05.13
---
Check out Three New Additions made to
SunInfo's
Historical Document Archive. They are the complete
Bibliography
of BSS President Christopher Daniel's written works, including sales figures for his Shire Publications Book 'Sundials', details of all seventeen of his
Restoration Projects
undertaken up to 2010 and a list of all his
Dialling Commissions
11.11.14
---
Yvon Massé's program Calcad
has been updated. Calcad is an
easy way to draw sundials without knowing declination, inclination or even the geographical coordinates!... The Freeware program runs on Windows, GNU/Linux and Mac OS X.
Download it here. The instruction manual can be perused
here
Image used with permission. 07.10.14
---
Lost Dials of the UK.
A new feature has been instituted here on
SunInfo
to present some examples of interesting but now lost UK sundials, starting with the one at the Mansion at Bletchley Park in Buckinghamshire. Check them out
►here.
---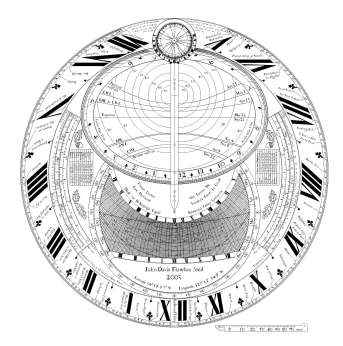 Design of a TRIPLE Horizontal dial for California by John Davis, more information and details of how it was etched ►Here
---
The Holes and History of the Beccles Church Dial - an anniversary!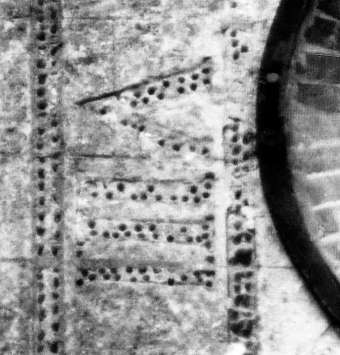 It was ten years ago in 2005 that the mystery of the holes that are pierced in the remains of the vertical dial on Beccles Church in Suffolk was unravelled. The BSS Registrar at that time was Patrick Powers and in an earlier article in the BSS Bulletin he had posed the question. Quick as a flash, two eminent BSS diallists explained it all. A second article in the BSS Bulletin was clearly necessary! Read that article here to find out the answer and to have a chuckle at Roger Bowling's succinct summing up!
26.08.15
---
Smiling Sundials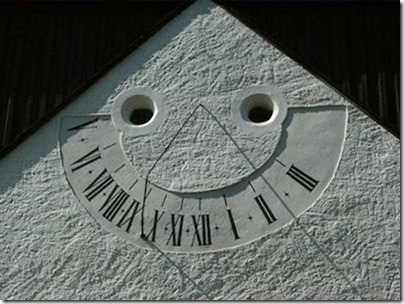 . Pareidolia or what? Here are two dials that seem to be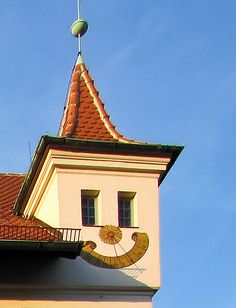 smiling! They are both in Germany. The first is in Dörnthal, Sachsen and
pareidoliathe second in Nuremberg.
How many more do you know?
---
A NEW Sundial Data Resource has been

developed by Kevin Karney. Available
►
here
the page provides a wide variety of data for those interested in sundials and solar parameters. The latest addition is to provide a high precision calculator for the Equation of Time and the sun's position. However the page also contains links to dial designs of his own and to animations of dial shadows. Well worth a look!

13.06.14
---
Did you know?
An
astonishing
number of pictures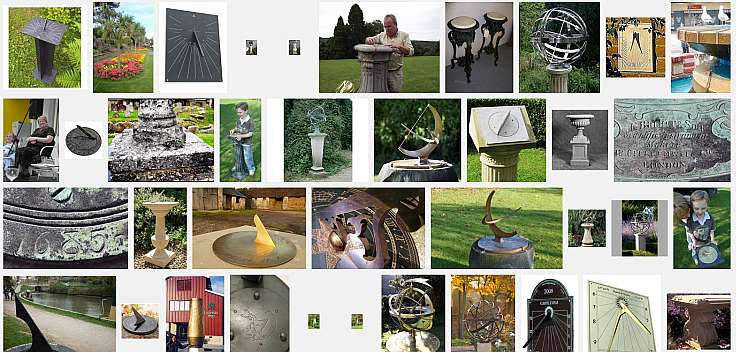 of sundials and their pedestals can be found by searching Google®. Try looking
here
for one amazing collection. Here you can see both sides of a rare Melvin dial, a few other very old dials, some heliochronometers, modern dials and of course some non-working 'garden centre' dials as well. Well worth a look.

09.10.13
---
Want to know something about Sundials in the

Southern hemisphere? Then there's no better introduction than the web site of the company
Sundials Australia
,
owned and run by physicists and BSS Members, Margaret Folkard and John Ward.

19.12.13
---
Sundials of New Zealand. Rosaleen Robertson runs the Sundial Association of New Zealand and also operates a Sundials Blog, (sundials-rosaleen.blogspot.com) which shows some of the sundials and sundial Trails in New Zealand. Worth a look. A list of web addresses relating to the NZ Sundial Association is ►Here.
04.02.14
---
Want to know more
about sundials? Then there is no better place to learn about all aspects of the topic than from Wikipedia! Click
here
to see this important article.
---
Then and Now... A NEW page has been started here on SunInfo to show some of our sundials as they were long ago and as they are now. The first entry is the unusual dial at Warwick Castle - a dial which on the face of it looks unfinished to our eyes because it has no numerals. Yet a 1912 drawing of it shows that it possibly never had! The second in this series concerns the famous Countess's Pillar, the third concerns a moved dial in Rye and

the fourth the Pilkington & Gibbs dial at Thornton Manor. Have a look here to see for yourself and keep coming back to see what other dials have been added as we explore more of these interesting sundials of the UK. ►Then and Now
07.11.13, 13.11.13, 24.12.13
---
---
The James River Studio website
includes a section on

sundials and more particularly includes some excellent sundial design software which is easy to use and understand.
It can be downloaded to your computer or run from the website, it covers the usual horizontal/vertical options but also includes analemmatic, bifilar and cylindrical all with easy to understand notes and even (if you want them) the formulae too. Have a look
►
here
---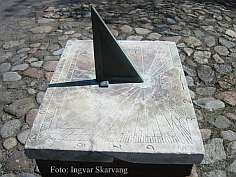 The Sundials of Norway. There are not very many known sundials in Norway but those that do exist are well worth looking at. Click here: ►Norway's Dials
---
Sun Spot Pointers.
►Sun Spot Pointers
is a sundial related Blog operated by Perry Millward. Glance through this for interesting new information about Sundials of the World.
24.02.14
---
The Sundials of Country Life Magazine. Why not take a tour from your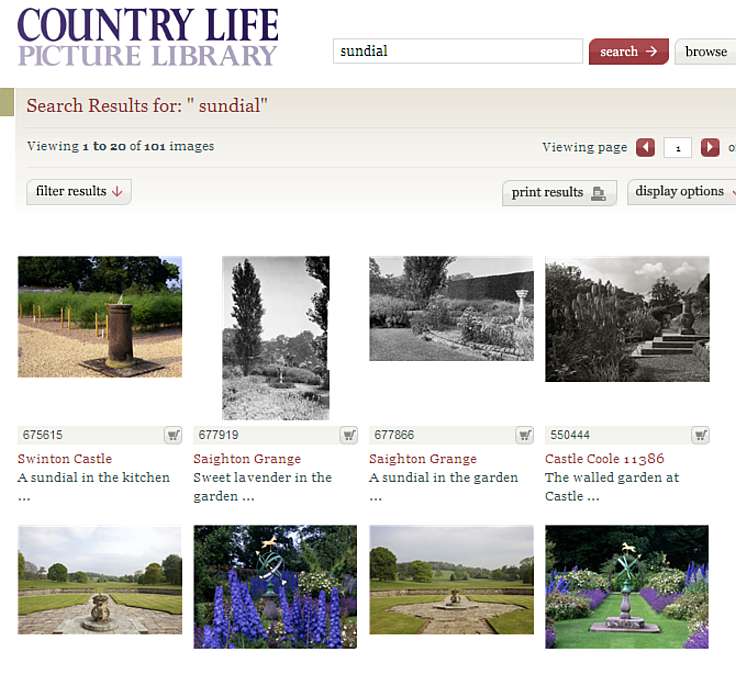 armchair of all six pages (well, five and a bit!) of the sundial photographs that are in the Picture Library of Country Life? Some may not even be in the BSS Register!
The Elihu Yale dial of Glemham Hall
is there in 1910 though! Have a look
here
.
---
Sundial Societies,
Groups and Websites of the World.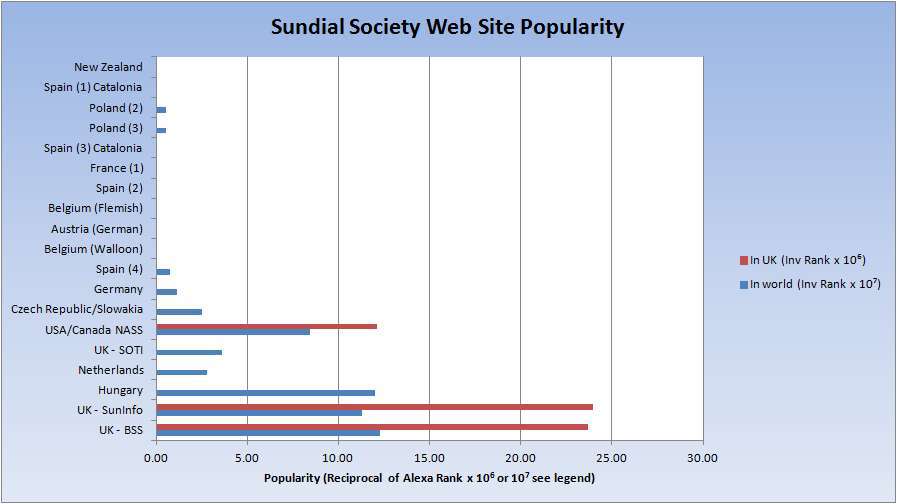 Click
►here
for a list of many Sundial related sites, their web addresses, when they were founded and their popularity.
24.02.14
---
Make your own paper sundial.
Fabio Savian's collection of 13 amazing designs for paper sundials are now available to all. He has designed several but others like Valentin Hristove and the North American Sundial Society have also contributed designs to this excellent Sundial Atlas project. Just have a look
►
here
!
There's even a design for a solar compass.
Or you can go back to this 2004 BBC page for Norfolk Children. It too tells how to make a paper sundial. It will work for most of England though you will need to correct the reading a little if you want to measure clock time.
---
Francis Barker's Instructions for Setting a Dial.
Francis Barker of Clerkenwell was an important dial maker at the start of the 20th Century. In 1914 he contributed a chapter about setting up a dial to Geoffrey Henslow's Book:
'Ye Sundial Booke'
, 1914. This chapter makes interesting reading.
See it
►
here
---
Edward R Martin's Mass Dial Database was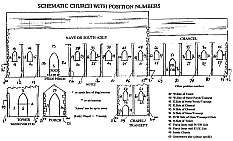 compiled by him over many years using an early computer and specialist software written by his son. In fact all the data was at one time thought to be lost following a computer failure not long before Edward died. In 2002 the factual detail of the database - though sadly not his novel customised dial diagrams - were eventually recovered for him in 2002 by Patrick Powers but, after his death, amazingly were again mislaid until now. This database of some 1000 mass dials includes some details that are not now recorded even in the BSS Mass Dial Register. A guide to Edward's novel codes for the locations of the dials on the church is included.
The recovered file (in PDF format) may be viewed
here
NB An Excel version (3.3MB) may be obtained upon application to the
webmaster
.
---
A Day out with Edward Martin
and Mass Dials. A rare record of a day which CLIVE FEWINS of the
Independent
spent with the late Edward Martin. It was on Saturday 20 July 1996, when they looked at the marvellous mass dials on St Peter's Church in Hanwell near Banbury. Click
HERE
to read it.

14.08.15
---
Spot dials from your Armchair!
Courtesy of Google Street View® have a look at some dials that can be seen on it. Keep coming to look at what's new!
Just click on this link
. Over twenty now recorded. One of the dials to be added is
BSS Trustee David Brown's
Olympic sundial. St Botolph's Church double dial in Cambridge is another.
---
When next in Northern Ireland why not visit the sundials of Carnfunnock Country Park's
Time Garden on the coast road near Larne, Co Antrim, NI. See what's there
here
.
(New replacement link)
---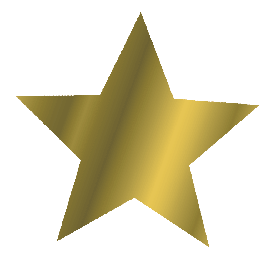 10 Reasons to revisit a Registered Dial. Many BSS Members send in reports of dials to the Registrar for inclusion in the National Register. Although at first glance it might not seem to be necessary to revisit an already recorded dial, this is not the case since repeated visits over time provide a record of a dial's changing condition and also can provide more information about the dial than might have been noticed earlier. In October 2007,
BSS Member John Ingram sent in his amusing and rather 'tongue in cheek' list of ten reasons for revisiting a dial. Read them
here
.
---
The Official Opening of the Brighton Emmaus Community analemmatic

sundial was conducted by Dr. Robert Smith (University of Sussex) on Saturday, June 29th 2013 at the Emmaus Open Day by uncovering the midday-stone at 1 p.m. Sir Patrick Moore recorded the following instruction last September to be played at the opening ceremony. "Congratulations, Here we go! Uncover the Midday Stone." See more
►
here
09.05.14
---
---
'Induce Animum Sapientem'
.
There is an interesting
sundial web site which is operated by dial makers Peter and Yvonne Daykin. It is devoted to the sundials of Derbyshire and is well worth a look. Their Home Page is
here
. More than twenty five dials are shown, some modern and some old. The famous Eyam dial is there too! Its motto is the one opening this paragraph. It means (roughly!) "
Cultivate an Enquiring Mind
", something that could be the motto of this webpage.

04.05.13
---
The Sundial at All Saints' Church in Isleworth

has now been restored. Installation took place during Saturday 25th May 2013 and the sun actually shone for the occasion! A picture* of it complete, but just before installation is ►here. As well as the ordinary problems associated with any dial restoration this one had a few more! Some initial information can be seen ►here. and for BSS Members an article about the restoration is in the June 2014 edition of the BSS Bulletin. Alternatively, a copy of the same article may be read by everyone ►here.
*Perspective slightly adjusted in view of the difficulty of photographing such a large object indoors!
10.01.13, 06.02.13, 09.05.13, 29.05.13, 17.06.14
---
Want to learn a bit about sundials? Here are a few slides that have been taken from a presentation given recently to a UK Probus Group. (2MB PDF download)
Click on the title: "But it's Wrong!"
---

Key facts about BSS. Here are details of the Society, the members of its Council and its erratic management, its appointed and excellent Specialists, how to access its website and its Facebook page, how (and why!) to join the Society, how to send payments to BSS via credit card or PayPal and many recent annual accounts. In fact more or less everything you need to know about BSS is here - warts and all! There's even help for BSS Members who may like to understand the background to some of the worrying oddities in today's management of the society. [ A Disquieting Anniversary] [A Disquieting Delay]
[Now the Disquieting Book Dispute!]


Interested to have access to more information about the operation of BSS? Then why not go to our private BSS Members page. [Password access available upon prior registration with the webmaster].
---
Medway Council eliminates one of the Nation's most important sundials! In an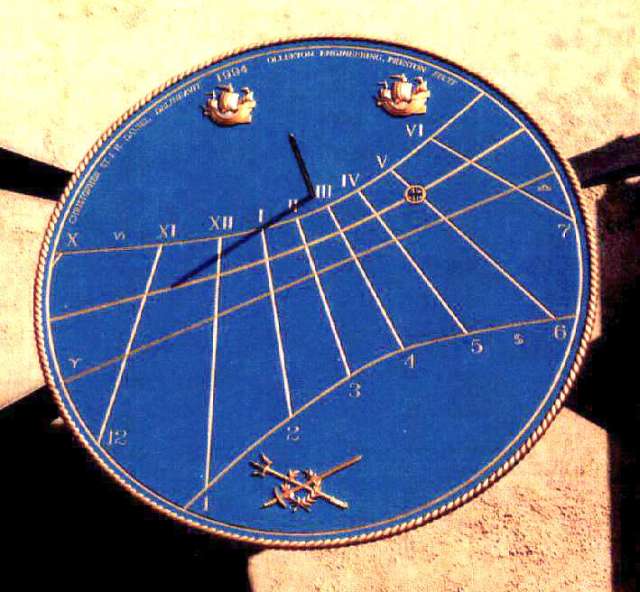 extraordinary move, Medway Council in Kent has chosen to take down one of the most famous sundials in the country, SRN2936 in the National Register, which was in Railway Street, Chatham and which commemorates both the day and the time of the death of Admiral Lord Nelson. The dial was designed over twenty years ago by Christopher Daniel MBE, the President of the British Sundial Society, and it has been a major feature of the town since then. It is a dial known to thousands both in the UK and overseas.
The worrying thing is that there is currently a suggestion of it being placed in a museum - all rather suggesting that the problem of reinstallation had never been considered let alone planned. More can be found about this in the article in the 9th March edition of Kent on Line. Click here to read more.
Then Click here to read Chris Daniel's 1995 article about the original installation and how Chatham regarded it then! Hint: In 1995 it was then regarded as the 'Jewel in the Crown' of a £5.5M investment to improve the environment of Chatham! How the Council's knowledge of the town has changed.

NOW!! see the further Kent on Line article about this - here and go here to read NASS's comment of 14th April on this worrying development. BSS also became involved in this on 15.03.17 and they too have written to the Council. Let us hope that Medway Council reconsider.
Now the local MP (Tracey Crouch) is involved and the Nelson Society has been informed.
If you wish to register your concern about this most unwelcome development the contact is Alan Jarrett, Leader of Medway Council, Gun Wharf, Dock Road, Chatham, Kent, ME4 4TR.
09.03.17, 16.04.17, 27.04.17 (Photo and article © C StJH Daniel MBE)
---
Just imagine! Places where ordinary sundials work in the summer but not in the winter - even when they might be bathed in sunshine throughout the year? You might think this cannot be but in Viganella in Italy and now in Rjukan in Norway that is so. How so? Read
here
.
---
A look at the Savoy Centenary Sundial The Savoy Hotel was founded in 1889 and 100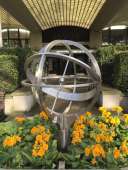 years later in 1989, Christopher Daniel was commissioned to design a dial to celebrate that event and of course to mark its foundation by Richard D'Oyly Carte. Look at some of the images of how it is today and read the extensive description at its base.
The dial is 610 mm in diameter and takes the form of a four ring type armillary sphere. See more of this dial today here
07.03.18
---
The National Trust and the 'Housewife's Trick'?
The garden at the wonderful Wisbech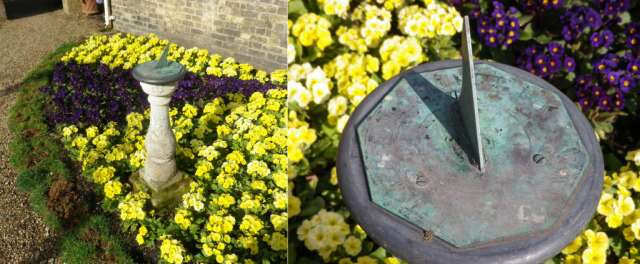 property, 'Peckover House' is especially lovely at this time of year. Not only that but there is a sundial just outside the greenhouse which greatly enhances that part of the garden. Odd therefore that when these images were taken - it was at 09:21 GMT in March - the dial was showing just over 10:30!
Surely the NT has not succumbed to AP Herbert's rather unfairly named 'Housewife's Trick' whereby a sundial is turned so as to indicate summer time? Given its age and the extent of corrosion present it's hard to read this dial exactly and thereby to work out just how much the dial has been turned but, despite every diallist's 'horror' at such a practice, it has to be said that in summer, in the middle part of the day and at the latitude of the UK it is not quite so inaccurate as one might think. At least it might help to prevent the frequent comment made by members of the public when checking a sundial with a watch, of 'It's wrong'. So maybe the misjudged housewife has done us a service after all?
02.04.17
---
Check out the dials on the Burlingham Walks of Norfolk.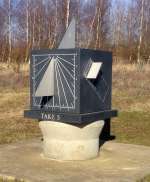 Courtesy of Annabel Payne, see the new website, which covers some of her father David's dials that have been carefully located in the woodland trails located North of Lingwood Village. The 3,000 acre estate was acquired by Norfolk County Council in the early years of the 20th century and became part of a scheme to provide farms for heroes returning from the First World War. See more of this site Here.

28.02.18, 21.06.18
---
A Courtesy for Meridian Line users provided free by Spot On Sundials! The original brass Spot-On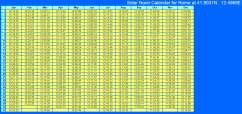 Sundial was designed by Piers Nicholson and introduced to the market in 2001. Since then, more than 900 customers all over the world have bought them as presents for big occasions or simply for their own pleasure. To help enable the set up of any dial Piers also produced a very handy web based Time of Noon calculator Here. It's also useful as a free resource when predicting when the image of the sun will pass any meridian line in the world! The table produced Here shows the local clock times (CET) for solar Noon every day of the year for the meridian line in the Basilica S. Maria degli Angeli e dei Martiri in Rome which is at 41.9031N, 12.4969E. Just add one hour when your sighting is during summer when CEST applies. Neat.
11.10.17 [Published with permission P Nicholson]
---
Hitchin's Physic Garden Sundial This month's dial is the most unusual one that is in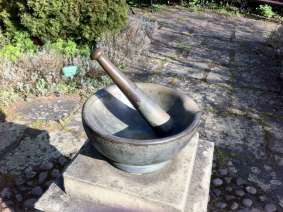 Hitchin's so-called Physic Garden. The garden commemorates the first commercial production of herbs in 1846 by William Ransom, a member of a prominent local Quaker family. It opened on 20th May 1990 in the grounds of Hitchin library and museum in Paynes Park. It is divided into four sections: Household; the William Ransom border; External Ailments; Internal Ailments. It contains a most unusual 1990 sundial in the form or a mortar and pestle dedicated to a late president of the Trust. The motto reads "Disease doth oft rise above medicine". Click the image for a larger version. The dial was designed and made by Joanna Migdal (now Lady White).
30.03.18
---
A chance to read about Seasonal Markers for Analemmatic Sundials. In 2006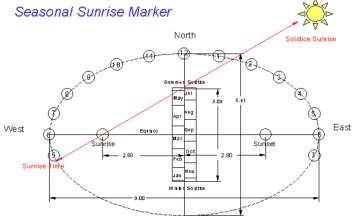 Roger Bailey published his article on Seasonal Markers for Analemmatic Sundials. Written to answer questions such as "Can a sundial be used to follow the sun through the seasons?" or
"Is there a point in an analemmatic sundial that can be used with the Zodiac date line to show where the sun rises?". The answer is of course Yes!
Read Roger's account in this link to his own website
24.07.18 [EU C-466/12]
---
Previously unknown UK sundial location revealed! The National Trust property of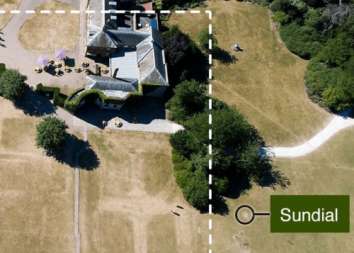 Clumber Park in Nottinghamshire recently suffered from the drought. The building that once stood on here was Clumber House - a grand 18th-Century mansion which was demolished in 1938 after a series of fires and the then economic downturn.

In the present drought, rooms and corridors of the old house have become visible as stone foundations left in the ground heated up more quickly than surrounding material, scorching the soil above to a lighter shade.

Although the location of the lost mansion is well known, amazingly the location of a previously unknown sundial in front of the lawn has been identified - see this image.. More about this and other drought related discoveries from the BBC here
17.07.18
---
The Good News and Bad News about a Dial. The discovery of a rarely seen great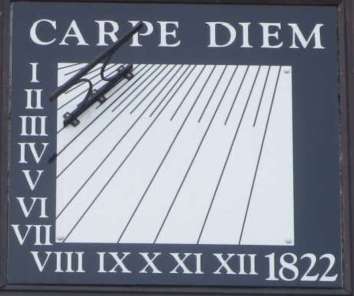 declining dial is rightly good news, as is the fact that clearly the dial in question has recently been carefully repainted. So, what then might be the bad news in the heading to this entry?

This dial has only recently been recorded. It is in Amptill in Bedfordshire, UK and the facts about it were the subject of an article in SunInfo's Dial Time 2018. Read about its problems here
13.09.18
---
---

Bodnant Garden Sundial
Bodnant Garden in Tal-y-Cafn, nr Colwyn Bay, Wales

is a National Trust property in the Snowdonia foothills.
Covering nearly 80-acres (32 ha) it holds a collection made by several famous global explorers. More importantly for some it is also the home to an interesting Pilkington and Gibbs sundial, complete with a bronze base plate which indicates compass directions and the directions of some local landmarks. On 8th May 1906 George James Gibbs was granted a patent on a mechanical 'universal' equinoctial meantime sundial. Mr Gibbs went into partnership with a William Renard Pilkington to form Messrs Pilkington & Gibbs of Ribble Bank Mills, Preston Lancashire and to produce the heliochronometer.
Click the image or HERE for a close up image of this interesting dial.

13.09.21 Thumbnail © Copyright Richard Hoare, Main image © P Strudwick
---

Chatsworth's Elaborate Multiple Dial
Constructed by Gary Breeze from

Woodkirk Yorkstone, this fascinating dial stands on a circular pad set in the lawn near the Cottage Garden at Chatsworh. It includes a scaphe dial delineated for 6am to 6pm. a polar dial and an equatorial dial. Interestingly dots are used to mark some intermediate hours. Two equatorial dials follow and the two sides display direct East and West dials. Additionally included on the ediface are the names, directions and distances of over 40 Derbyshire stone circles and earthworks. The dial is registered as SRN7645 in the National Register.
Click on the image or HERE to see a selection of views of this dial. The images can be magnified to give a closer view.

10.09.21 Images© VL Thomson, 2021
---

Fer De Vries' article of the month April 2004
This month Fer discusses

'Chimney Dials' - dials that use chimneys as their support and which often - though not always use more than one surface to display a dial.

These in Fer's article are thought to date back as far as 1655.

Click the image or HERE to read Fer's article.


01.09.21
---

BSS's First Chairman - Andrew Somerville
This entry includes a link to the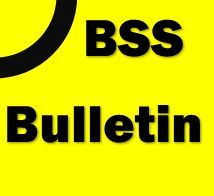 obituary of Andrew Somerville, first Chairman of the British Sundial Society.
It is to be found as the first article of the June 1990 edition of the Society's Bulletin which also (courtesy of BSS) includes a number of other interesting articles too.
Click HERE to read the PDF of this historic BSS edition as it is on their website..

26.08.21 [ [EU C-466/12 retained and as amended]
---

Five Years On at Canons Ashby
It is now just over five years since SunInfo last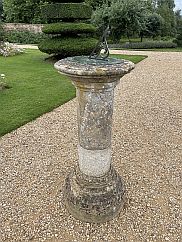 visited the dial at Canons Ashby to find that when measured for accuracy in March 2016 and with its displayed solar time duly corrected for both longitude and EoT it proved to be a very acceptable 3m 30s fast!

The dial was delineated by Richard Glynne who served his apprenticeship under Henry Wynne and was admitted to the Guild of Clockmakers in 1705. Click on the image or HERE for a few views of how the dial is today.

If you want to see what we said about the dial in 2016 and the measurements we took click on the link HERE
An excellent dial.



21.08.21
---

The Sol Horometer - A falling out of Directors?
In 1906 Gibbs applied for a patent for a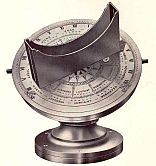 type of sundial he had designed—the Universal Equinoctial Mean Time Heliochronometer or Gibbs Heliochronometer for short—which was able to accurately determine GMT to within a minute at any time of the year and at any latitude.

The invention filled a gap in the market created by the standardization of time in the 1880s which was only truly alleviated with the broadcast of the BBC pips in the 1920s. Unable to fund the business venture himself he found a willing partner in his then employer, William Renard Pilkington, and together they formed Messrs. Pilkington & Gibbs Ltd. in 1906. The price ranged from £7 10s to £15 15s and promotional material indicates they were supplied to a number of important patrons around the world including HM The King. They were marketed simultaneously as accurate time-keepers and garden ornaments and were supplied to owners of large, country estates. As an ornament, they fitted into the early twentieth century trends in landscape architecture and were used in garden designs by Mawson and Lutyens.

The lucrative possibilities of the Heliochronometer did not escape the attention of Gibbs' partner Pilkington who applied for a patent in his own right for his own "Sol Horometer" in 1911 and another two years later.

Gibbs obtained a copy of the patents and noted on both: "First [and second] attempt to find a way to escape paying royalties to GJG". This might have become difficult except that production of sundials by the company ceased with the out-break of WW1 in 1914 from when there is no record of the partnership continuing in any capacity after 1923. Roughly 1,000 heliochronometers were made before 1914 but many did not survive the recycling of metal in the later WW2. Click on the image or
HERE
for a larger version of the image..

20.08.21
---

. A new issue of Orologi Solari
A new issue of Orologi Solari is available for download from the usual site http://www.orologisolari.eu/. Here is the list of articles together with a short abstract:

1. "The horizontal sundial of Euporus - The <intended> latitude" by Paolo Albèri Auber
A horizontal sundial, studied by many researchers, was found in the Circus of Aquileia. Some conclusions, completely wrong according to the author, were published and misled even qualified personnel of the museum environments. The present technical criticism can hopefully be supportive of a correct interpretation of the monument.

2. "The lunar sundial in Villafranca of Verona" by Riccardo Anselmi
The layout and purpose of one of the five sundials in Villafranca of Verona (Sundial Atlas IT5596) is analyzed in detail. Upon examination, the sundial reveals to be a dial to be used with moonlight and that, unique in the world, indicates the hours missing to the sunset of the Moon.

3. "About the name of hours - For a more correct gnomonic lexicon - first part" by Mario Arnaldi
Today many gnomonic terms are used, unconsciously or not, incorrectly. The habit of a certain phrase book has become so common – even among the gnomonists themselves – and sediments so tenaciously in the collective language that the reappropriation of a correct terminology could recall the epic clash of Don Quixote with the windmills. In this article the author proposes his meditations.

4. "The amplitude Marker in analemmatic sundials" by Giuseppe De Donà
The author describes the choice he made in positioning the Markers of sunrise and sunset in the analemmatic sundial made at Follo of Valdobbiadene. He recalls the authors who have already dealt with this subject and compares the differences in terms of direction and time resulting from the choice of a Solstice Marker compared to other possible solutions.

5. "25 numbers of 'Orologi Solari'" by Editorial board
A brief report is made about the content (quantity and type of articles, columns) and about the readers use (online downloads and purchase of paper copies) of the first 25 issues of the magazine 'Orologi Solari'.

6. "It was a dark and stormy night - The true temporal hours and vertical hours" by Fabio Savian
The time system of temporal hours corresponds to a more complex definition than in the common interpretation, enclosing an original conception of division of the diurnal arc based on the vertical angle described by Ptolemy. The evolution in identical intervals, as understood today, is the result of a process influenced by astronomy that led to the construction of sundials with true temporal hours, although the vertical angle was used in gnomonics until the beginning of the modern era.

7. "Peaucellier Hybrid Sundials: gnomonic projects you've never seen before" by Fred Sawyer
The author investigates the various strategies to design an azimuthal horizontal sundial with hour and diurnal rectilinear lines: it follows the approach by Charles-Nicolas Peaucellier in the 19th century, and then he expands the solution to sundials with "almost" straight lines.
---

Fer De Vries' article of the month March 2004
On a sunny day, a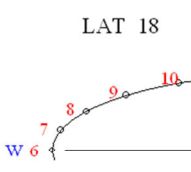 diallist in Utrecht stands on the analemmatic sundial on the Janskerkhof.
Not only does he read the time, but his shadow moves clockwise, and he had not expected otherwise.

However, this little experiment performed in Capetown would show the shadow to move counter-clockwise. It is even more fun between the tropics.

Click the image or HERE to see more.


11.08.21
---

Fer De Vries' article of the month February 2004
This month's article was

written by Hans de Rijk.

This article shows what happened when Hans discovered a misaligned sundial in a churchyard...

Click the image to find out...
04.08.21
---
Fer De Vries' article of the month January 2004 This month's article from Fer De Vries shows a very special sundial, or rather a triple sundial. It is barely visible on a buttress of the Large Church in Maassluis.

Yet there are three vertical sundials, facing north-east, south-east and south-west.

This triple dial was probably made in the 17th century.




30.07.21
---

The Frogner Park Sundial
Just outside Oslo in Frogner Park there lies the Gustav Vigeland
Sculpture Park which is dedicated to the display of the many sculptures of Adolf Gustav Thorsen who later changed his name to Gustav Vigeland. Amongst these and designed and constructed in 1930, is an interesting half armillary sundial with an Equation of Time correction analemma appropriately positioned to be read by the observer using the shadow of the attached nodus.

It is made of bronze on a granite pedestal which has inset niches depicting the signs of the zodiac. Click the image or HERE for a larger view. There is also another sundial on the nearby manor house. Be sure to find it when you next visit Oslo.



19.07.21
---

Fer De Vries' article of the month December 2003
In this article Fer

continues his commentary about definitions relating to dialling.

This time he discusses style height again in a little more detail and then looks at the 'Translation Rule' which makes it possible to calculate or construct a randomly oriented sundial simply as a horizontal sundial

Click the image or HERE to read his interesting article made available here courtesy of the Dutch Sundial Society,

De Zonnewijzerkring.





12.07.21
---

Was it really all down to Railway Time?
It is often said that the need for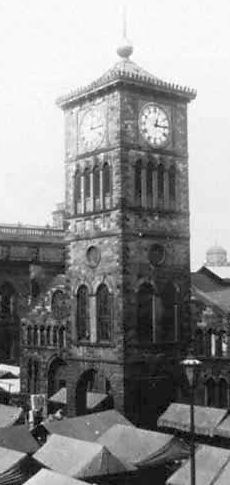 Railway Time was the reason that GMT was adopted throughout the UK. That is of course partially true but there were several other factors involved, not least the pub landlords of London and the mill owners of Lancashire.

Courtesy of the most excellent book 'About Time' by David Rooney we can really see how the use of GMT arose and developed.

Click HERE to read a short summary about this. Click on the image to see more of the picture of Blackburn's former Market Hall and its Time Ball. Now sadly lost.

07.07.21
---

The Dial at Kiftsgate Court
Another lost original dial has been replaced at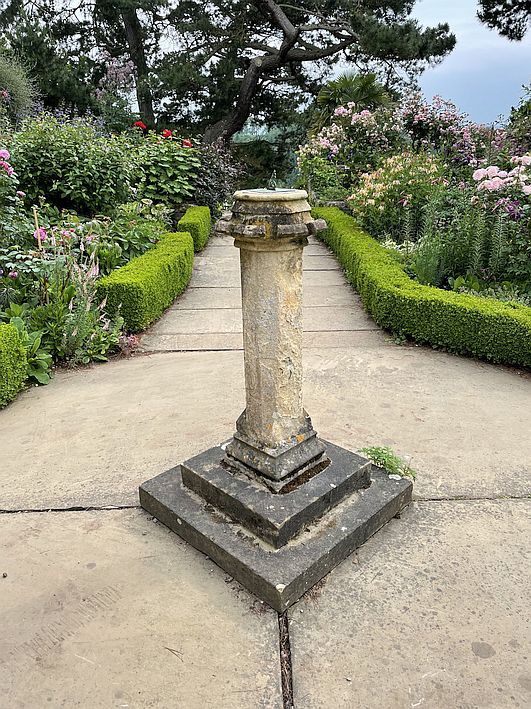 Kiftsgate Court in the garden there. Heather Muir created the wonderful garden, which until 1920 had consisted of a paved formal garden in front of the portico.
Heather was helped and inspired by her lifelong friend Lawrence Johnston of Hidcote Manor which is close-by but it was Heather who decided that the garden should develop organically, rather than by planning everything firstr. This has given the garden a distinctly feminine feel, almost in direct contrast to the more masculine lines being employed by Johnston at Hidcote. A more recent development has been the addition of the new water garden that was once the tennis court. The original dial has long gone and the inset in the top has been strangely filled but the replacement dial has character. Click the image or HERE to see more detail.

06.07.21
---

The Dire Dial of Hidcote Bartrim
The gardens of Hidcote Bartrim in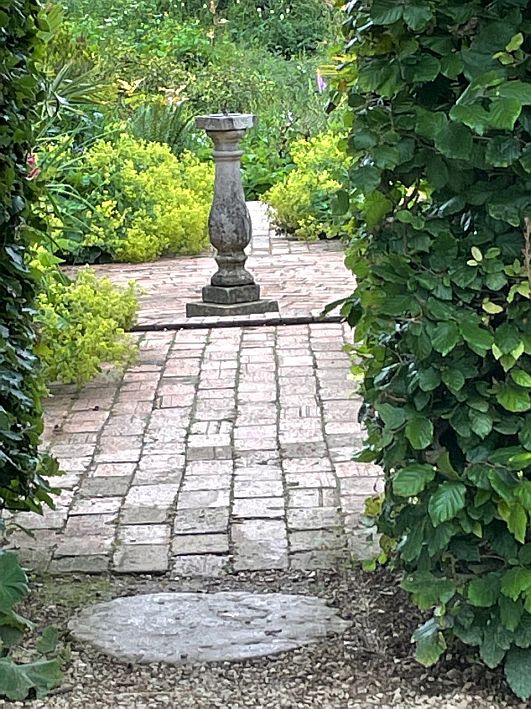 Gloucestershire are deservedly well known and admired by all. In 'Mrs Winthrop's Garden' there is a sundial (SRN 5903) which has, like so many others, suffered from theft over the years. Today's version though is frankly a bit of a mess. Set on a lovely 1789 pedestal is a poor modern dial of the wrong size and with a rather twee motto. On top of that the dial is not properly aligned. How much better with a better dial but how much greater the risk of another theft?
Check out the dial HERE and judge for yourself.

03.07.21
---

Erin Beeston on his 'Relics of a Railway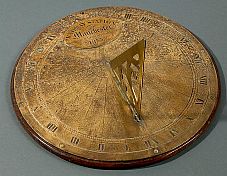 The Liverpool Road Station in Manchester has owned a quite spectacular vertical sundial for over 180 years which has been an object of fascination for over a century. In 1929 the sundial was removed from a plinth outside and placed in the offices of Grundy, the goods agent at the station until 1931. The sundial also featured in the Liverpool Echo in 1937, when it was photographed outside with a member of staff. We next see it in a 1939 Pathé film. Read Erin Beeston's interesting article HERE Click the image for a larger version
22.06.21 Courtesy Science & Industry Museum
---

Fer De Vries' article of the month November 2003
This month Fer takes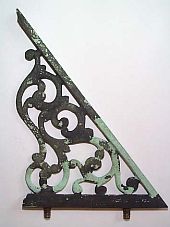 a look at what causes the shadow on a dial. The Style triangle, the Gnomon, the Pole style, Substyle and the Style height
An excellent shadow caster. this gnomon is a part of an old English horizontal dial, but could also serve on other, randomly oriented, flat sundials.
Fer discusses some terms associated with such a 'shadow caster'. Click HERE to read the article as a PDF.

22.06.21
---

Fer De Vries' article of the month October 2003
For the month of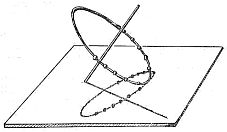 October 2003 Fer De Vries took the concept of Shadow Dials.


Shadow sundials was an

i

dea of Hans de Rijk, published in the Dutch Sundial Society Bulletin of "De Zonnewijzerkring" nr. XI, 1982.
Read Fer's article
HERE
19.06.21
---

Theme & Variations - of Mottoes?
Many British dials include mottoes and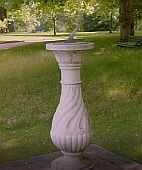 many of those have similar versions. Here attached as a PDF is list of mottoes known to SunInfo and found by many diallists over the years often from unrecorded sources. Not only can the reader see here a list of these mottoes but, in this presentation, you can see many of the variations that can also be found on UK dials.
Click HERE to see the list of dial mottoes as known so far.
If you know of others or other variations please do let the webmaster know the wording and the details of the dial on which it has been found. Thanks especially to all who have so kindly contributed to this archive.

23.05.21
---

A Collection of Scottish Sundials
Scottish sundials of the renaissance period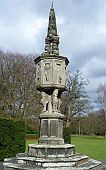 are surely unique. Many are free standing stone sculptures of the 17th and 18th centuries with many small dials engraved on them. Accurate timetelling is often not the aim. Precision is sacrificed for decorative effective and the mathematical complexity of the dials is often decoration enough. The ancient sundials of Scotland can be grouped into three main styles: lectern, obelisk and facet-head though there are many more conventional ones too. Have a look at this Scottish Dial Register of over 100 Dials pictured HERE
21.05.21
---

Fer De Vries' article of the month September 2003
This month's article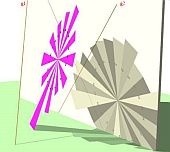 by the late Fer De Vries concerns Bifilar sundials with negative wires.
It is a comment concerning a (then) new(ish) development in bifilar gnomonics.
The idea came from: Fabio Savian, Italy.
The horizontal bifilar sundial with two crossing wires as a shade device was invented in 1923, by Hugo Michnik of Germany.
Read fer's article HERE

20.05.21
---

Fer De Vries' article of the month August 2003
The latest Fer De Vries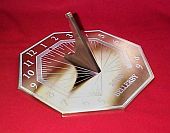 article in our series considers the matter of a wide style triangle gnomon.

Flat pole style sundials usually carry a style triangle.
The straight edge is the actual style, the shadow of which indicates the hour.
The designer is otherwise free in his choice of shape. Read Fer's article HERE

19.05.21
---

An amusing garden ornament
But in no way should this be described as a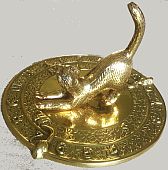 working sundial. Here's your challenge! How many aspects of this garden ornament can you see that fail to make it a workable sundial. This has to be one of the best yet.
Click on the image to see a larger version from which you can see at least three generic problems. Do you know of a dial that is similarly incorrect though well made as an ornament. Send your images to the webmaster!!


10.05.21
---

Fer De Vries' article of the month July 2003

In this interesting article Fer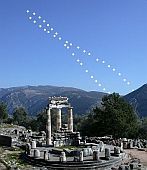 discusses the confusion over the meaning of the word Analemma.

Ptolemeus who lived in Alexandria around 140 AD, copied the Roman architect Vitruvius in using the word for an ingenious projection of the celestial globe on the meridian plane.

Read Fers article HERE or click on the image to read the next in Fer's interesting articles.

26.04.21
---

Fer De Vries' article of the month June 2003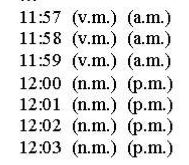 How do we count the hours? It sounds easy but is it?

It sounds simple enough, but in our daily lives, we use two systems.
Read Fer's article of the month HERE or click on the image. It is in PDF format.


26.04.21
---

Four Treasures of Bromley House Library
Dr Anja Thompson-Rohde, who is the Senior Librarian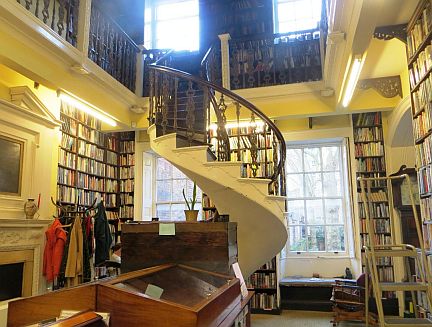 at the Bromley House Library in Nottingham, regularly gives a short talk on You Tube about some of the Treasures in the Library. The library is one of very few remaining subscription libraries in the UK and was founded in 1816. It holds the BSS Library and with it the Christopher Daniel Book collection. In September 2020 talks were presented about four books held in the BSS Collection. These four talks may be heard HERE. There is more to read HERE too. As a subscriptionlibrary Bromley House is only open to paid up BH members and to BSS Members.

Graham Aldred first suggested that this library might be an excellent venue for the Society's books since the private house where they were then being held was being sold (!) and a new place was clearly urgently needed. Particularly appropriate was the fact that at Bromley House there is both a meridian line and a Pilkington and Gibbs heliochronometer. Graham spoke with a trustee of Bromley House who happened to be attending a talk at a BSS meeting and an agreement was subsequently reached. Graham then personally repaired and serviced the Pilkington and Gibbs dial - it turned out that the EoT cam had been wrongly fitted - and now BSS Members and all paidup Bromley Library Members may peruse these books at their leisure and perhaps also observe the sun's transit and even check the time by the sun during their visit!

31.03.21, 02.04.21 (Image thumbnail courtesy Bromley House Library)
---

Fer De Vries' article of the month May 2003
At what time is the sun due south?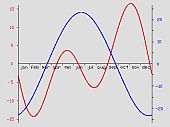 The answer is often, "at twelve o'clock". That is correct when we mean XII hours apparent solar time, but here, we want something else.
In order properly to orient a sundial, it is necessary to know the north-south direction, and it is good fun to find that direction using the sun and a good watch.
The question now becomes: What time does our watch read when the sun is due south (north)?
And that will rarely be twelve o'clock exactly. Click
here
or on the image here to link to Fer's article.

20.03.21 © De Zonnewijzerkring, 2021
---

The BSS Bulletin for March 2021
The latest BSS Bulletin -Vol 33(i) - has recently been published by the Society. This month's contents include:
Time for Recreation and Re-Creation. Part 2: The Re-birth of a Large Polyhedral Sundial - David Brown
Obituary: Mike Isaacs - Douglas Bateman
The Tetracycle Dial - Mark Lennox-Boyd
Newly Reported Dials, 2020 - John Foad
The Equation of Time at Kew - Andrew Hodgson
Restoration of the Kinloch Anderson Sundial in Edinburgh - Alastair Hunter
Square and Compasses- Jill Wilson and Christine Northeast
Daniel Nithsdale, alias Nistel - Simon Bateman
The 'Large Acres' Sundial - Sue Manston
Sundials, Guardsmen and Scarecrows- Valery Dmitriev
In the Footsteps of Thomas Ross. Part 34: Some Sundials from Cupar, Kinross and Alloa - Dennis Cowan

Also included in this edition is the Trustees 2020 Annual Report and the BSS Accounts for the Year Ended 31 December 2020, with associated other reports. The Accounts show a substantial reduction in expenditure but still with a small reduction in total available funds. A copy of the Accounts will be made available here soon.

15.03.21
---

Fer De Vries' article of the month April 2003
This month's entry involves the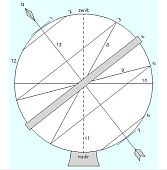 identification of the bands of an armillary sphere - using their latin identification from long ago.

This clear description proves an interesting way to discover the detail that is represented on any properly constructed Armillary Sundial.

Click
here
or on the thumbnail to see a PDF of the details.


07.03.21 © De Zonnewijzerkring, 2021
---

The Clifton Park Dial, Rotherham
The refurbished Grade II listed Walker Sundial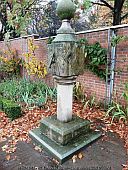 at Clifton Park has been unveiled in its new home–the park's walled garden.
The stone structure was commissioned and made by sundial maker Samuel Walker in 1739.
Samuel (1715-1782) ran a School at Grenoside until 1746, but boosted his income by making sundials. Now they are regarded as of historic importance. In the 1970s, his sundial was moved from its previous home at Ferham House and placed in the sunken garden behind the Clifton Park Museum. It stood there until about eight years ago when it was laid flat after being damaged by vandals. Click the image or go HERE for more details, its history and a larger image.


02.03.21
---

Fer De Vries' article of the month March 2003 Fer wrote: It just came to us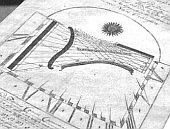 from out of the blue.

"A drawing of a sundial with calculations (1730), made for William IV, probably for the construction the sundial in the Prinsenhof garden in Groningen".

That, to the Dutch Sundial Society, not surprisingly was interesting! Click the image or Here for the article


16.02.21 © De Zonnewijzerkring, 2021
---

Fer De Vries' article of the month Feb 2003
How much time is sundial time?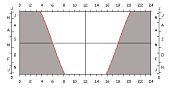 Whenever we design a sundial for an arbitrary plane, we will also have to determine which hour lines to add.
This choice depends on two factors:
- The sun should be above the horizon where the sundial is located, i.e. it should be day
- The sun should be on the correct side of the dial plane
See how to solve for these issues. Here or by clicking the image.

08.02.21 © De Zonnewijzerkring, 2021
---

A Sundial Guide for the Extremadura Region of Spain.
The first edition of the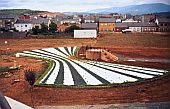 Guide of Sundials for the Extremadura region (interior SW) of Spain was published this last summer. An electronic version of this guide (in pdf format) can now be downloaded free of charge. Although this PDF is the full document in Spanish complete with images, the online page for individual dials can be read in most languages by simply right clicking and turning on Google Translate.

Go HERE to explore this excellent Register of Dials or click on the image here.

17.01.21
---

Fer De Vries' article of the month Jan 2003
Here is Dutch diallist Fer De Vries'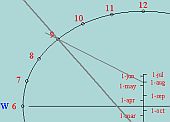 first available article for the Dutch Sundial Society. It introduces the reader to the analemmatic sundial and as usual with Fer's contributions it add a little twist to our normal use for this type of dial.

The article may be viewed in full by clicking on the thumbnail image or here.



10.01.21 © De Zonnewijzerkring, 2021
---

The Möbius Strip Noon-Mark at Brown University
Several years ago (in the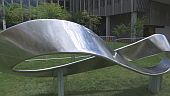 USA), Brown University alumnus Charlie Giancarlo presented students at the University's School of Engineering with a grand design challenge.
Giancarlo wanted to fund the installation of a sculpture to be placed in front of Brown's new Engineering Research Centre. He envisioned something that would represent the rigour of engineering work, but have artistic beauty as well. He wanted something that people could touch and interact with, yet would last a long time, at least as long as the engineering building itself. Most importantly, he wanted it to be a means of telling time by tracking the sun — a sundial. He challenged students to come up with a striking design that met all those criteria and to then oversee its fabrication and installation.
A student group took up the challenge, and the result of more than two years of work — a stainless steel Noon Mark measuring 15 feet long and 4 feet high — was recently installed. The piece, titled "Infinite Possibility," is in the form of a Möbius Strip with a Noon Mark analemma at one end.. More about this here.
26.
12.20
---

The Napier Dial
At the southernmost tip of Africa, about two hours drive from
CapeTown, lies the town of Napier, a natural and historical delight for visitors to South Africa. This little town lies at foot of the Soetmuisberg Mountain Range and is home to many tourist attractions, not least the Napier Sundial.
Locally accepted as the largest sundial, as well as the only vertical one, in South Africa.
The Napier Sundial was erected by Danie du Toit in 1965, after years of observing the movements of the sun. It was when he read an article written by CJ Langenhoven on sundials which had been reprinted in 1936, that his interest was piqued. This sparked in Du Toit a special desire to create his own sundial.

Click on the thumbnail

image for a larger version.

He duly approached the local municipality, which provided the materials and allowed him to erect the sundial outside the Municipal offices. It took him 18 months just to complete the markings for each minute - all based solely on his observations of the shadow on the dial. A most unusual example of a dial being constructed by observation.
Using an accompanying table, which explains the corrections between the sundial's time and standard time, it seems the time of day can still be determined to within an accuracy of 30 seconds.

22.12.20
---

The New Coulsdon Dial
Peter Ransom has recently prepared the calculations for a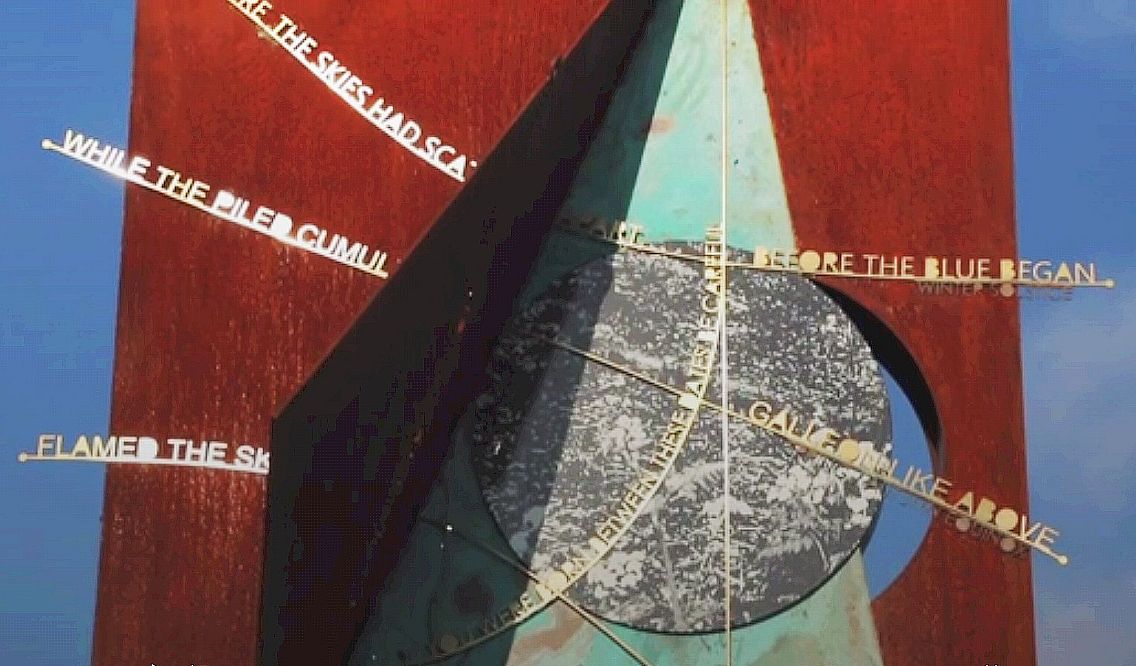 sundial to honour the history of the clock tower that stood pride of place at the former Can Hill mental asylum hospital, Coulsdon. It sits in the centre of what is now the Cane Hill Park development and it represents the diverse history of Coulsdon whilst acknowledging 'noon' not so much as 12pm, but the moment when the sun is at its highest point in the sky above that specific place. More here

Richard Jackson, a committee member of the residents' association, called the sundial "exciting", and said of the designer of the dial: "Holly Graham has produced a work of art that used historical documents left by the hospital residents, which includes a useful sundial.

14.12.20
---

The Meadows Dial
T
his amillary sundial was erected in Edinburgh in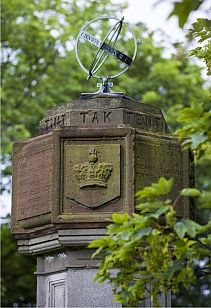 commemoration of the opening of the International Exhibition by Prince Albert Victor of Wales on 8th May 1886.

Shields on the sundial are carved with a crown, the arms of Edinburgh, a lion rampant and a castle. One inscription on the sundial reads, " Tak tent o' time ere time be tint" or 'Take account of time before your time is finished.'

Quarry names are also on the blocks making up the shaft of the sundial. and on each of the lower facings several sayings. source: www.rcahms.gov.uk)


29.11.20
---

C
OVENT GARDEN'S HIDDEN SHOPPING VILLAGE
When Seven is Six! Seven Dials was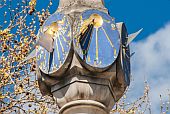 originally laid out by Thomas Neale, MP in the early 1690s, who cleverly laid out the area in a series of triangles to maximise the number of houses as, at the time, rentals were charged per foot of frontage and not per square foot of interiors.

The names of the seven streets were chosen with the intention of attracting affluent residents, however some of the names have subsequently been simplified or changed because of duplication with other streets in London. They were originally: Little and Great Earl Street (now Earlham Street), Little and Great White Lyon Street (now Mercer Street), Queen Street (now Shorts Gardens) and Little & Great St. Andrew's Street (now Monmouth Street). Some of the original street signs can still be seen attached to buildings in the area.

Neale commissioned England's leading stonemason, Edward Pierce, to design and construct the Sundial Pillar in 1693-4 as the centrepiece of his development in Seven Dials. The Pillar was topped by six sundial faces, the seventh 'style' being the column itself. [Click on the thumbnail for a larger version] In its day it was regarded as one of London's 'great public ornaments' along with the layout and identity of the area that revolves around it.

24.11.20
---

World Sundial Webcam Project
A project that aims to visualize the rotation of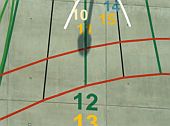 the earth and therefore produce a real sense of the rotation at the observer is being established. It uses a website with live web camera streams from partner stations showing shadows of gnomons as they cross Noon LAT. The website displays the live stream of an automatically selected web camera. The selection is based on the actual availability, according L.A.T., and local weather conditions. These partner stations transfer their live stream to the server and hence to the Internet.

Applications are encouraged from anyone wishing to provide a webcam - details at https://earthlat1200.org/

17.11.20
---

Mystery of an Ancient Roman Gnomon Deciphered.
Digital mapping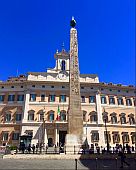 has corrected a decades-old misconception about the famous relationship between the Ara Pacis, consecrated in 9 B.C., and the Obelisk of Montecitorio, a 6th century B.C. Egyptian relic that was brought from Heliopolis to Rome by Augustus, the empire's founder. The researchers' models revealed that the true significance of the interaction between the monuments was not after all, the shadow on the Ara Pacis, but the location of the sun itself. Simulations showed that the Ara Pacis and the Obelisk of Montecitorio were aligned so that, when viewed from the nearby Via Flaminia, the obelisk would appear from behind the Ara Pacis with the sun positioned at its tip. This celestial phenomenon would have occurred not on Augustus' birthday but on October 9, the date of the festival of the Temple of Palatine Apollo. Read more of this interesting discovery.

09.11.20
---

A Tale of Two Dials
Our picture here shows the very famous dial at Queens' College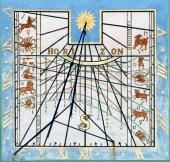 Cambridge, but there was once a very similar look-alike in Copenhagen; so similar that a natural question arises as to whether one influenced the other, or whether they are both descended from some common ancestor.
It is not known who designed the look-alike dial design but it is currently attributed to Christen Sørensen Longomontanus (1562–1647), a pupil of Tycho Brahe, who became professor of mathematics in the University of Copenhagen in 1607.
Click the image here to read more about the Old Court Dial in Cambridge and then turn to read about the Copenhagen look-alike!



30.10.20
---

WD& HO Wills Cigarette Cards
Several decades ago the cigarette companies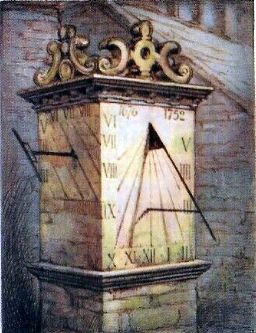 would insert give-away cards in their packs of cigarettes to encourage sales. These were issued on all sorts of topics in the hope that customers would collect them and so keep buying their packs. The practice didn't last but even in the 1950's Wills kept the machinery maintained in case a 'cigarette card war' started again. Here we have a link to the cards that they printed on Sundials - with that for Wimborne Minster shown in the thumbnail. Click that image to be able to see the obverse and reverse of these cards. There is a short decription of each dial on the reverse of each card.

21.10.20 Courtesy picclick.co.uk
---

The Rousham Sundial again!
We last visited this dial in 2018 but it is always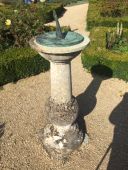 worth another visit. This time with some close ups of the dialplate and with the information (from the owner no less) that it is currently quite badly misaligned after some boisterous children had knocked it over a few years ago and, in the process of properly securing it, it has simply been fixed upright again. We have been told it will be looked at when time permits.

Click on the image for more information about this lovely dial by Dolland which despite a little wear can still be read in all respects. Its many scales make this a true scientific instrument set in the lovely gardens of Rousham - particularly with its marvellous dahlia display this autumn.
09.10.20
.
---

The Dial at Fountains Hall
Fountains Hall is a Grade 1 listed country house in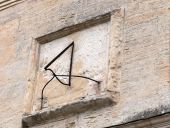 Richmond (N Yorks) which has a sundial over the front entrance. Amazingly the dial is not mentioned in the listing and this might account for its current state. It is a Direct South Dial the gnomon of which is currently slightly twisted. The lower part of the carved sandstone dialplate is also badly weathered. Nonetheless it is all still largely visible and it is well worth a look if you happen to be in the area. Click on the image here to see a larger version and
Click Here
to see its setting over the entrance door
.
29.09.20. Images courtesy VL Thomson © VLThomson 2020
---
The History of the Countess's Pillar
Here's an interesting article about the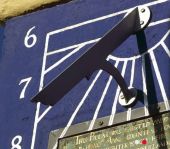 history of the Countess's Pillar, one of the more famous dials in Britain which was restored recently by Christopher Daniel. The dials and the pillar were placed there by Lady Anne Clifford, the last of all the Cliffords, who by her force of character and charitable works left her mark on her property and a legend in the county of Westmorland that remain to this day. The link here is to chapter four of "A Tour In Westmorland by Sir Clement Jones, published 1948". It makes interesting reading. Her charitable gift is still in existence and is managed as a named charity by the local council! Click the image here of the South dial to read more about this remarkable 17thC lady and her works.
15.09.20 [EU C-466/12]
---
The Sundials of New College, Oxford
Twenty Years ago, the UK's famous dial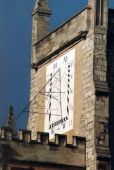 maker, Harriet James, publlshed an interesting article about the history of dialling at New College Oxford. She then magnificently ended her article with a description of her own addition to the College on the Muniment Tower.

This turned out to be a bit of a saga which Harriet bravely reported for the benefit of all diallists and she acknowledged the help and advice of others in getting this quite magnificent dial installed. Those of us who have our own experience of the design and installation of large dials know only too well just what problems can arise. Her end result of a 20 second accuracy is remarkable and her account of this in her article linked below is well worth reading or even re-reading!.
Harriet's article of the dials of New College
15.09.20 [EU C-466/12]
---
The Dennis Cowan Sundial Trails
Over the years Sundiallist Dennis Cowan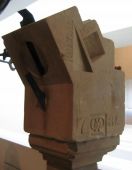 has put together a number of quite fascinating sundial trails of Scottish dials. Readers will know that Scottish dials frequently have a style all of their own but despite their relative rarity there are many such that are well worth looking at. Despite this they are not shown as much as you might imagine. So, over the next weeks and with Dennis's gracious permission, SunInfo intends to feature a few of these trails.

Our first trail encompasses the dials of the Royal Mile in Edinburgh including those to be seen there in the National Museum of Scotland. The image here shows a lectern sundial, dated 1781, from Cantray in Aberdeenshire, with the monogram DD (David Duncan) and with dials for 13 locations around the world. These are Cantray, Peking, Goa, Rome, Jerusalem, Cairo, Naples, Syracuse, Ozaca, Troy, Smyrna, Bengal and Paris. This sundial was gifted to the museum around 1931 by Miss EM Davidson. It is of grey sandstone. Just compare the complexity of this Scottish dial of 1781 with the English dial in Alnwick of the not dissimilar date of 1737 which is shown lower down on this page. Click on the thumbnail to see a larger image. The full trail can be downloaded as a PDF
HERE
. Enjoy your trip!

02.09.20 By kind permission of D Cowan.
---
Twenty years on!
To mark the Millennium Amble Council in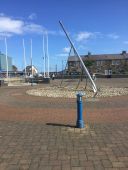 Northumberland commissioned a firm of architects in Newcastle to turn their asphalted car park into a civic amenity. A part of this was to be a large central sundial and Patrick Powers was commissioned to design it. During a recent visit to Northumberland a visit was made to see how the dial has fared after nearly twenty years! It turns out to be in remarkably good shape. Clearly the area is being very well maintained and is well worth visiting if you are in the area. The dial was set out on a N-S line which was also used to locate a small amphitheatre and on this visit it was pleasing to see locals seated in that to chat as well as others, including children playing, in the square. The redevopment won the 2002 RTPI Award too. Click here or the image for four images of the dial today and click Here to see more about the dial's development and installation and even about its accuracy - at least at one part of the time scale! - when it was completed.

01.09.20
---
Revisiting an old friend..
In a recent visit back to Northumberland it was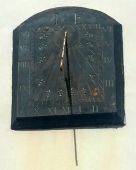 pleasing to see again the old vertcal dial on the side of Willcox's Jewellers in Alnwick's main street.

Constructed in 1737 and bearing the initials I.F. it is a Direct South dial in slate, still in remarkably good condition and showing in Roman numerals the expected 6am to 6pm in quarter hours with half hours marked by fleurs de lys.

Click on the thumbnail for a larger image which was taken at 13:33 BST on 20th August 2020.

01.09.20
---
The

Summer Solstice and a Dihelion Sundial
The Edinburgh sundial company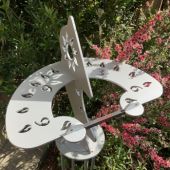 Macmillan Hunter's latest newsletter reports that (surprisingly perhaps?) the summer solstice 2020 in Edinburgh was a day of beautiful sunshine. It really showed off their Dihelion dual sundial which can read the solstice and the equinox seasons as well as the usual daytime hours.

The time shown here is before 8 in the morning solar time, or nearly 9 am in British Summer Time. It is still well before noon, when the horizontal rod is able to mark the passage of the four seasons by its shadow. Read more of this HERE
02.08.20

Image

© Macmillan-Hunter Sundials, with permission
---
Royal Museums Greenwich – the astronomical background to the Summer

Solstice. The Royal Museums of Greenwich recently released a link to an article in their Discover and Explore series for children and adults. This one relates to the Equinoxes and it was released just before the most recent summer solstice which took place on Saturday 20 June 2020 at 21:43 GMT (22:43 BST). Click on this link for more.
https://www.rmg.co.uk/discover/explore/equinoxes-and-solstices 07.07.20
---
BSS Bulletin - June 2020
The June Bulletin of the British Sundial Society has
recently been issued to Members. The key contents are:
- Thomas and Joshua Mann: Engravers and York Virtuosi - John Davis
- A Village Sign and a Sundial in Lancashire - Irene Brightmer
- Restoration of the Drummond Castle Obelisk Sundial. Part 2: Conservation and Restoration Work - James Tate, Graciela Ainsworth and Alastair Hunter
- Newly Reported Dials, 2019 - John Foad
- A Bentley Gnomon – John Davis
- In the Footsteps of Thomas Ross. Part 31: East Coast Obelisks Dennis Cowan
- Who was EC? – John Davis
- Two Double Horizontal Sundials Constructed at the Jesuit Academy in Polotsk, Belarus – Maciek Lose
- A Freshly-excavated Sundial from Antiquity Found in Turkey - John Davis
Join the Society if you wish to receive a copy of this publication

15.06.20
---
The Sad Dial at the Lygon Arms Hotel.
The Lygon Arms Hotel in the Cotswolds

district of the UK lies in the High Street,of Broadway, Worcestershire. It is an old and established high quality hotel build from the local Sandstone. This explains why the often missed sundial on the right hand front facade is no longer operational. It does however still retain its unusual gnomon which is somewhat more ornate than those usually seen. The dial must have been a Vertical South dial but sadly few if any markings remain. This must surely be one case where re-engraving would be worthwile and not a violation of 'conservation' principles. Click on the image for a fuller picture - Can you see the dial? See a closer image
here
and an even closer image
here
22.04.20
---
The Dial in Italy's Sigurtà Garden Park. Magda and Joseph Sigurtà have tirelessly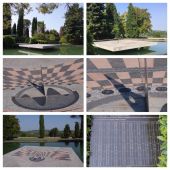 maintained the garden that was first restored by the pharmaceutical industrialist, Dr. Giuseppe Carlo Sigurtà from the 1940s.

In 1990 a sundial was constructed there and surrounded by water. Click on the image or HERE to see larger images of this interesting sundial, seen here at close to the 2019 autumnal equinox.



13.10.19
---
April's News from Border Sundials
The latest addition to 'News from Border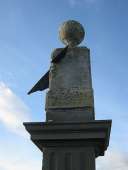 Sundials' can be read
here.
This edition mentions the Sundial on Wilton Bridge, Ross-on-Wye, Herefordshire. Read about its history, why it was moved and read its depressing motto: "Esteem thy precious time; Which pass so swiftly away; Prepare thee for eternity; And do not make delay". The sundial was commissioned by Jonathon Barrow - originally from Monmouth but who lived in Bridstow just outside of Ross-on-Wye.
11.04.19 Image © Pauline Eccles & licensed for reuse under the Creative Commons Attribution-ShareAlike 2.0 license.
---
The Sundials of the Castle and Collegiate Church of St. Michael of the city of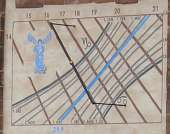 Pforzheim, Germany are shown here. Sadly few documents exist today concerning the origin and history of either the clocks or the dials of the castle church. Nonetheless, it is known that until the 19th century the mechanical tower clocks had to be readjusted daily or weekly with the help of sundials, which were mostly nearby and in some cases even only as noon dials.
The existence of the sundials at the castle church can today only be deduced from the beginning of the 19th century. The recently restored sundials shown here make use of the southwest corner of the church, because that area is illuminated by the sun all day long. They are relatively large and ideally located to make the time fully visible and they have been mounted high to discourage vandalism. Unfortunately, it is not clear from existing illustrations just how the original dials were executed. Even investigations during the restoration of 2014/15 gave no indication. Only the attachment points of the original gnomons could be seen. The dials here have been wonderfully executed by Siegfried Netzband, (delineation) and Schorn, Marxzell (painting). Click on the image above to see both dials set around the corner of the church.
05.10.19 © &

permission Siegfried Netzband 2019.
---
An interesting new, painted Italian dial of classic design.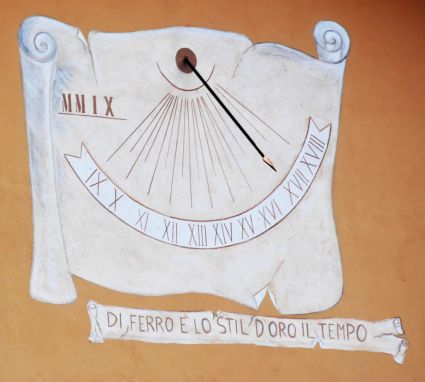 Here is a painted dial on a house on the Eastern side of Lake Garda in Italy. On one of the houses overlooking the Lake and accessible only along the very narrow roads of that area.
Constructed (or perhaps repainted) in 2009 it bears the motto
"Di ferro e' lo stil, d'oro il tempo". (Iron is the style, gold the time). It displays local solar time from 9am to 8pm.
29.09.19 Images courtesy VL Thomson © VLT 2019
---
Dials of Polesden Lacey Polesden Lacey is an Edwardian house and estate, located on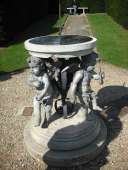 the North Downs at Great Bookham, near Dorking, Surrey. Built by Thomas Cubitt Ambrose Poynter it is a designated World Heritage site. It has several dials the main one was stolen some years ago and a rather poor replacement has been put in its place on the original elegant cherubic pedestal.

See the dials here: Dial 1, Dial 2, Dial 3a, Dial 3b

06.09.19

Images courtesy VL Thomson © VLT 2019
---
The Kiftsgate Sundial Kiftsgate Court Gardens is situated above the village of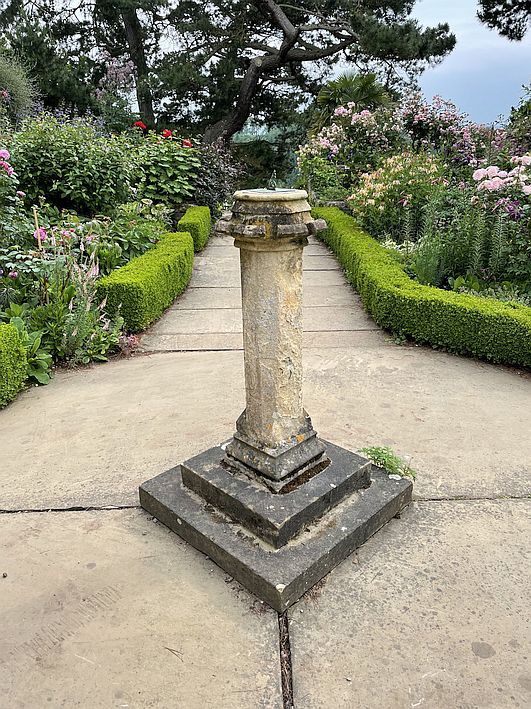 Mickleton in the county of Gloucestershire, England, in the far north of the county close to the county border with both Worcestershire and Warwickshire. The gardens, famed for its roses, are the creation of three generations of women gardeners. This wonderful pedestal supports a perhaps less wonderful dial but is nevertheless worthy of note.

There are more images of the dial's details Here, Here and Here

05.08.19. Images

© coursesy VL Thomson, 2019
---
The Vaux-Le-Vicomte Surprise...! A visit to the Chateau de Vaux-Le-Vicomte in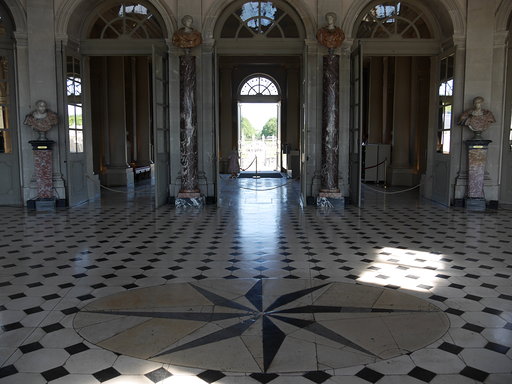 Maincy, near Melun, 55 km SE of Paris in the Seine-et-Marne département of France is always a delight. However when visiting the Grand Salon there you are in for a surprise because the tiled floor of the Salon is set out as a dial without an obvious aperture gnomon. Sadly nothing available to read about the salon mentions this nor does the plan being carried out for restoration. Can diallists in the area please let SunInfo know the history of the dial or meridian line and whether it will be restored to its former glory? Click on the image for more detail and see more of the floor markings of the Salon Here, Here and Here
17.05.19 Images © VL Thomson 2019
---
The Chantilly 'Dôme' Sundial is certainly rarely seen! It is at the Chantilly Gardens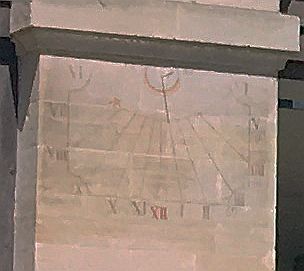 North of Paris - inside the outdoor manège there, an extraordinarily interesting part of the stables few otherwise get to see - unless there to witness an equestrian demonstration of course. The key equestrian shows and demonstrations take place beneath the 28 metre high majestic dome of the Great Stables, with its ring and its spectators' stands that can accommodate 600 people. Its recently restored fountain features the dates of construction of the Great Stables (1719-1735). The almost invisible sundial in the outside manège faces due South but has an horizontal gnomon. It is dated 1737. Click on the image to see a better version with more detail. A nice dial.
13.05.19, 15.05.19 Images © VL Thomson 2019
---
Is this Dial still showing the time? The Colorado Transcript Newspaper dated 21st
January 1909 had a small column remarking that sundials were still in common use in Mexico.

The article showed a line drawing of one such high on a building but sadly its location was not identified so we are at a loss to know if the dial still exists. Can any reader throw light on the location of this dial and say if it might still be in existence?

The newspaper entry may be read here. It makes interesting reading.
05.05.19
---
Reinhold Kriegler SunInfo is very sad to report that the sundial enthusiast Reinhold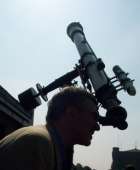 Kriegler died on Saturday 23th March 2019 in Dessau. Over his lifetime he made many contributions to the field of gnomonics. For those who remember his extraordinary web site it still available to view and is at http://www.ta-dip.de/ or more specifically for his dialling work at http://www.ta-dip.de/sonnenuhren.html.
In there he describes his on going interest in the Reinhold crater on the moon - not of course named after him but still precious to him nonetheless! Just one of the many comments says it all: "Kriegler exemplified the best of what a community of dialists would be like. The most civil, civilized, inoffensive, polite, considerate, member. Those attributes stand out, aside from his impressive website with its wide coverage of dials and dialists worldwide, and his own artistically-aesthetic dials". RIP.
26.03.19
---
---
The Delightful Dial of Dalemain in Cumbria The well known octagonal dial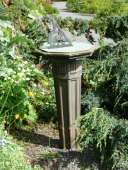 at Dalemain Country House by Richard Whitehead is dated 1688 and shows the time from 4am to 8pm in half, quarter and eighth hours on scales that lie inside the chapter ring and in minutes (with Arabic Nos) on the outer edge. Some of the actual hour lines on these inner scales are missing [eg 6 and 7pm]. There are both inward (arrow with H form) and outward (line and dot form) half hour markers. An elaborate inner 32 point compass with all points named [eg SEbE] and on an adjacent (outer) scale with its reciprocal [eg NWbW] so as to give the sun's bearing. the compass was designed to be used with vertical rod (not present) which was passed through holes in the gnomon. and centred on the compass. Markers on either side of the main 32 points indicate the width of this shadow for accurate centring. Two scales further divide each of the 32 points into 4 and 8 intervals. A half division is provided outside these scales (to the inside of the dial) and marked by an inward line with a three dot arrowhead. Wonderful pierced gnomon with scroll pattern, the whole mounted on an excellent panelled octagonal stone pedestal which is slightly fluted and with no visible base. Design Lat N 54d 40m. More detailed pictures HERE dated May 2009.
28.02.19
---
The Huge Dial at Grieskirchen, Austria. This huge sundial was erected to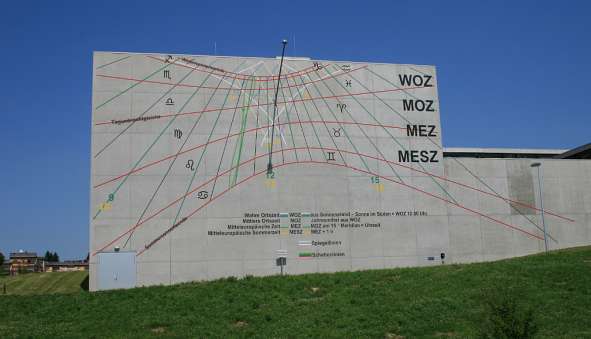 mark the 400th anniversary of the town's elevation to municipal status. Click on the thumbnail image here for more details. The dial now even has its own webcam too.

Read more about this interesting and educational dial, its connexion with Kepler and the live view of the new web cam Here
15.02.19
---
The Two Tatton Twins . Yes, we know that the word 'twins' implies 'two' but we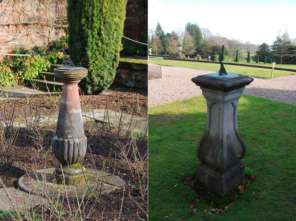 just like a bit more alliteration! Whatever, there are no fewer than two horizontal dials at Tatton Park in Cheshire. Not discovered for a long time - and one of them not apparently even yet recorded in the NT collections of such either - these sit there waiting to be admired. One is in the Rose garden (sometimes only on view from a distance because of the roses) and one is near the Italianate garden at the back of the house. They are well worth a look. Click on the thumbnail images here for larger views and for a couple of close ups of the second dial. Two interesting dials.
14.02.19 (Photos © VL Thomson 2019)
---
---
A Sundial Tartan - how about that? Recently the 1890 Kinloch Anderson Sundial

Monument in Inverleith Park, Edinburgh was restored by Macmillan Hunter Sundials. As a part of the 150th Anniversary Celebrations in June this year, a unique Commemorative Tartan Cloth - The Sundial Tartan - was produced. Stationery publishers Waverley Books were asked by Kinloch Anderson to produce notebooks in the style of their Tartan Cloth Commonplace Notebooks using the same Sundial Tartan.
These Sundial Notebooks are now available, as an exclusive limited edition, to collectors and friends, from Kinloch Anderson. The background to the creation of The Sundial Tartan is a fascinating story which is told in a booklet enclosed with the notebook.
19.11.18
---
---
The Sundials of the Parks and Gardens of Edinburgh. Here we mark the Autumnal Equinox with an entry about some dials in Scotland! Alastair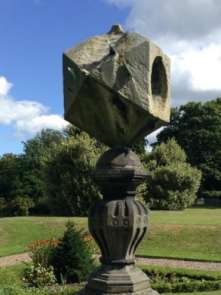 Hunter of Macmillan Hunter Sundials, a company based in Edinburgh, recently organised a three hour summer walk around four parks in the City: Grange Cemetery, The Meadows, Fettes College and Inverleith Park .

All proceeds were in favour of the charity YACHT —'Youth At CHurch Today'.
Read all about it at the Hunter Macmillan web site here.

21.09.18
---
The Sundials of Wisley The Royal Horticultural Gardens at Wisley contain two sundials.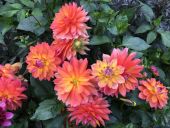 The first is located at the entrance to the gardens - almost as you come in - and the second is in the Herb Garden. Both are now modern dials though one replaces an earlier horizontal dial by Barker.
The gardens make a lovely day out and the two dials are interesting too. Click Here or on the image for more information and some images of the dials. Then admire 2018's dahlias!
05.09.18
---
The Sundial Society of Flanders, "Zonnewijzerkring Vlaanderen" has published all copies of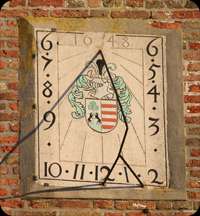 their Bulletin from 1995 - 2017 as PDFs. They are in Dutch but can be read by those unable to read the language by using the usual Google facilities.

These editions may be examined here and the Flanders Society Web site may be found here

A Sundial Trail of the dials of Rupelmonde is here

31.08.18
---
---
---
A chance to see a real Merkhet The Merkhet (or merjet "instrument of knowing") was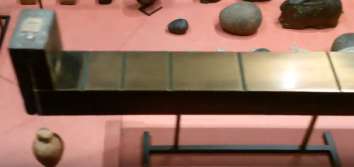 an ancient Egyptian timekeeping instrument. It involved the use of a bar with a plumb line and could be used during both morning and afternoon hours. A short video clip shows one such in a museum Here Two of these instruments could also be used, together, to determine North. The merkhet consisted of a string with a weight attached to one end, enabling a straight line to be measured. For the operation to work, two merkhets were required, one aligned with Polaris, the North Pole star. If erected properly, and if a merkhet was on hand, one could estimate quite accurately the time by observing the transits of certain stars as they crossed the meridian and came into alignment with the two merkhets.
17.07.18
---
---
---
---

Riegler's Novel Sundial
In 2003 Werner Riegler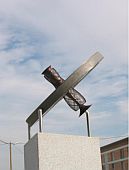 published his recent presentation entitled A Novel Sundial with Double Indicator and Calendar. This novel dial solves the "sundial problem", it shows the time to the minute and the date to
the day over the whole year without intervention.in addition the dial is universal. It can be placed at any point on earth where it will show the time from sunrise to sunset.

Click HERE to view a PDF of the slide show.

27.05.21
---
NASS Conference 2021
The 26th

Annual North American Sundial Society Conference was held at the Hilton Garden Inn, Philadelphia Center City, 1100 Arch Street, Philadelphia PA 10107. Many attendees planned to spend an extra day or two in Philadelphia as the hotel is within walking distance of Independence Hall, The Liberty Bell, The Benjamin Franklin Museum, The Museum of the American Revolution, Declaration House.



NASS's summary of the meeting - it is called the
NASS Conference Retrospective - 2021
- can be found
HERE
25.04.2 1, 06.07.21, 08.08.21, 14.09.21
---

The Moot Hall Dial
In Aldeburgh in Suffolk, now very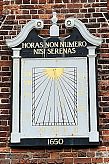 close to the sea stands the lovely Moot Hall which today houses the Aldeburgh Museum. It is a superb timber-framed 17C building, erected by the Burgesses of Aldeburgh at a time of great prosperity as a manifestation of civic pride. Today it is still treasured by the people of Aldeburgh as the centre of their community and a symbol of their heritage. The dial declines about 14.4 degs W and shows a little 'restoration drift' as may be seen from a comparison with a recalculated image of the hour lines. Please do explore the links given here to appreciate this lovely Hall and its dial.

26.05.21 Image

© VL Thomson 2021
---

A Modern Dial in Thorpeness
In 2007 a dial was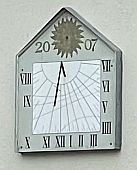 erected in the Benthills area of Thorpeness, a town near the coast in Suffolk. It is a West declining dial with four declination lines and it is quite elegantly designed, presented and maintained.
Click HERE or on the thumbnail for a larger image of the dial. Click HERE to see a comparison of the dial with a calculated
version based on the Lat/Long and Dial Declination. The details of the nodus are not known so positioning details of the declination lines are necessarily approximate. Note that there appears to be an anniversary date line included..

29.05.21 Image

© VL Thomson 2021
---

The BSS Conference of 2021
was held as a 90 minute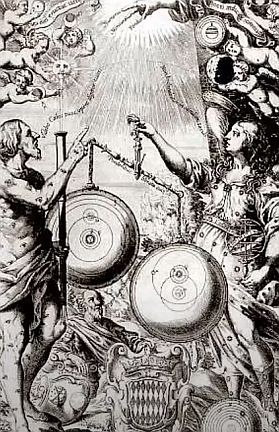 Virtual Conference via Zoom on the 17th April 2021 and some 150 participants from around the globe logged in. Feedback about the event has been very positive and all the speakers (Roger Bailey, Woody Sullivan and Fred Sawyer), were very highly rated. Frank King introduced the event.
A YouTube video of the conference, lasting a little over 90 minutes, is available HERE.

23.04.21
---

The Dial at Bosworth Field
After the remarkable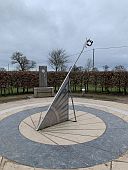 discovery of the remains of King Richard III a sundial was designed to mark the event, his life and legacy. In August 1485 King Richard III was killed at the Battle of Bosworth, and buried by the Grey Friars, a Franciscan Holy order, in their friary church. In August 2012, Leicester City Council, the University of Leicester, and the Richard III Society began a search underneath a car park in Leicester, to find King Richard III's remains and the Grey Friars Church. This coincided with the 527th anniversary of the date King Richard III was killed at the Battle of Bosworth.
Five months after the dig began, the University of Leicester confirmed a skeleton unearthed by archaeologists was in fact Richard III. Later a sundial was commissioned. It has a central gnomon topped with a crown. At ground level is an inscription which tells the story of the Battle of Bosworth derived from the chronicle of Polydore Vergil, an Italian at the court of Henry VII. The sundial marks the points of the compass and the distances to other battlefields of the Wars of the Roses. Around the outer dial are three thrones bearing the names of Richard III, Henry Tudor, Earl of Richmond and Thomas, Lord Stanley. Click the image or
here
for a larger version.

21.03.21
---
The Sundials of Cluj County!
An excellent book on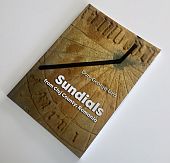 the dials of Cluj County in the Transylvanian Region of Romania has just been published by Dan-George Uza. At 69 pages, it makes a great addition to one's library of books relating to European dials and also makes, of course, a welcome present for any diallist. Available from Amazon now. Two other books are also available "Cadrane solare din Transilvania, Banat, Crişana şi Maramureş" ("Sundials from Transylvania, Banat, Crișana and Maramureș") again by Dan-George Uza (2014, 276 pages, Romanian language with an English abstract) and
"Erdély napórái" ("Sundials from Transylvania") by Miholcsa Gyula (2020, 419 pages, Hungarian language with an English abstract..

09.11.20, 19.03.21
---
Is there a Trifilar Sundial?
A query was raised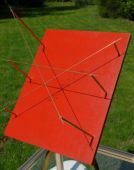 recently on the sundial mail list as to whether or not a Trifliar Sundial was possible. It turns out that it exists! Bernard Rouxel of France designed it.and got him second prize in the Italian "Le ombre del Tempo" contest of 2008. It is here limited to showing true Noon and the date. Read Fer's article by clicking on the image to download the PDF of it courtesy of the Dutch Sundial Society and Frans Maes.

Luigi Ghia recently posted to the sundial mail list a link to a
computer animation
showing Rouxel's trifilar dial in operation.

This animation was made by him with help from Tonino Tasselli and it has been computed for the summer solstice.
On the sundial plane the shadows of the three wires crossing each other, form a moving triangle. The triangle becomes smaller and smaller until it collapses into a point exactly at noon.
The point where the triangles collapse during the year migrates up and down along the green lines in the animation so this line is the meridian line and it may easily be annotated with dates or zodiac symbols.

A different arrangement of the three wires (for example with a rotation of the whole wire system about the polar axis) sets the triple crossing point at different points along the hour lines other than noon.


05.09.20, 07.10.20
---
Revisiting a Triple Horizontal Dial
Not to be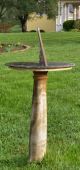 outdone by the trifilar dial design above it seems appropriate to revisit John Davis's remarkable and ingenious Triple Horizontal Dial made some time ago for a client in Redwood Valley USA. It comprises a double horizontal design rather after Henry Wynne but adapted for the more southerly latitude by moving the second scale Northwards. The centre of the dial revealed by this process then is used to display Pacific Solar Time where a nodus allows five family anniversaries to be displayed.
Download John's article from his website here
13.09.20 [ EU C-466/12]
---
BSS Virtual Conference 2021:
The British Sundial Society's Annual Conference was to have been held between 16-18 April 2021 in Exeter. There had been no conference held in 2020 owing to the Covid-19 pandemic and the 2021 conference had also to be cancelled for the same reason. However in 2021 there was held an abbreviated VIRTUAL conference online in April. The event was about 90 minutes in length; it was hosted by Frank King and featured an all North American 'cast', Roger Bailey, Fred Sawyer, and Woody Sullivan. This BSS Zoom event was held on 17 April 2021.

All were welcome - at no charge. But you did have to REGISTER in advance.

16.02.21, 08.08.21
---
Marking A Meridian Anniversary! On 22 October 1884 the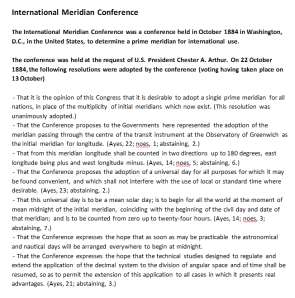 Greenwich Meridian located at the Royal Observatory was selected to be the common zero of longitude & standard of time reckoning worldwide. Click on the image for the decision details.

22.10.18, 03.11.18
---
The Pittsburgh Blog! Fred Sawyer, President of NASS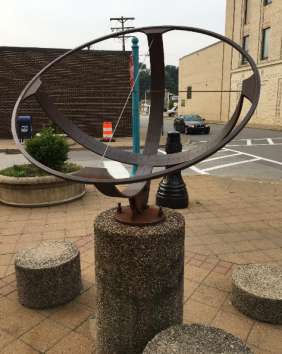 recently alerted the Sundial Mail List to the fact that Glenn Walsh, the author of the American Space Watch Tower Blog, was at the NASS Conference 2018 throughout most of the sessions and he later contributed an article on his blog which summarises the recent meeting quite well.
Take a look here at what Glenn wrote.
24.08.18
---
The Jantar Mantar monument in Jaipur in Rajasthan, India is a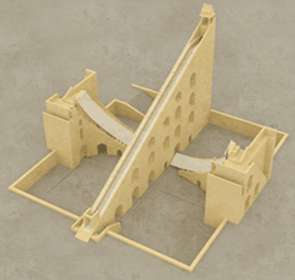 collection of nineteen architectural astronomical instruments built by the Rajput king Sawai Jai Singh II, and completed in 1734.

The instruments allow the observation of astronomical positions with the naked eye. The monument expresses architectural innovations, as well as the coming together of ideas from different religious and social beliefs in 18th-century India. Visit this site to find out more about many of the instruments
26.09.18
---
The 'Dials' of Konark. There is a 13th-century sun temple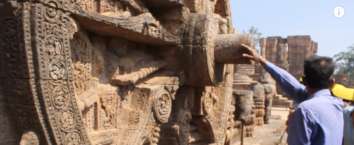 at Konark near Odisha, India which is attributed to King Narasimhadeva I of the Eastern Ganga Dynasty of about 1250 AD. Dedicated to the Hindu sun god Surya, what remains of the temple complex is a 100-foot high chariot with 24 immense wheels drawn by horses, all carved from stone and quite accurately aligned E-W. Once over 200 feet high, much of the temple is now in ruins. The structures and elements that have survived are famed for their intricate artwork, iconography, and various themes.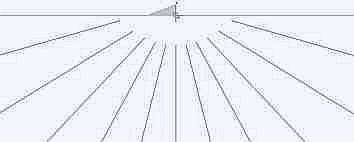 The wheels, spokes and other divisions of the wheels are arranged in a form and number similar to modern time keeping and consequently they invite use as sundials. A simple calculation of the angles of the spokes between 6am to 6pm on the South wheels shows why. Click on the images for more!
18.07.18
---
The Nazeing Church Sundial - a restoration project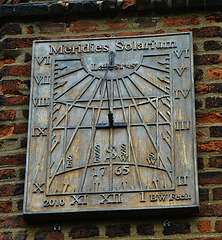 by Barrie Winter and reported here by Ian Butson.

It was in 2009 that funds became available to restore/replace the relief - carved wooden sundial on Nazeing Church near Harlow in Essex. Read about this remarkable 2010 project reported at this link HERE in 2014
20.06.18 [©BSS/EU C-466/12]
---
Lower income and higher costs at BSS!! The 2017 Report & Annual Accounts for the British Sundial Society have recently been published and may be examined at the Charity Commission Website or here courtesy of the CC. Compared to the position in 2016, they show a reduction of overall income in the year of £3,258 and at the same time an increase in expenditure of £2,053. As a result, only £2,192 was added to Total Society funds in the year. Fees for independent examination of the accounts and (new for this year) for professional preparation of the claim for gift aid, have this year soared by 127%. Indeed, something approaching 8% of all membership fees currently appears to be being spent on such bought-in professional services.


Comment received from a SunInfo reader:
"I am at a loss to understand how they justify spending on professional services"

08.03.18. E.&O.E.
---
Unusual Dial in Grantham We were first made
aware of this interesting dial in 2017. It is in the one-time 'Clockmakers District' of Grantham at the junction of Welby Street and Westgate. It was delineated by Charles Westwood in 1790 as a west declining dial that would also show the equinoxes and solstices. It has only relatively recently been recorded in the National Sundial Register where its reference is SRN 6705. Unusually for such an old dial it still retains its original pin nodus.

Read more of an analysis of this dial, its features and its 'oddities' by going to this link here. If you can contribute to this analysis or even resolve some of the so called oddities do contact the webmaster.
19.06.17, 09.07.17, 09.06.2018
---
---
SunInfo's 2018 "Dial Time" Newsletter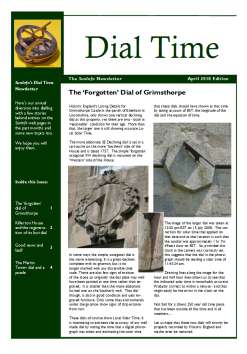 SunInfo was once again delighted to publish its FREE Spring Newsletter to accompany the 2018 Conference Season.
Here you can find a few stories taken from the SunInfo web pages in the past months, some new topics and some updates on older stories too.
In the usual PDF format, this four page Newsletter contains news and items of interest to any diallist.
Download it free HERE.or read it on Ussuu Here
(use Ussuu's full screen mode to read it)
16.04.17
---
SunInfo's 2017 "Dial Time" Newsletter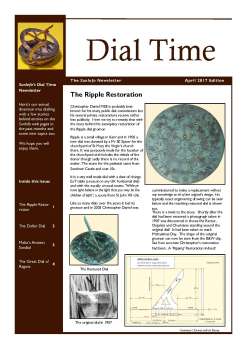 Once again SunInfo was delighted to publish its FREE Spring Newsletter to accompany the 2017 Conference Season.
Here you can find a few stories taken from the SunInfo web pages in the past months, some new topics and some updates on older stories too.
In PDF format, this four page Newsletter contains news and items of interest to any diallist. For a little more about the Ripple Restoration that is mentioned on page 1, click here
Download it free HERE.or read it on Ussuu here
10.04.17
---
SunInfo's 2016 "Dial Time" Newsletter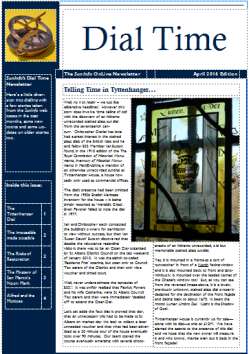 Once again SunInfo was delighted to publish its FREE Spring Newsletter to accompany the 2016 Conference Season. Here you can find a few stories taken from the SunInfo web pages in the past months, some new topics and some updates on older stories too.
In PDF format, this four page Newsletter contains news and items of interest to any diallist.
Download it free HERE. Read it in 'Ussuu' HERE
28.03.16, 12.01.17
---
SunInfo's 2015 "Dial Time" Newsletter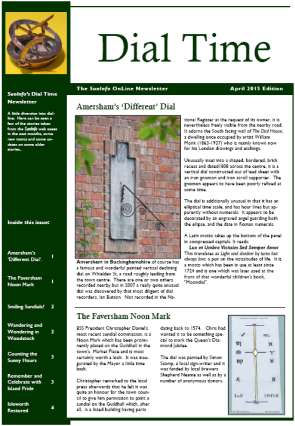 SunInfo's first FREE Spring Newsletter was published to accompany the 2015 Conference Season. In PDF format the four page Newsletter contained news and details of interest to any diallist.
View or Download it HERE.
06.04.15
---
STOLEN! Do you suspect that a dial known to you might have been stolen? Sadly many dials have been over the years. A few recent thefts are mentioned in the boxes below. The BSS has a list of stolen dials (sadly not updated since 2010) which is accessible here. There are some 44 dials listed. If when you can get to see them and you recognise any, do let the BSS Registrar know.
2014 STOLEN!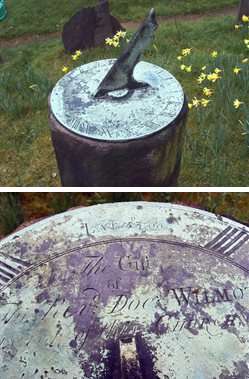 Thieves stole a sundial from a plinth in a Morley churchyard, where it had stood for 250 years.
The dial had been made by clockmaker and scientist John Whitehurst and had been in the grounds of St Matthew's Church, in Church Lane, Morley.
The instrument, which was made from bronze, was reported stolen on Sunday, February 23 2014 and had last been seen at the start of January. Please inform the webmaster if you have seen this dial.
2014 STOLEN!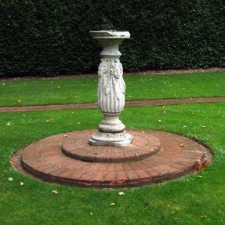 Thieves in Blickling Hall's secret garden lifted and made off with the sundial and pedestal which is of carved Portland stone and stands 113cms high.
Jo Bosch, Blickling's marketing and visitor manager, said the bronze sundial a replacement for an earlier dated from the late 18th or early 19th century, had a metal plate on it which said "Brookbrae Ltd, London".
The theft happened between 10am on February 6 and 10.15am on February 7 2014.Please inform the webmaster if you have seen this dial or pedestal.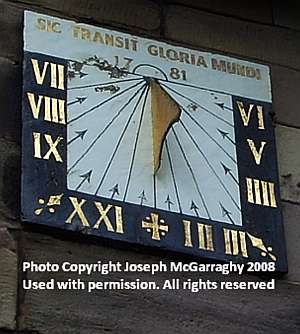 STOLEN! An historic vertical sundial (National Register No SRN 2136 - click on image) has been stolen from St Mary's Church in Prestwich, Manchester. The dial is dated 1781 and is a vertical direct south dial which carries the motto "Sic Transit Gloria Mundi". There is some confusion as to the material of the dial; it may be stone or iron. Anyone with further information should contact the police, the Vicar (bryan.hackett@btinternet.com) and send a copy to webmaster@ppowers.com. Another (B&W) image ►here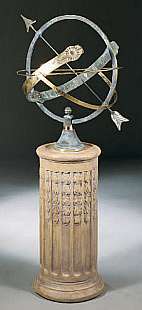 2014 STOLEN! Police are appealing for help in tracing a valuable sundial stolen in Sunderland between noon on Monday, May 5, and 2pm on Friday, May 9, 2014 from a rear garden.
The stolen sun dial is a distinctive brass Grande Armillary Sundial Ensemble, 56 inches tall, believed to be as per the image and made by Henri Studio of Illinois, USA. It is worth hundreds of pounds. Click on the image here for a larger view.

More information ►here
10.06.14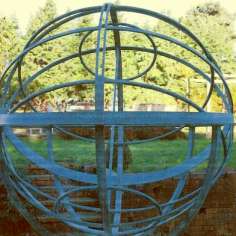 2014 STOLEN! Police are hunting thieves who stole a unique decorative sundial from a £4 million mansion near Potters Bar., Herts
Between Dec 22 2014 and Jan 18 2015, a large brass armillary sphere sundial disappeared from Rabley Park, a historic 12-acre estate in Packhorse Lane, Ridge.
Police say the large ornament can only have been moved by a vehicle. It has several engravings, including "Do not squander time for that is the stuff life is made of', 'Clacton-on-Sea', 'Hemel Hempstead' and 'Newcastle'.
Anyone with any information should contact the police
11.02.15
---
2017 Grade II sundial STOLEN from Conwy churchyard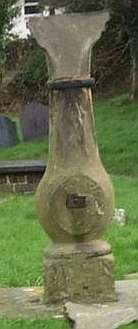 A Grade II listed sundial dating to 1761 has been stolen from a churchyard in Conwy and its stonework smashed.
The stonework holding the bronze sundial at Conwy church was smashed into three pieces.
Rev David Parry, vicar of Bro Celynnin, said the theft was noticed on Friday morning and reported to police.
"It's very sad. In taking the top, the thieves have severely damaged the stone. It's been part of Conwy's history for a long long time," he said.
"It's a well known landmark, listed in its own right, and we're at a loss to know why someone would want to damage this." The dial is believed to be SRN 3262, dated 1765, 360mm dia includes an EoT scale and was made by Mereidh Hughes, of Conwy.
14.02.17
---
RECENT SUNDIAL CONFERENCES
---
The NASS 2019 conference was held in Denver, Colorado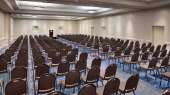 20th - 23rd June 2019. It included presentations and a tour of sundials. Early registration is recommended at the Hilton Garden Inn - Denver Downtown. NASS had a discounted rate of $179/night (plus 15.75% tax). This rate applied 5 days before and after the conference if rooms were available.

Full NASS registration until April 14th was $310-$322 depending upon dinner selection. After April 14th the cost increased to $335-$347.
24.02.19, 05.08.19
---
BSS Bath Conference 2019 This year the conference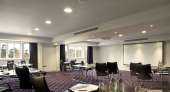 is being held at the Bailbrook House Hotel in Bath from 26 to 28th April. One of the top hotels in the city, Bailbrook House Hotel is an historic grade II* listed mansion, located just a few minutes from the centre of historic Bath with on-site complimentary parking. As BSS is an English Charity the Conference is Open to all, not just to BSS Members.
Day Delegate Rate - £160
Full Package for two nights Double - £525 Single £340
Extra nights - £95 single and £135 double.
19.02.19
---
NASS
(The North American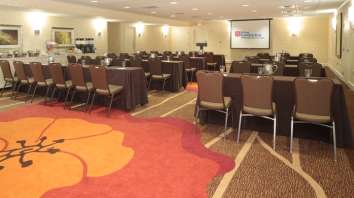 Sundial Society) held its 2018 Annual Conference from Thurs 16 Aug - Sun 19 Aug in Pittsburgh, Pennsylvania, USA. The conference was held near the famed University of Pittsburgh campus with its Cathedral of Learning at the Hilton Garden Inn, Pittsburgh University Place 3454 Forbes Avenue, in Pittsburgh. Read the Conference Blog here.
19/8.18
---
The BSS Conference 2018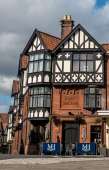 took the Society to Norwich - to the Maid's Head Hotel there. The Conference ran from Friday 20 April to Sunday 22 April, 2018. See a summary of the BSS 2018 Programme. Only 57 delegates attended. On arrival one of two short walks were planned in Norwich itself for the Friday afternoon and in what for many was a welcome break from recent venues there was a coach tour to view David Payne's sundial trail on the Saturday afternoon. See more about what dials were seen. Full package prices were £340 for single occupancy, £520 for double. The Day Delegates rate is £160. As usual the conference was open to non-members as well as members and at no difference in price. See the delegates out on the tour.
02.02.18,16.04.18, 20.04.18, 27.04.18
---
The ULTIMATE Sundial Conference of 2017! 2017's year's NASS Sundial Conference really was the one to visit.
The meeting took place in the Clayton Plaza Hotel, 7750 Carondelet Ave, Clayton, Missouri 63105 August 19-22 2017. Why was it the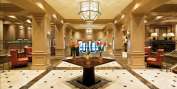 ultimate one to attend? Well, during the conference there was a total eclipse of the sun! Delegates enjoyed 3+ days of gnomonic presentations and sundial discussions. There were some tutorial sessions for Aug 19th and the tour this year was very special with a ring side seat to watch the August 21st Solar Eclipse. NASS had reserved space at Jefferson Barracks that allowed an unobstructed view of the eclipse away from the expected crowds..
30.05.16 , 17.11.16, 22.07.17, 20.07.17, 28.08.17
---
Reprise of the 2017 BSS Oxford Conference
21-23 April 2017
The 2017 BSS Spring Conference took place just outside Oxford. Have a look at our special web page at the link below to see where it was held, what the hotel is like, how to get to it, delegate rates, what else to see and do, how the conference was arranged and the two planned visits to dials and the conference dinner. All Information is updated regularly.
Our Special BSS Conference page included notes written to accompany Dr Philip Pattenden's conducted tour of The Sundials of Oxford Colleges which were visited during the Inaugural BSS Conference in 1990! Compare then and now!! Only on SunInfo!!
See our Special Conference Page - 2017
09.05.16 15.09.16, 05.01.17,21.03.17, 23.04.17, 02.08.17
---
Reprise of the 2016 BSS Liverpool Conference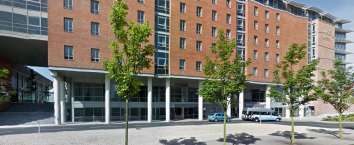 You can find information about this conference here (or click on the image above). Only about 55 delegates attended in 2016, even fewer than last year. Read news of what happened there, the programme and how the conference was arranged, the plenary lecturer, how easy it was to get there by land and air, details of the hotel itself, where you could find parking, the conference format, what there was to do, how to get taxis, where the bus stops are, find nearby sundials and even how to see the sights of Liverpool too.
09.03.16 18.04.16,23.05.16
---

Check out our page about the 2012 BSS Cheltenham Conference; a conference that was held over eight years ago. The level of interest is little short of amazing. Mind you, our page does include summaries, photographs and the results of delegate opinions - sadly things that are no longer published about its conferences by the current BSS Council. Indeed, and by way of example, there is still no website entry of consequence on the BSS site about the 2013 meeting in Edinburgh nor one about the 2014 Greenwich Conference nor the 2015 Nottingham one nor the 2016 Liverpool, nor even yet the 2017 Oxford meeting nor that of 2018 either. Why ever not you may ask? Well, it might appear to you as a desire for secrecy. A number of issues arose at the Cheltenham conference which may be behind what appear to be moves by the present Council towards ever greater secrecy about their many blunders. Blunders that continue to surprise the dialling community. Their omission from their notes of the problems with the membership survey, of Graham Aldred's evidence in the Christopher Daniel book saga, the successive losses of society assets and their recent quite extraordinary attempts to block you from linking from this web site to theirs. Hmmm, Shakespeare's Hamlet (1.4 [90]), Marcellus to Horatio comes to mind...
---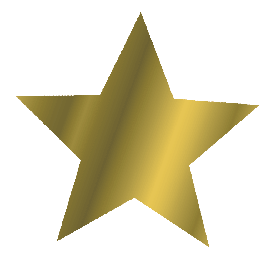 Which BSS Conference was it? Are you a long standing member of BSS? Can you remember at which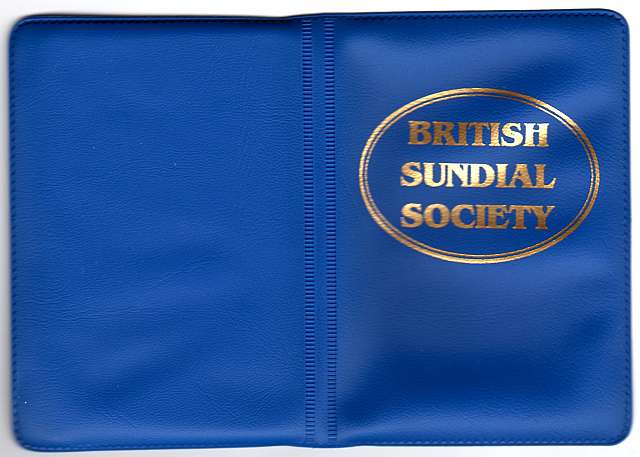 conference the delegates were given this little notebook? When closed it measured 4¼ x 3 ins and contained a pad of paper, an equation of time chart and a two year calendar! Click the image to find out!!
27.02.14
---
Interesting News, Articles & Links
Recording a Dial's Declination. An easy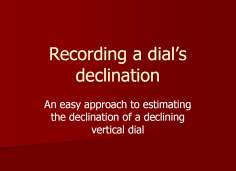 approach to estimating the declination of an existing declining vertical dial. Here is a PDF of a few self-explanatory slides presented by BSS Member Patrick Powers at the 2005 Newbury Meeting of BSS. (5MB PDF). You can buy a copy of a Reference card relating to this to carry with you. Click on the link...
19.12.14, 03.01.15
---
BSS's Net Current Assets Fall 5¼% in a year. The Charity Commission has received BSS's accounts for 2015.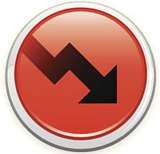 For those wishing to see how the Society fared in those past twelve months, they may be examined Here.

A drop of 5¼% in Net Current Assets has been reported in the last year
It is thought largely to be because of conference losses. Earlier Accounts can be conveniently checked and compared in our Document Archive below, see the section 'Policy, Guidance, Rules, Information Sheets & General Documents'.
Members attending the 2016 Society AGM got few answers to this further BSS blunder.
03.04.16, 05.04.16, 19.04.16
---
Every time the sun shines in Seattle, it sheds light on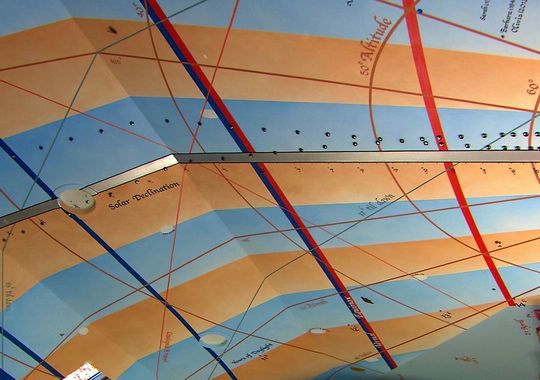 Woody Sullivan and his mission. "I am out to make Seattle the sundial capital of North America, I just love the irony of it," said Sullivan. More here.
---
Waymarking™! Waymarking.com is a super way to see the dials of the world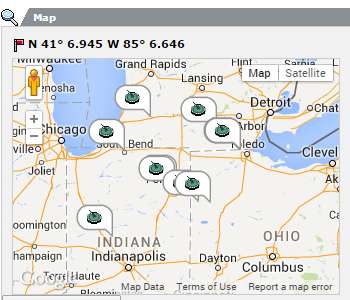 from your armchair and to read a little about them too.

Have a look at SunInfo's new Waymarking page here.

It includes links to the waymarking website and to specific sets of dials.

All courtesy of waymarking.com
---
An early English 'Scientific' Sundial with exactly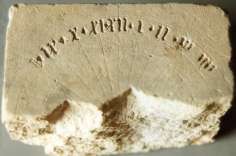 calculated, unequal hour angles has been discovered at Scadbury Manor, home of the Walsingham family. The very family that was so connected with the Tudor Court. More information here.
---

The Rostov 'Slab' discovered in 1991 may, it now seems, be an ancient Bronze Age attempt at a combination of sundial and moon dial. The slab is marked with round divots arranged in a circle, and an astronomical analysis suggests that these markings coincide with heavenly events, including sunrises and moonrises. Larisa Vodolazhskaya of the Archaeoastronomical Research Center at the Southern Federal University in Russia suggests that the people in the Northern Black Sea region were astronomically savvy with a technology on a par with what was seen in ancient Egypt around the same time. Amazing, more information here
---
Sundial replaces Floral Clock at Swadlincote's Eureka Park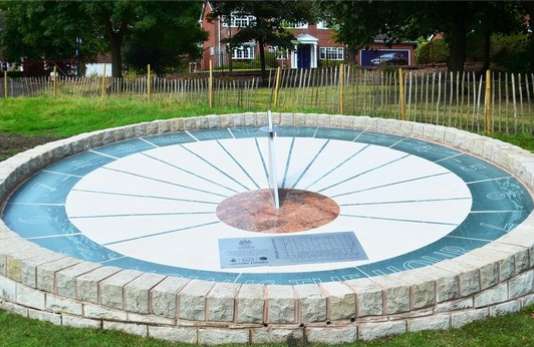 in Derbyshire. Sited in the same place as the original 1937 floral clock, a new sundial has been installed as a part of restoration work being carried out on the whole park by South Derbyshire District Council and funded through a £547,316 grant from the Heritage Lottery Fund and the Big Lottery Fund.
More ►here Image courtesy Burton Mail
---
The Polish Sundial Register now records 1369 dials! The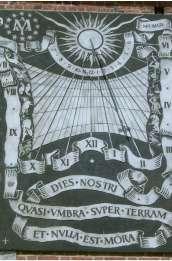 Catalogue of the sundials of Poland has well exceeded 1100. BSS Member Darek Oczki is the Registrar and his website http://gnomonika.pl/ lists them. (Sept 2020)
Vertical 768
Horizontal 406
Equatorial 96
Analemmatic 54
Multiple 24
Symbolic 12
Polar 4
Altitude 2
Portable 1
Meridian lines 1
Others 1
---
Calendars and things from the past

The FREE 2015 SunInfo Calendar is still available here!!!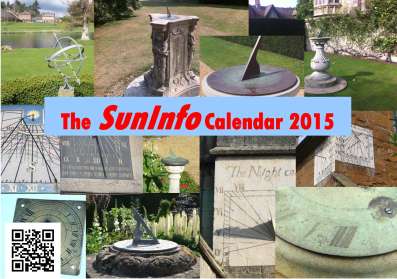 With one A4 page for each month, this FREE PDF pictorial calendar can be downloaded and printed off to give you images of twelve UK sundials to look at throughout 2015. Each month includes the equation of time correction for each day and a separate page allows longitude corrections to be estimated for anywhere in the British Isles. Check it out and download it here. Only a 4MB download. Just print it on suitable paper stock. 17.12.14
---

SunInfo's 2014 Calendar!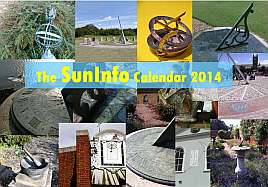 With one A4 page for each month, this FREE PDF pictorial calendar can be downloaded and printed off to give you images of twelve UK sundials. Each month includes the equation of time correction for each day of 2014 and a separate page allows longitude corrections to be estimated for anywhere in the British Isles. Check it out and download it here. Only a 3.7MB download. Just print it on suitable paper stock. People have still been downloading this beautiful calendar long after 2014 !! Why don't you have a look too? Then look at our 2015 one!
---
A Calendar for 2002? Why ever should sundial enthusiasts wish to look at - let alone keep - a copy of a calendar for 2002? Have a look at our photogallery here to see why!
---
Fotheringham's Calendar. John Knight Fotheringham FBA (14 August 1874 – 12 December 1936) was a British historian who was an expert on ancient astronomy and chronology and who established the chronology of the Babylonian dynasties. In 1929 he wrote a 13 page monograph The Calendar which concisely and clearly describes the history of calendars from that of the Egyptians to the present day.
It is now out of copyright and worth reading here [2.1MB PDF]
©HMSO, 1929 07.08.16
---
Articles, Links and Editorial
---

Key facts about BSS. Here are details of the Society, the members of its Council and its management, its appointed and excellent Specialists, how to access its website and its Facebook page, how (and why!) to join the Society, how to send payments to BSS via credit card or PayPal and many recent annual accounts. In fact more or less everything you need to know about BSS is here - warts and all! There's even help for BSS Members who may like to understand the background to the worrying oddities in today's erratic management of the society.
[ A Disquieting Anniversary] [A Disquieting Delay] [Now the Disquieting Book Dispute!]


Interested to have access to more information about the operation of BSS? Then why not go to our private BSS

Members page

. [Password access available upon prior registration with the

webmaster

].
---
BSS's "1960's" management approach. In October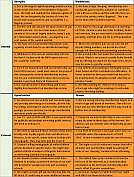 2011 the incoming secretary of BSS suggested using a S.W.O.T analysis of the Society's Strengths, Weaknesses, Opportunities and Threats. This is now a rather discredited approach to management (because it can actually limit performance) which was first mooted in Stamford in the 1960s. It is therefore more used nowadays to summarise the outcome of a more professional analysis of a business. However one good use of it is to provide an historical perspective and allow outsiders to judge for themselves what progress has been made in any intervening period. Two analyses were prepared in 2011. Have a look at the more detailed of the two here and check which of the suggestions in it have subsequently been adopted and which not!
---
Quotes of 2013... From the UK Charity Bulletin No 122, May 2013 published by IEL - who happen to be BSS's appointed Independent Accounts Examiners:

Integrity: There's no better test of a person's integrity than their behaviour when they are wrong. (Marvin Williams).
Destiny: Don't confuse poor decision-making with destiny. Own your mistakes. It's ok; we all make them. Learn from them and move on. (Steve Maraboli)

Now, even after 2017 might not these form useful advice for today's BSS Council - and from their own Examiner no less?
---
The company David Brown Sundials offers a Blog/Website about their recent projects. Worth a look ►here
---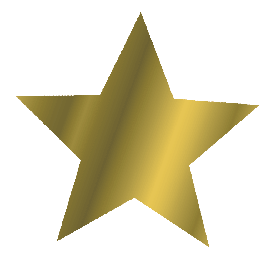 Greenwich Dial 'Restored' by BSS President Christopher Daniel! In 1969 the 'Meridies Media' noon mark mean time sundial, designed by Dr Tadeusz Przypkowski, with amendments by Christopher Daniel, was installed on the south wall of the Meridian Building in what was then the Old Royal Observatory at Greenwich. Over the years it deteriorated and had to be taken down. In 2009 a movement was started to reinstate a replica. Chris Daniel, who had been curator of the sundial collection of the National Maritime Museum at the time of the original installation and who is now the President of BSS, was asked to design the replacement. This he has undertaken without a fee. The dial was formally opened by BSS Patron, Sir Mark Lennox Boyd on Wednesday 10.10.12 at 12:30pm. It represents a fitting Diamond Jubilee dial in Greenwich Park. Some early notes about the replacement are here and further details of the ceremony can be found here. An image of this dial appears in the Wikipedia article about Sundials.
---
New Images and an article are available of the most recent dial commission by BSS President, Christopher Daniel MBE. This is the Noon mark on the Guildhall in Faversham, Kent which was declared 'open' by the Town's Mayor in April 2013. We are now pleased to be able to present a photogallery of the results of this commission and an article about it. More details in the panel opposite (see: "The Faversham Dial"), or go straight to our Faversham Photogallery and/or to Chris's Noon Mark article. To learn even more about this sort of dial consider joining the British Sundial Society. You will surely not regret it.
01.08.13, 01.09.13
---
See the Christopher Daniel Sundial Collection as a slide show Here. Just sit back and relax!
---
Odd how sometimes you might not get a reply from the BSS Trustees. Here, after four years and coming up to five, is one of those. In the past the trustees have objected when their professionalism has been questioned yet STILL there are examples of quite serious blunders which some might think of as being in this category. The related issues with the permanence of the Library and with the President's book collection mentioned above are probably two of the longer lasting ones for members of the Society but the mistaken forwarding of financial transactions to a non-member is really quite serious, is worrying to those of us who place trust in charities and of course it is contrary to duty for any Trustee. No apology or even an acknowledgement, has been received in respect of this letter - now nearly five years later. More important is the secrecy with which this is enveloped - like so many of the other issues with BSS. Yet again, the membership of BSS have not so far been informed. Why ever not? Odd thing 'professionalism'. Not much unlike 'Integrity' really... There's more on the matter of BSS Integrity ►here
31.07.14,28.08.14,29.09.18
---
Linking to the BSS web site if you find you are being
'Forbidden' from doing so by BSS!
Direct hyperlinks to the BSS website from SunInfo were at one time being blocked by BSS. That stopped for a while when the new BSS web site opened but then from late 2015 some visitors to SunInfo reported that this was happening again.
You might well wonder why any professional entity like BSS should want to make it hard for visitors like you to reach them. The more so when the advisory 'error' messages you receive actually says in print what they are doing!
All our visitors will know very well that this web site is, and always has been, very supportive of the concept and importance of a British Sundial Society; although it has never had any truck with the many apparent blunders, secrecy, cover-ups or obfuscations that some might have come to see as emanating from the Society in the recent past.
The latest issue to report is, we feel, another rather unprofessional and ineffective attempt by BSS to bar linking from this SunInfo website (and not apparently from others) to pages of the BSS web site. Clearly the concerns expressed by so many contributors on SunInfo about BSS and its management must have real merit if BSS would rather you did not read them.
So, what is happening? Who would ever want to block visitors from a website if there's nothing odd going on and especially when what is being said is true?
Well, if you do find a BSS page 'Forbidden' to you - without any reason simply select the whole link, right click and select 'Open Link in New Tab'. It's as easy as that!
Sometimes you might get:
"The owner of this website (www.sundialsoc.org.uk) has banned your access based on your browser's signature (24ddd725bccc3452-ua32). CloudFlare Ray ID: 24ddd725bccc3452 • Your IP: 86.180.232.181 • Performance & security by CloudFlare" .
In this case simply set your browser to Incognito and go back in.
You can also go to our special links page ►BSS links . Indeed, this new SunInfo links-page is now in a limited way, a sort of 'One-Stop-Shop' for some key BSS pages; so you can use it from within SunInfo to peruse as many of the provided pages of the BSS website as you like.
Give it a try and thank you for staying with SunInfo. It is very much appreciated.
Remember: SunInfo does not restrict linking to any of its pages by any website and SunInfo reports facts.
E &O.E 25/26.02.14, 05.03.14, 06.07.14,30.11.15, 23.12.16
---
Recent BSS Conferences. Want to see summaries, photographs, programmes and delegate reviews of previous BSS conferences or the plans for the next one?
Click for
Norwich 2018 - Sundial trail information here Programme here
Oxford (2017) - Information here
Liverpool (2016) - (Authors, papers, Issues and other details)
Nottingham (2015) (Authors, papers, Issues and other details)
Greenwich (2014) (Authors, papers, other details)
Edinburgh (2013) (Authors & Papers),
Cheltenham (2012) (Full summary)
Wyboston (2011) (Full summary)
Exeter (2010) (Full summary & Video)

20.04.12, 16,01,13, 02.03.13, 27.04.14, 01.08.17, 22,04.18
---
The Nice Dials of Newstead There is a wonderful ruined abbey in the Gothic style at

Melrose in Scotland. It was no longer maintained after 1544 and indeed it is recorded that the last monk there died in 1590. Part of it was destined to rise again to be used as a parish church from 1610 -1810 and it was presumably in this period that many stonemasons were needed. Whatever, it is recorded that many of these stonemasons lived and were trained in the nearby town of Newstead and whether or not that is the reason, there are several stone sundials in Newstead mostly dated to the 1650s - 1780s. Denis Cowan (of course!) visited Newstead in 2011 and he later published a fascinating article about these dials in the BSS Bulletin. Well worth a read. There is at least one with its mason's mark, one was previously thought to have been a date-stone and one that is now stored out of the weather. Nonetheless there are two still thought to be missing. Maybe they are yet to be found?
03.08.17
---
There are two vertical declining dials at Grimsthorpe Castle! Historic England's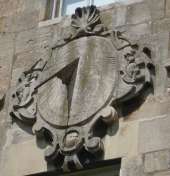 Listing Details for Grimsthorpe Castle in the parish of Edenham in Lincolnshire, appear to only show one vertical declining dial at this property, yet there are two - both in 'reasonable' condition for their age. More than that, the larger one is still showing accurate Local Solar Time too.
Read a little about the castle, find out where the dials can be seen on the building and have a look at two photographs of them. Then, marvel at just how well the larger one is telling the time even today. All here.
10.08.2017
---
A 17th century brass sundial was prised from its stone plinth outside the front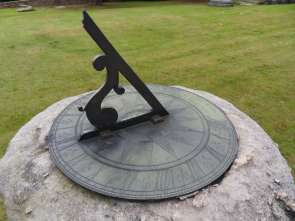 door of St Tysilio's Church between Llanymynech and Four Crosses in Powys. Churchgoers noticed it was missing on January 11 2018 but they can not say when it was last seen. Dyfed Powys constable Rhodri Treharne said it was an unusual artefact that police wanted to re-unite with the church.
Mrs Carol Davies, churchwarden, said the sundial is about eight inches in diameter and is of a golden brass colour.
17.02.18
---
The San Marco Noon Mark - Venice. In our Dial Time Newsletter for April 2016 we published a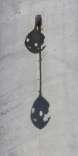 note about the rarely noticed Noon Mark that exists in St Mark's Square in Venice. It is damaged, rusted, drooping and possibly even now loose as well yet it still shows solar noon to within 13 mins and that after something like 630 years!

Seen again in November 2018 - in this picture taken at a solar time of approx 11:51 am - though the shadow has just passed the noon line. Click on the thumbnail here for a larger image.
---
An Aberdonian Triad! Three lovely sundials from the Aberdeen region are here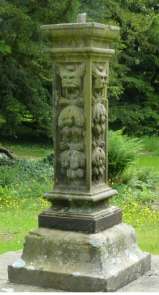 described by Denis Cowan in a paper submitted to the BSS Bulletin in early 2018 and available to read on his website.
The dials are respectively in Ellon Castle Gardens, about seventeen miles to the north of Aberdeen, in Pitmedden Garden, just a few miles to the west of Ellon, and the third is in Duthie Park in Aberdeen itself. Read Denis's article here
07/10/18
---
The History Section of the Société Jersiaise The History Section of the Jersey Society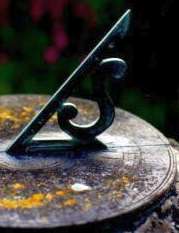 in the Channel Islands, runs programmes of historical interest to the Islanders. Sometimes these are published on their web site. Two in particular from the early years of the millennium are of interest to a wider sundial public and we give their links to these here.

1. Catching the Shadow An Illustrated Talk on The Sundials of Jersey by David Levitt on 29 November 2001

2. A brief description of The Sundial at The Parish Church of St Peter In the Island of Jersey which was designed by Harriet James in 2004.
23.09.18
---
The amazing Coade Stone Dial Discovery - AND we made it!! Recently Weston
Park's Head Gardener made a remarkable discovery. Whilst sorting out an area used for their equipment, amongst the detritus of old urns and shoulder high nettles, they found this sundial base. It is no ordinary plinth, though, being a rare Coade Stone piece which was last seen at Weston in the early twentieth century when it appeared in a photograph of Margaret Countess of Bradford and her children. Coade stone is not a real stone but is an eighteenth century man-made ceramic. It was perfected by Mrs Eleanor Coade in the 1770s and was notable for being twice fired. Examples exist in a few places in London but only one other at Weston Park. Only in recent years has this ceramic formulation been rediscovered and restoration made possible. Look at the pedestal and listen to why it is important HERE.

To restore the plinth and to make a dial for it will cost £20,000 - an amount close to 10% of the total park maintenance available to the charity that runs Weston Park, so a crowd funding approach was started and we at SunInfo asked if you who read SunInfo could help too.
Appropriately and on the very day of the summer solstice 2018 it was announced that the project has been funded!!
30.04.18, 21.06.18
---
The Hugget Heliochronometers Brian Huggett and his wife enjoy visiting gardens, in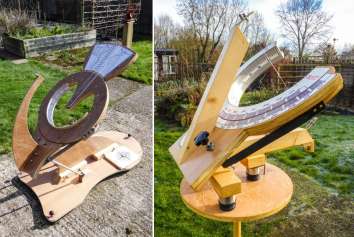 part to gain inspiration for their own. Such outings in the summer of 2016 led him to consider installing a sundial in their garden. Knowing little about sundials, he inspected those they encountered and was dismayed to discover that none agreed with his watch. Even those that claimed to reflect clock time required additional consultation of a table or graph. 'What we need,' he said to his wife, 'is a sundial from which clock time can easily be read by anyone.'
'Why don't you make one?' she replied. See the consequences of this suggestion here in two excellent articles. Heliochronometer I, Heliochronometer 2
12.08.18
---
Summer Solstice at the Duomo The other day Jim Tallman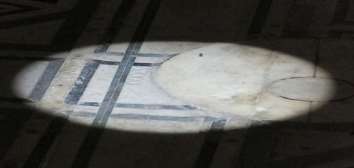 alerted the sundial community to the 'event' that occurs at (and near) the summer solstice in Florence's Duomo in Italy. There is an aperture high up in the dome of the Cathedral which, around the summer solstice lets a spot of light fall to the floor and pass over a meridian line that was installed in 1756 - though the aperture might have been installed as early as 1475!. It was designed partly so that "the measure of the year and the date of Easter be more accurately determined", according to the inscription still visible on the wall near the choir. If you cannot be there, look at this video of an earlier 'transit'. Thanks Jim for alerting us all to this excellent spectacle.
06.07.18
---