BSS Grants Policy Consultation, March 2013
Comment & Opinion
STOP PRESS! -July 2014
The latest on this matter is that without any mention to the membership via the Newsletter, or via the website, of the outcome of the recent membership survey on the issue, the Grants Policy has been quietly discontinued. Astonishingly it was still at that time advertised as available on the (old) BSS web site. Now if you do apply for a grant you will get told 'sorry we have discontinued/halted it'. No reason, no explanation, no justification given despite all the arguments to retain it, no mention that the grants policy was a useful way to use some available reserves in full accordance with the Charity's Objects and with its Public Benefit objectives, no mention that the Society's reserves are so high that they cannot be justified by potential future risk, no mention even that the society is at increasing risk that the Charity Commission might usefully step in to investigate. It all looks like yet another 'BSS Blunder'.
The BSS Restoration Fund as it was then known was started in 1997 using £194.73 arising from surplus Petty Cash allocated to and not spent by the then recent German Dial Group tour.
In a Consultation Document to Members that was enclosed with the March 2013 Bulletin, the BSS Council has suggested that its long standing Restoration Grants Policy should be abandoned in favour of only offering expertise - something which has always been offered by the Society for free. The document goes on to say that, the restoration fund is 'insufficient' and this results in no grants being made; yet some feel this is only because there is a long agreed limit to the amount of funding that can come from society income for restoration. If appropriate, the restoration fund can always be supplemented at any time. No mention is made of an increase in restoration funding from careful use of the Society's reserves except as a passing mention of 'special cases' in the consultation document. No rules have been drafted or are as yet proposed for such special cases.
The document does not mention the very real benefits of keeping the Grants Policy as it is and this omission consequently makes it hard for any BSS member to decide whether or not to support the proposal. The problem stems from the fact that if the Society were to fund all the costs of a restoration then it would have a liability if something went wrong. Not only would the charity's reserves be at risk from any such but also since the charity is not yet incorporated, the trustees could be at risk too. It was long ago decided that the society should fund at a low level and this policy has worked well.
It is now proposed to replace the Grants Policy with a supporting 'panel of experts' who would supply 'expertise' under circumstances where their reasonable costs and expenses would be 'fully reimbursed' by the Society. Expenses are understandable but would 'costs' include professional fees? Might Trustees even be eligible to receive professional fees - something which is currently contrary to the Society's Constitution? Members are not told. Moreover, there is no mention, let alone consideration, of the loss in Charitable Public Benefit that the abandonment of the grants policy would bring.
There is also no mention of how any Society liability for project management will be controlled and there is no mention of any limit to, or rules for, the compensation that might paid to any elected Trustees who may come to be involved on the panel of experts - something which might well be contrary to Charity Law. In fact quite a few charitable consequences of the proposals appear so far to have been ignored. A secondary suggestion - though one without a direct connexion with restoration - is that the Society should proactively initiate and finance 'imaginative' education projects - something again that has been Society policy for most of its existence - though recently mainly enacted through our most successful website. That aspect of the proposals is surely to be applauded.
This consultation is published for member input now but few BSS members will actually be able to make a decision on it as it is, since so much has not been thought out and worse, since the linkage with Public Benefit has apparently been quite forgotten.
To help bring these deficiencies to the notice of the present Council a few BSS members presented their view in a note circulated at the Edinburgh Conference. See it here or click the thumbnail below.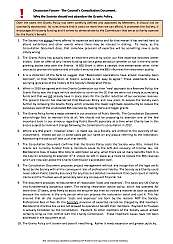 Additionally, an Individual View can be seen here or click this thumbnail below.

The recently issued Consultation Document implies that the Grants Policy is not working. But just see here - or click this thumbnail below: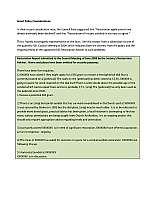 It shows how a previous Council received no fewer than five applications in a three month period to the June 2009 quarterly Council meeting and how they were handled. It shows well how the existing BSS Grants Policy works - or did. Surely the present Council cannot be unaware of these successes? If you are a BSS Member, you may find these notes and links useful in drafting your own response to this faulted decision.