Dr Frank Evans
24 August 1926 - 26 October 2017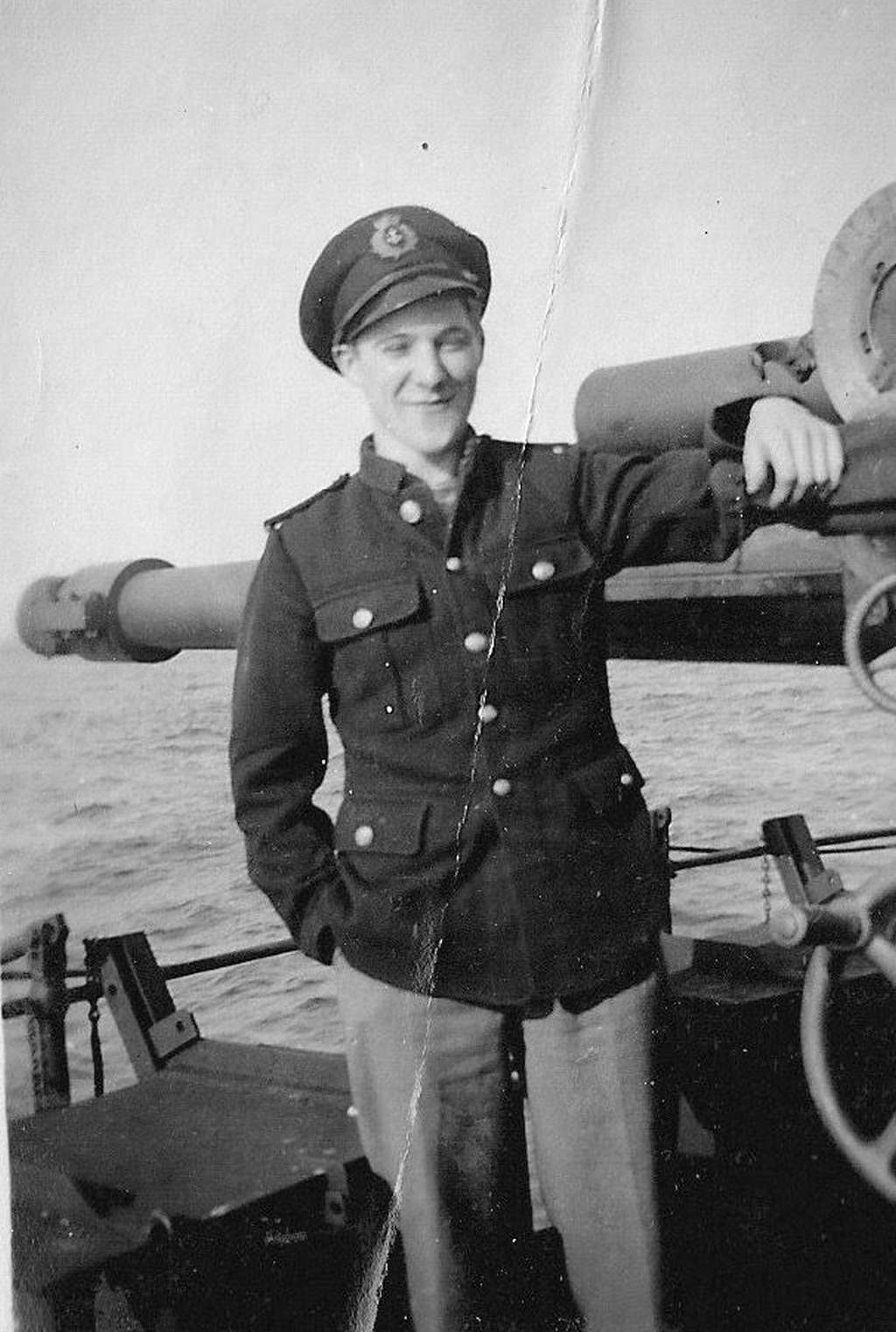 Frank in charge of a four inch rear gun on his first ship
An early BSS Member, Frank Evans was born in South London, evacuated to the West Country at the onset of the war but lived most of his life in North Shields on Tyneside. He died peacefully in hospital on 26th October 2017 following a stroke which occurred as he was making a regular trip to the ice rink with his daughter to go skating. He was aged 91 years!
Husband of the late and much loved Rosie, father of Susie and Liza, and an adored grandfather. Frank will be greatly missed by all his family and by his very many friends.
From age 15 to 17 Frank spent time at navigation school. He joined his first ship in Birkenhead in 1943. For several months during that time he was taken off the Atlantic convoys and put to hauling fuel from the western UK convoy ports, down E-Boat Alley to the D-Day invasion fleet in the south east. In that time he reckoned that he must have entered just about every tanker port in Britain. He witnessed the mighty battleships waiting in the Clyde and the huge armada of smaller vessels gathered for D-Day around Portsmouth. After his war service Frank swiftly realised that he had to get qualifications for his chosen career as a marine biologist. Read Frank's own story of how he went about this here! It makes fascinating reading.
After qualifying as a marine biologist, Frank embarked on a long term study of coastal zooplankton. He was based at the Dove Marine Laboratory, Cullercoats, North Shields, where he initiated a time-series over the period 1969–1988 data during which he noted that there was a long-term decline in zooplankton abundance in CPR (Continuous Plankton Recorded) data for the western North Sea, including Northumberland waters, between 1950 and 1980. Frank always made this data freely available to assist research workers in further plankton studies. In 1986 he was honoured for his studies on hyperiid amphipods and he also wrote the interesting 'Voyage of the Petula' and a little-known paper on coastal fogs in Northumberland.
As a longstanding member of the British Sundial Society and regular author of articles in the Society's Bulletin, Frank together with his wife Rosie were regular attendees at the Society's annual three day conferences. There, they were 'founder members' of the invited group of senior BSS members who usually met mid-conference after the days' events in one or other of the members' rooms to drink, chat, catch up and socialize. With his strong nautical background, Frank had a seemingly endless repertoire of stories, recitations and commentaries with which he could frequently be persuaded to regale the group in a tour de force and all without repetition. He certainly made remarkable and very memorable company.
Frank will be sorely missed by all those who knew him. Rest in Peace, Frank.
© P.Powers et al, 2017