Newbury 2017 - How to get there... Saturday 23 September 2017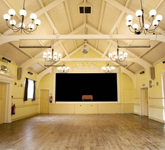 The meeting will be held at Sutton Village Hall, Stockcross, Newbury RG20 SLN. Note that the village is not called Sutton, it is Stockcross!

You can see more details of the venue at: www.suttonhallstockcross.org/

Entrance is via a porch, with direct access to the kitchen and toilets. It has a non-slip wooden strip floor.
Heating is provided by electric ceiling mounted radiant heaters. Natural light fills the hall from both the east and west facing windows.

Open from 9:00 to 4:00. Optional entry donation £10.00.

The Special Feature this year will be 'Heliochronometers'.

Arriving by Public Transport

Take the train or a bus to Newbury rail station, leaving it on the station car park side. Follow the Blue (walk) signs - short 5 minute walk - to Newbury Bus

&Coach

Station.

Take the Number 4 Bus, Bay F, departs 8:45am, 10:45am, 12:45am. 10 minute journey to

Stockcross Post Office. (Sutton Hall is then only a short signposted walk north west, from this bus stop.)

Taxis are available outside the Rail Station if preferred, £8-£10 approx.

Arriving by Car

From the North - arrive at Junction 13 of the M4, and take the A34 Newbury Bypass south. NB Avoid the A339.

Take first exit signed to A4 Hungerford.

From the South - get to the A34 Newbury Bypass - exiting at the A4 slip road.

At the next roundabout take the second exit marked for the A4, at the next Roundabout take the second exit marked for the B4000.

In Stockcross village, take the second turn on the left into Church Road, and the Village Hall is on the right.

There will be the usual yellow BSS direction signs.

No formal bookings are required for this meeting: just turn up on the day. Guests, visitors, non-members are all welcome. The Hall is open from 9.00 am to 4.00. Free tea and coffee to greet your arrival.
A donation at the door of £10.00 each is requested. Talks start at 10:am.