Obituarial Notices - David Young and Gordon Taylor - June 2020
SunInfo is sad to report the deaths in early June 2020 of two important British diallists.
David Young who was a founder member of the British Sundial Society and during the early days with what might be described as an 'all hands to the pumps' regime, it was he who took on multiple roles at the same time being simultaneously the first Secretary and the Society's first Registrar. He and his wife Lilli took amazing care of the fledgling society alongside Christopher Daniel at that time to the point that he would take time to visit and effectively interview potential members of the Committee that may have been proposed and had agreed to serve. David was a prolific reporter of sundials for the newly established Register, vying alternately (it then seemed) with Tony Wood as the two BSS Members who had arguably discovered the most dials in the UK. Always friendly towards new members he was supportive of any new ideas by which the society could be improved and so, perhaps unsurprisingly, he became highly critical after a new Committee took over following Christopher's retirement as Chairman, when he perceived a succession of mistakes in charity management. In later life David moved more towards his other passion, that of the history of his local area. David will be much missed by all his friends in British dialling.

Gordon Taylor was another early committee member of the Society who provided much expertise and academic flair which materially helped the acceptance of a new professional Society and moreover one which was seeking to change the then habit of the National Trust in using dials as ornaments that could be moved from garden to garden. Thankfully and to the credit of the Trust, that was quickly corrected and today both the Trust and English Heritage are most vigilant in that regard. Gordon will be particularly remembered by BSS Members for his design of the first public Equiangular Dial in the UK and for his 1975 book on the topic. Designated SRN 1773 the dial was designed for the Royal Greenwich Observatory then located at Herstmonceaux Castle. After a temporary move to Cambridge the dial is now back there at the castle once again, as a fitting memorial to a memorable diallist.
Note added by Barry Howse
Marketing Coordinator at The Observatory Science Centre and Herstmonceux Castle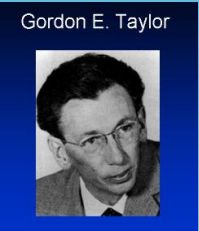 Gordon Taylor and the giant sundial at Herstmonceux Castle

Set within Herstmonceux Castle's beautiful Rose Garden is a magnificent sundial that both impresses and intrigues our many visitors who often enquire about its significance. Gordon Taylor, the man responsible for the sundial, recently passed away at the age of 95. As such, we would like to take this opportunity to acknowledge both him and his legacy.

As many people are probably already aware, the Castle and estate were once home to the world famous Royal Greenwich Observatory which moved to Herstmonceux after the Second World War to escape the smog and light pollution in London. The Royal Observatory was founded by Charles II in 1675 and to mark its 300th anniversary in 1975 numerous celebrations were held throughout the year. The highlight of these was the Tercentenary Royal Garden Party, attended by HRH Princess Anne who unveiled a bust of John Flamsteed, the first Astronomer Royal, as part of the inauguration ceremony for a commemorative sundial erected behind it. This large equiangular sundial was designed by Gordon Taylor who at the time was a staff member of the Nautical Almanac Office also located on the estate. During his long career Gordon Taylor gained international recognition as one of the pioneers in occultation astronomy. He was also President of the British Astronomical Association from 1968 to 1970 as well as being their Director of Computing for many years.
Link to Gordon Taylor's Autobiography
07.06.20