Wooster Stolen in 1994,
found in 2003 and
then, sadly in 2004, put down....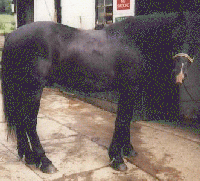 Wooster was a 16hh, Black, Welsh, Section D Cob Gelding and was aged 17 years in Jan 2004. He was FREEZEMARKED JJ79.
Wooster had a white star, white/pink snip with small white spot on left of nose. On December 9th 1994, Wooster was stolen from a field in Harpenden, Hertfordshire, UK and he was sorely missed by his lady owner. Way back in 1994 he was one of only 14 untraced Freezemarked horses stolen in the UK. But, when we had all but given up, he was found in the summer of 2003 living in the Midlands with a caring family. At first it was thought that Wooster's original owner couldn't now have him back because after the Insurance money was paid he no longer belonged to her...
The person who owned Wooster when he was found had only had him for between 12 & 18 months & had no idea he was stolen. He was found via Horsewatch & because he was freezemarked. He was loved very much by everyone at the yard where he ended up & was well cared for.
The lady who owned him came to an arrangement with his previous owner for her to have him back. Unfortunately the afternoon before he was due to return to his previous owner, he was found down in the field. Despite the efforts of the yard staff, the vet & the fire services, Wooster was found to have broken his leg & had to be put to sleep. It was thought that he had a hairline fracture in the bone of one of his legs which possible went while he was playing in the field with his friends.
A tragic end for a much loved horse. But at least his original owner came to know the final outcome for Wooster.
If you want to comment on the outcome please send them to the 'Mail me' address below.
Thanks VERY much to all who might have been keeping an eye out for Wooster for all these years and especially to those who have told me the outcome. It has been much appreciated. Even though there has been a sad ending the moral is clear: ALWAYS have your horse freezemarked...

More information if and when we get it....




03/04/04

Back to home page?