BSS
BSS's area of interest
The British Sundial Society is an Educational Charitable Incorporated Organisation, registered in England and Wales; . It takes an especial interest in recording the dials that exist in the British Isles and Eire and in maintaining a 400 volume Reference Library. This Official Diagram shows how the various component parts of the British Isles geographically fit into the whole and represent our coverage. The current BSS Constitution may be read here
And now....
omentum Integritatem 2010-2013
...or the need for
reform of the management of the Society...
The Honorary Officials
Patron: The Hon. Sir Mark Lennox-Boyd. President: Christopher StJ H Daniel MBE
Vice Presidents: David A Young & Frederick W Sawyer III

Contact details available from the BSS Secretary, c/o The Royal Astronomical Society, Burlington House, Piccadilly, LONDON W1J0BQ
Information Sheets
'Know Your Society'
&
'We've changed our clothes'
In 2011 the BSS published an information sheet to explain the organisation of the Society. This met a new requirement of the charity commission. A copy of this may be viewed and/or downloaded by clicking on the thumbnail on the right.
[Please note that this document specifically refers to the charity as it was when BSS was a charitable trust. BSS converted to a charitable incorporated organisation in 2014 so there are some minor differences].

'Know Your Society'


In late 2010 the Society website was redesigned by a Council Subcommittee and the code for it was entirely rewritten by BSS Member Richard Mallett using 'MS Expression Web' so as to conform with the latest web standards. Around that time two Members suggested that the Society might change its web domain name. The Information sheet issued in 2011 to inform members of these matters and of the decisions reached, can be seen by clicking on the thumbnail on the right.

'We've changed our clothes'
The Trustees
2014-16
The unpaid Trustees of the charity are elected each year at the Annual General Meeting which usually takes place during the Annual Conference. At the 2013 AGM John Foad stood down after many years as a trustee though he retains his position as Registrar - responsible for the National MIDAS Compliant Register of Sundials. The following were re-elected at the 2015 AGM and have taken up the following positions:

Chairman - Frank King, Treasurer - Graham Stapleton, Secretary - Christopher Henry Keith Williams, Jackie Jones: Membership Secretary of the Society
David Brown: Help/Advice Coordinator, Bill Visick Webmaster, Chris Lusby Taylor (resigned 2016)
Contact details available here or from any Bulletin or from the BSS Secretary, c/o The Royal Astronomical Society, Burlington House, Piccadilly, LONDON W1J0BQ
The Specialists
2015-16
Apart from the trustees who, as a body, form the Council of the Society, The BSS is heavily dependent upon its Specialists, those who, also without any remuneration and in their own time, undertake certain other responsibilities for the Society.

John Foad: Registrar, responsible for the MIDAS compliant National Database of Sundials of the British Isles.
John Davis - Bulletin Editor
Mike Cowham - Advertising & Safaris
Jill Wilson - Biographical Projects
Elspeth Hill - Sales

John Wilson - Librarian
Tony Wood - Mass Dial Register
Education - Peter Ransom
Richard Mallett - Web Consultant
Mike Shaw - Newsletter Editor
David Pawley - Organiser Newbury Meeting
Ian Butson - Photocompetition Organiser
Contact details available here or from any Bulletin or from the Secretary, c/o The Royal Astronomical Society, Burlington House, Piccadilly, LONDON W1J0BQ
The Society's Reports and accounts are registered with the Charity Commission each year. Past Filed Accounts (PDF format) may be seen by clicking on the appropriate year below.
Most reports also contain the numerical accounts for the previous year for comparison purposes so sequential financial records here go back to 2004 and with a copy of the 1997 and 2000 accounts too. This repeating of earlier accounts does not apply around the conversion of the charity to a CIO.
|1997|2000|2005|2006|2007|2008|2009|2010|2011|2012|2013|2014|2015|
All these files are PDFs. Some are larger in size than earlier ones since they reflect what has been filed with the Charity Commission. A commentary will be placed here shortly.
Membership

Why not join the Society? The cost of Annual Membership is modest. It actually depends on where you live. This is simply because of the extra postage charges needed to send you the four Bulletins a year. Rates are currently (set 2013):

Convert Sundial time to Clock time - anywhere in the UK?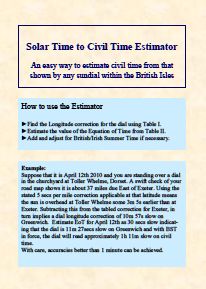 Want a little card to carry with you to help you check a sundial's displayed time at ANY Longitude or Latitude in the British Isles? Hurry if you want one of the few remaining printed versions...
Click the picture for more details!

Did you know that BSS is on Facebook? The Society joined Facebook on 23 September 2011. Announcements of interest both to Members and the public at large are posted there. To go to it just point your Browser to: www.facebook.com/sundialsoc. There is even a Message Board on the BSS Facebook page where you may leave comments and/or questions. You can be sure of a warm welcome.

Interested to know what sort of things have been announced in the period since the page was started? Just click this link to see the Archive of announcements that have been posted so far. These are listed in 'reverse' order each on its own page, newest first. Up until a change of editor there were nearly two a month!
A parallel archive is maintained at http://bit.ly/W8XanE.

BSS Facebook RSS Feed
Want to subscribe to the BSS Facebook RSS Feed? By doing so you can receive all new BSS Facebook announcements as they are released, in a Feed Reader of your choice, or in your email package if it is also a Feed Reader. Just paste this URL into your RSS Feed Reader*.
http://www.facebook.com/feeds/page.php?id=165065220246200&format=rss20
* About the BSS Facebook RSS Feed

What is an RSS feed?
An RSS (Really Simple Syndication) feed is a regularly published collection of headlines and summaries from an original source (e.g., the BSS Facebook page). Readers can subscribe to their favorite RSS feeds to have the latest news and content updates delivered right to their desktop. To do so, you will need an RSS feed reader.

How Can I Read RSS Feeds?
There are many free and commercial RSS readers you can use to subscribe to and read RSS feeds. There are RSS-enabled Web browsers, e.g., Mozilla Firefox, Opera, and Safari (Mac). There are Web-based readers, e.g., Bloglines. There are others, e.g., those built into email packages like Windows Live Mail. You can find RSS readers by searching the Internet for "RSS Reader" or "RSS News Aggregator" and checking the Yahoo! Directory of RSS Readers and Aggregators. Please note that BSS does not endorse any particular RSS reader products. Also see
http://miranda.hemscott.com/helppages/rss/guide_to_rss.htm
http://camosun.ca.libguides.com/content.php?pid=29200&sid=213192

If you have any difficulty just contact the Secretary.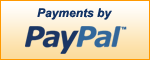 How to make payments to BSS for purchases or bookings
1. Cheque
BSS's preferred payment method is by a cheque drawn on a UK bank and posted to the Treasurer, BSS Sales Manager or Conference Organiser, as appropriate.

2. PayPal
If it is more convenient, payment may be made by PayPal.
After logging into your PayPal account, payment in respect of the purchase or booking should be made to payments@sundialsoc.org.uk. Please note that all payments should be made free of currency conversion charges and PayPal fees so that the full sterling amount is transferred to BSS. Please additionally summarise your booking details in the message-to-seller box at the end of the page. The transaction identifier on your PayPal statement will be BRSUNDIALSC.
3. Debit or Credit Card
For those without a PayPal account, on-line payment may be made by Debit or Credit card as a PayPal 'guest' via the Pay Now icon below.
To make an online payment by Debit/Credit Card, click on the 'Pay Now' button below. This opens a page that offers a choice of card (as well as the use of PayPal). Enter the Pounds Sterling amount to be paid on the left hand side, click update, select the card type and enter all the details. With this method of payment there is an option to summarise details of your payment at the final confirmation stage just before payment is processed. It would help avoid mistakes if you did that. The transaction identifier on your card statement will be BRSUNDIALSC.