The 2016 BSS Spring Conference in Liverpool
Friday 15 April to Sunday 17 April 2016
NB: The BSS 2016 Conference has now ended. The information on this page is being maintained both for interest and to publish comments that attending delegates and others had about the conference itself.
This year's conference came in the wake of losses on the most recent Spring meetings and as a consequence, booking fees this year were the most expensive seen. Sadly and possibly as a consequence, fewer than 55 delegates attended - even fewer than last year at Nottingham. Not only that but several long standing BSS 'Stalwarts' sadly did not attend the BSS Conference in Liverpool this year. Some of them, we now learn, because of illness and cost but others put off by the society's current management.
Consequently attendances and the number of speakers were once again seriously affected.
Sadly too, the number of speakers was down as (according to reports from attendees) was the level of interest in many of them - Fred's papers aside of course. This comment sent to SunInfo is typical:
...the conf does seem expensive in the sense its not value for money especially these days when so little is offered...

The BSS Beach Sundial - washed up! There was no tour of local sundials at the BSS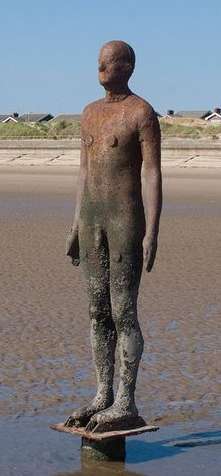 Conference again this year - something which should be reinstated since it is so appealing to attendees. Mind you, there are not many close by 'working' dials to visit in the Liverpool area. So with no dials to look at, a small group of diallists came armed with tape measure, straight edge and a broom and made their way to Crosby beach to construct their own analemmatic dial using as the 'human' gnomon, one of Sir Anthony Gormley's famous life-size sculptures! The result was accurately laid out to tell the time year round too, though it would always have had to be shared with Gormley's 'man' who stood on the April date. It was set out with Bailey sunrise and sunset markers and even a sort of motto - well, really only the name of the society. Sadly the sun never shone and the tide soon made sure it was never going to work! Another unachieved goal of life really.
16.04.16
The 2016 Conference Programme
Friday 15 April - after dinner
Welcome to the Sounds and Sights of Liverpool - Mike Shaw
A Polar Dial in Darwin - Geoff Parsons. The Centenary Anzac Memorial Dial, signifying timelessness and marking events of WW2. Also dials in Wellington, Melbourne and the Newcastle timeball.
Ascension Island Dial - Kevin Karney. The dial made by a blacksmith.
Saturday 16 April
The BSS AGM
Horizontal Equivalence - Frank King. For any dial on any surface there is always an horizontal equivalent dial somewhere on the world's surface. But where? Other earlier Articles on this topic
Self Orientation - Fred Sawyer. Dials or combinations of dials that can be set up easily and earlier works that are wrong!
Tetrahedron Cairn - Mark Lennox Boyd/Ben Jones. Three dial faces on a Tetrahedron of Brandy Crag.
The Meridian of S.M. degli Angeli, Rome. Woody Sullivan. Description and a new year round study to find the obliquity of the ecliptic. An earlier Article on this topic, and another
Bulletin Update. David Brown. Appreciation of John Davis' high standards.
Website Update. Bill Visick. A ten fold increase in hits has been seen over the past few years.

Free time to explore Liverpool

Sundial Awards Announcement. Doug Bateman
Photo Competition Awards - Ian Butson The winners this year were:
First - Ian Butson: Does anyone have the right time, please?
Second – Darek Oczki: Playing with the Sun
Third – Margaret Ribchester: How soon will it be lunchtime?
Auction of sundial memorabilia - Mike Shaw & Geoff Parsons. See panel below
Sunday 17 April
Chadburns of Liverpool. Mike Shaw. The search for a sundial which also found a toposcope.
The Sundials of Newstead Abby, Notts. John Wilson. A tale of three dials and more.
John Smith's Rectifying Days. Fred Sawyer. Adjustment of a clock always to read solar time, the ten Rectifying Days. 'Horological Disquisitions, 1694'
Mapping for Diallers. Derek Humphries. On line Applications and the OS National Grid
A Scottish Sundial Holding Secrets. Alastair Hunter. The lady in stone on the pedestal of the Lennoxlove dial.
A wearable, portable sundial. Woody Sullivan. A wearable dial that tells time and compass direction.
The Andrew Somerville Memorial Lecture. See panel below.
The 2016 Andrew Somerville Memorial Lecture was given by Mr Seb Falk of the University of Cambridge's, Department of History and Philosophy of Science. Seb is a post graduate medieval historian, researching the communities, contexts, uses and depictions of science under the direction of Professor Liba Taub. His talk was entitled "Instruments of Mediaeval Astronomy". Based upon Seb's doctoral thesis, he described the way the heavens were scoured in mediaeval times, the dioptre tube, the astrolabe and its alidade and the rete. Visit Seb's Blog
Other news
An Auction of sundial items and related memorabilia was held during the Meeting. It raised a total of £345.50 for the Society's funds.
The Society's AGM was also convened before the Saturday's talks. Surprisingly, it is reported that there was no discussion of and no explanation was forthcoming for, the unprecedented loss in only one year of more than 5% of the Society's entire Net Assets that had recently been revealed in the 2015 accounts. It is also reported that only three of the current trustees were in attendance at it.
The 2017 BSS Annual Conference will be held in Oxford at the The Oxford Hotel, OX2 8AL, not far from the City Centre. More information.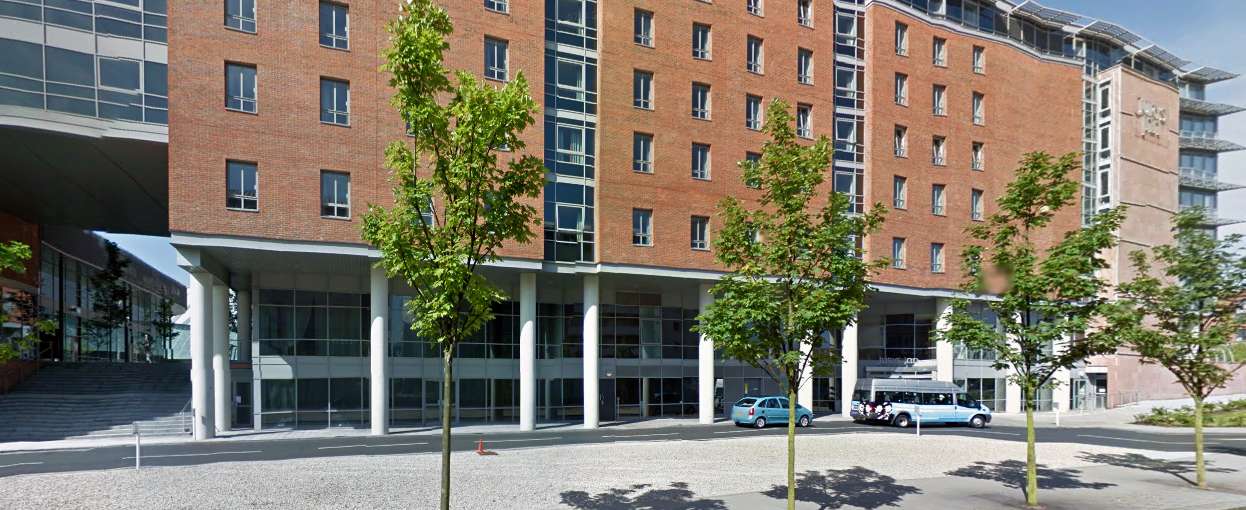 © Google Inc.
INTRODUCTION
The 2016 Annual Spring Conference of BSS took place in Liverpool, a venue never previously visited by the Society. For the first time in several years the Conference was run in an hotel setting giving a much more comfortable environment for all delegates and especially for those who might be a little infirm. The Conference ran to what might be described as the 'usual' format; arriving on the Friday afternoon and finishing after lunch on the Sunday. Dependant on the lengths and numbers of papers that had been offered and accepted for presentation at the meeting, talks could be started on the Friday evening after dinner.
THE USUAL CONFERENCE FORMAT

The format of each BSS Annual Conference is never rigidly fixed. As was seen at Edinburgh and Greenwich it may be varied to suit individual circumstances and indeed in any case - as last year - where the location does not provide an all-under-one-roof venue there will always be differences in where eating, sleeping, drinking and lecturing take place. In 2016 however the accommodation and the Conference itself was held once again under the one roof of the Jury's Hotel in Liverpool.
The usual format is as follows: Delegates normally arrive after about 2pm on the Friday and leave on the Sunday in the afternoon shortly after lunch. On arrival at the venue on the Friday, delegates will have been asked to report to Reception who will check them in for their accommodation. The Conference Suite is on the first floor.

Accommodation is usually available for occupation from about 3pm on the Friday ‐ possibly earlier though that depends on the specific arrangements that will be notified to attending delegates. The Reception staff will point out the assembly area of the conference suite where there will usually be several boxes of conference wallets. There may not be anyone present to greet every attendee at that time since BSS is only a small Society. Delegates will have been asked to look for their name(s) on the wallets ‐ they will usually be in alphabetical order of surname ‐ and take theirs. Inside that will be the programme and a few other items that will give more details of the meeting.
It is common for the wallet to include one or more free gifts like a pen and possibly some insert of interest to a diallist. If there should be any problem, look for any other delegate with a name badge and ask him/her to point out the Conference Organiser or any other member of the Society's Council. They will always be able to help.

The assembly area of the conference suite (which frequently is close to a bar) is where delegates can meet up with friends and relax. There will usually be a display nearby of sundial related items brought by delegates and in this area too will be the society's sales table, maybe a bookstall and even some other interesting items for sale by vendors. There will often be light refreshments available in the bar/assembly area on the Friday afternoon from about 4pm and the bar itself opens sometime before dinner ‐ which on this first evening may be at 6:30pm or so. You may sit anywhere for dinner, there are usually no reserved tables.
After the Friday dinner (that is to say typically around 8pm) the first two or perhaps three of the programme of talks usually takes place in the allocated lecture room; ending with delegates repairing to the bar.
Saturday morning after breakfast starts with the Society's short AGM followed by a chance for a similarly short society discussion. It should be noted that this post AGM discussion is not formally a part of the AGM and so no decisions taken at such a discussion can be binding on the trustees. Then the presentations start, interspersed by a 30 min break for coffee/tea and time to look around the exhibits. After lunch - and depending on the programme - a coach may depart for a tour of some local dials, returning around 6:30pm in readiness for a pre‐meal drink before the Conference Dinner at about 7pm. The 2015 Liverpool conference will however not operate a dial tour. Instead delegates will be free to explore the many sights of interest around the conference venue. Whilst not really formal the Saturday dinner is nevertheless the celebratory dinner of the Conference and smart dress is appreciated.
There are usually some speeches and even presentations of awards at the end of the Conference Dinner after which there will be a chance to meet other delegates over a drink or there may sometimes be some other event such as an auction of dial memorabilia. Sunday morning brings the final set of lectures (again with a coffee/tea break in the middle) followed by the one hour plenary lecture by an invited speaker which is given in memory of BSS's first chairman, Dr Andrew Somerville. Then follows lunch and if necessary, there can be a continuation of any earlier discussions after that. Delegates depart after lunch or after any such later discussions.
Additional booking options usually include B&B terms for delegates who may wish to arrive earlier in their accommodation than the Friday or leave later than the Sunday. On these additional days it is assumed that delegates will make their own arrangements for lunch and dinner.
LOCATION OF THE 2016 CONFERENCE

Jury's Three Star Inn in Liverpool is situated close to the River Mersey and to Wapping Dock and Duke's Dock. It is central and accessible from all major transport points in the city. Those arriving by car or public transport, could use this map and the directions below helped to find the venue in the quickest possible time.
Address
The Inn's address and location were:
Jury's Inn Liverpool
31 Keel Wharf, Liverpool, Merseyside L3 4FN, UK
Tel: +44 151 244 3777
Email: Jurysinnliverpool@Jurysinns.com
Lat/Long: 53.398159N, 2.989719W (53°23'53.4"N 2°59'23.0"W)
If using a SatNav with post code entry the hotel suggested that it may be better to use L3 4BX
Jury's Inn offers 310 'stylish and spacious' rooms, each able to accommodate up to three adults. They have large soft beds, en-suite bathrooms with complimentary toiletries, and flat screen TVs with Freeview – Jury's Inn Liverpool claims to offer comfortable, cheap hotel rooms in Liverpool with high quality standards, whether visiting for business or pleasure. Further room features include free WiFi, air-conditioning, and hair-dryers with extra pillows on request.





Jury's Inn also provides a number of wheelchair accessible bedrooms. These rooms have been designed to make a stay with Jury's Inn as easy and as pleasurable as possible.
Additionally these bedrooms include wide doorways, floor space to manoeuvre, and accessible bathrooms. Throughout the hotel, they also provide accessible toilets in public areas and lift access to all floors.
For those who might only be slightly or temporarily 'disabled' the hotel is happy to allocate ordinary rooms on the same floor as the conference. Contacting the Inn after booking with BSS was the way to arrange this.

There is an on-site bar. As a delegate you could of course, also eat in the in-house restaurant. However the conference rate included all meals. (NB The Day Delegate rate did not include breakfast)

All rooms come equipped with tea and coffee 'docks' however the Inn also offered an all-day Costa coffee bar where you can relax. If you wanted to use the area for work or internet browsing, you could. Jury's Inn provides free WiFi throughout.
Conference Booking Fees
BSS took bookings for the 2016 Conference from 1st September 2015. For members, a booking form could be found in with the September Bulletin and Newsletter mailing. Non-members were invited to use the link to the Booking Form below.
Booking for all of the conference: including information pack, lectures, en‐suite accommodation for two nights, all meals and refreshments from the Friday pm to and including Sunday lunch were as follows:

With Single room: £340
With two people occupying a Double room: £525
Extra nights either side of the conference: £92 single, £102 double
Day Delegate Package (no accommodation or breakfast included) £160pp
All payments were to be made to BSS. The link to the BSS web site for this was here: Booking form Or Book on-line

Public Transport
Merseytravel provides help in getting around the city using public transport. Fares are inexpensive and joint bus, train and ferry tickets are available. See the Liverpool Public Transport Guide for more information.

Bus
The nearest bus stops to Jury's Inn are:
Gower Street
Wapping (that's the A5036 road across the docks)
Kings Parade
Paradise Street Interchange (next to John Lewis)
The Gower Street bus stop is only a short walk from the hotel: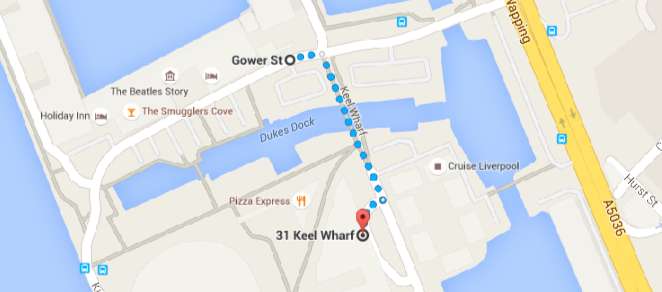 TRAIN
The nearest train stations are:
James Street - for the Wirral Line – (6 minutes walk) Taxi to hotel approx £3.00
Moorfields - for the Northern Line – (12 minutes walk) Taxi to hotel approx £4.00
Liverpool Central station – (9 minutes walk) Taxi to hotel approx £3.00
Lime Street Station – (12 minute walk) Taxi to hotel approx £4.00
The map below shows the locations of these Liverpool stations in relation to the hotel:

Car
The Sat/Nav settings were Latitude: 53.398159N, Longitude: 2.989719W (53°23'53.4"N 2°59'23.0"W) or use the postcode L3 4BX.
Those arriving by car we asked to aim to get onto the M62 and go to its Western end. It was then approximately 6.7 miles (24mins) to the Hotel.
From the M62 aim for Bowring Park Rd/A5080
- Continue straight to stay on Bowring Park Rd/A5080
- Then onto Edge Ln/A5047
- Turn left onto Durning Rd/A5089
- Continue to follow A5089
- Turn right onto Upper Parliament St/A562
- Continue to follow A562
- Continue onto Chaloner St/A5036
- Turn left onto Queens Wharf
- Slight left to stay on Queens Wharf
- Turn right at the 1st cross street onto Keel Wharf
- Turn left The hotel will be on the left.

Parking
Car parking was available at the nearby Arena and Convention Centre. The car park is located at Kings Waterfront which is next door to the hotel.
A special discounted rate of £9.50 for 24 hours was available to Jury's Inn guests. To take advantage of this members were asked to ensure delegates validate your ticket at reception desk prior to departure.

NB: Prices were subject to change and as such this information could only be a guide.
TAXIS
The hotel is happy to arrange a taxi - just phone them. A list of available taxi firms was provided here:
Liverpool Taxi and Private Hire Numbers. Entries in Bold are based not far from the hotel
NB Buyer Beware. SunInfo takes no responsibility for any of these entries which are provided as a convenience only. Delegates using any of these firms should satisfy themselves as to their suitability for their purpose before contracting with them.
Typical 2015 Weekend Rates: (fr Delta Taxis) £2.60 first mile and £1.80 per mile thereafter.
A1 Taxis 2a Dinas La, Liverpool, L36 2NP 0151 480 7777
Associated Cars 108 Cherry La, Liverpool, L4 8SF 0151 284 4848
Blue Line Network 112A Oakfield Rd, Walton, Liverpool, L4 0UQ 0151 709 0101
Blueline Taxis (Maghull) 54-56 Station Rd, Maghull, Liverpool, L31 3DB 0151 526 5050
Botanic Cars Unit 4/Botanic Ind Est/Edge La, Fairfield, Liverpool, L7 9LJ 0151 220 2121
Capital Cars 118 Hunts Cross Av, Liverpool, L25 8SQ 0151 428 7777
Central Cars 15 Whitefield Rd, Liverpool, L6 5DD 0151 260 1010
Connollys Taxis Merseyside Office/Cheadle Av, Liverpool, L13 3AE 0151 228 9564
Curzon Taxis Lockerby Rd, Liverpool, L7 0HG 0151 260 4545
Davy Liver 21 Stafford St, Liverpool, L3 8LX 0151 708 7080
Delta 7 Glen Buildings/Moor La, Crosby, Liverpool, L23 2UN 0151 924 7373
Excel Radio Cars 209 Park Rd, Toxteth, Liverpool, L8 6SE 0151 728 8888
Freephone Taxis 72-76 Duke St, Liverpool, L1 5AA 0151 709 5959
Jubilee Taxis 65 South Rd, Waterloo, Liverpool, L22 5PE 0151 920 7000
K & D Cars 2 Hawthorne Rd, Bootle, L20 2DN 0151 922 0055
Knotty Ash Private Hire 246 East Prescot Rd, Liverpool, L14 5NG 0151 259 2000
Knowsley Black Kabs 12 Gale Rd, Knowsley Industrial Park, Liverpool, L33 7YB 0151 546 5599
Liver Davy 72-76 Duke St, Liverpool, L1 5AA 0151 709 4646
Metro Cabs 151 Linacre La, Bootle, L20 6AA 0151 922 7464
Metro Radio Cabs 463 Stanley Rd, Bootle, L20 5DN 0151 933 6000
Old Swan Private Hire 246 East Prescot Rd, Liverpool, L14 5NG 0151 228 0101
Penny Lane 90A Aigburth Rd, Liverpool, L17 7BN 0151 727 3800
Pool Cars 72 Prescot Rd, Fairfield, Liverpool, L7 0JA 0151 280 8080
Seaforth Radio Cars 105 Bridge Rd, Litherland, Liverpool, L21 2PB 0151 928 6565
Strom McCall Sefton Pacific Rd, Bootle, L20 4DX 0151 922 4548
Valley Cable Cars 85 Francis Way, Liverpool, L16 5EN 0151 722 3232
ARRIVAL BY AIR
Liverpool John Lennon Airport operates flights to and from most of Europe. A taxi/private hire car from there to the hotel is approx £15.00 each way.
Buses run from the Airport to Liverpool South Parkway Rail Station from where trains connect to Liverpool Lime Street (up to 6 per hour) or Liverpool Central/Moorfields (up to 4 per hour).
THINGS TO SEE AND DO...
Visit the 'Wheel of Liverpool' (Actually next door to the Hotel!) for 'stunning' panoramic views of the city's famous landmarks including fascinating commentary as you sit enjoying views of Liverpool like you've never seen before. At an awe-inspiring 196ft (60m) the Wheel of Liverpool with its 42 capsules, including a luxury VIP capsule with glass floor, leather interior and DVD player (with the option of champagne) is the ultimate journey above the city of Liverpool.

The German U-Boat View the amazing life on board a real German U-boat at this award-winning attraction. With original film archive and interactive displays you will witness all the dramatic action! U-boat Story is a £5m attraction telling the story of World War II German submarine U-534. Open 10.30am. Last Admission 4.30pm. Closes 5.00pm.
Liverpool Anglican Cathedral is Britain's largest, and is a truly great and spectacular space. Take the Tower Tour nearly 100 metres above ground for amazing views of Liverpool city region.

Liverpool Metropolitan Cathedral of Christ the King is a dramatic icon of faith, architecture, and human endeavour. An awe-inspiring landmark on the Liverpool skyline that you will not want to miss. It is a stunning Lutyens building and is the largest Catholic cathedral in England.
The Playhouse.
Starting its life as the Star Music Hall in 1866, it later became the Playhouse theatre with a large roster of prestigious actors and actresses including Anthony Hopkins and Michael Gambon. it's only a 16 minute walk from the hotel.

St George's Hall is one of the finest neo-classical buildings and is Grade 1 listed The Hall opened to the public in 1854 as a multi-purpose building from murder trials to balls.
It is a 19 minute walk from Jurys Inn Liverpool, and only a 5 minute walk from the Liverpool Play House.

The Cavern Club has seen many famous British pop acts come through its doors and was the club where The Beatles were discovered. The Cavern Club has a wide range of events and artists taking the stage as well as 'The Cavern Club Beatles' tribute band, who play on Thursdays and Saturdays. Why not register to arrive on the Thursday when the entry price is only £3 rather than Saturday's £15 entry.
Museums Liverpool has the largest collection of museums and galleries in the UK outside London. National Museums Liverpool's seven venues include the World Museum, Museum of Liverpool, Merseyside Maritime Museum and Walker Art Gallery.

The Mersey Ferries cruises are unique to Liverpool and a great way to see the city. Stop off at Spaceport to explore all things intergalactic, or U-Boat Story for a fascinating insight into a World War II German submarine.

Football Fans from all over the world make the pilgrimage to Anfield, home of Liverpool Football Club. You can do a stadium tour, visit the interactive Liverpool FC Museum and eat in the Boot Room Sports Café.

Albert Dock (very close to the Hotel) is one of the country's top heritage attractions, boasting museums, galleries, restaurants and bars. At the Dock, the Beatles Story is a huge draw for Fab Four fans, and provides a fascinating insight to the life and times of the Beatles. And Tate Liverpool stages international exhibitions of the best in modern art.

The Magical Mystery Tour also leaves from Albert Dock, and is a two-hour journey around the places that made the Beatles, including Penny Lane and Strawberry Field.
The Bluecoat arts centre housed in a 300-year-old building, offers a programme of art, literature, music and dance. It's also home to a wide range of artists and creative businesses.

Mersey Tunnels Tours. Witness an engineering masterpiece first-hand with, a unique behind-the-scenes tour of the Queensway Tunnel, running deep beneath the River Mersey.

Liverpool has more parks than Paris, and the stunning Sefton Park Palmhouse is the jewel in the crown of one of Liverpool's most loved green spaces.

And over in Wirral, Port Sunlight is a unique and beautiful 19th century garden village created solely for the Sunlight Soap factory workers. Step inside Port Sunlight Museum to experience what it was like to live and work during the village's heyday.

Knowsley Safari Park, a 550-acre park offering a unique five-mile safari drive along roads lined with exotic animals from all over the globe.
Shopping at Liverpool ONE the huge open-air shopping and leisure district at the heart of the city. It offers a multitude of high-profile stores with more than 160 famous high street shops, ultra-hip fashion brands and cool independent boutiques.
For more Liverpool attractions please take a look at our Liverpool City Guide.
SOME NEARBY SUNDIALS
FIXED SUNDIALS
Town, Address, Nat Grid Ref, Type and SRN
Bebington, Wirral, Poulton Hall garden SJ335817 Horizontal SRN3056
Bebington, Wirral, Poulton Hall walled garden SJ335817 Horizontal SRN3055
Bromborough, Wirral, St Barnabas' Churchyard SJ349823 Horizontal SRN2839
Caldy, Wirral, The Sundial, Caldy Road SJ223855 Horizontal SRN2707
Caldy, Wirral, The Sundial, Caldy Road SJ223855 Horizontal SRN2705
Caldy, Wirral, The Sundial, Caldy Road SJ223855 Horizontal SRN2708
Caldy, Wirral, The Sundial, Caldy Road SJ223855 Horizontal SRN2706
Eastham St Mary's Church SJ361800 Horizontal SRN2469
Frankby, Wirral Royden Park, walled garden SJ246859 Multiple SRN3058
Frankby, Wirral, Hill Bark House, Royden Park SJ244858 Vertical (D) SRN3057
Heswall, Wirral, St Peter's Churchyard; SJ266813 Horizontal SRN2841
Heswall, Wirral, St Peter's Church; S wall SJ266813 Vertical (D) SRN2840
Higher Bebington, Wirral, 3, Millwood SJ315849 Equatorial SRN5669
Higher Bebington, Wirral, 3, Millwood SJ315849 Equatorial SRN5668
Higher Bebington, Wirral, 3, Millwood (4) SJ315849 Polar SRN3323
Higher Bebington, Wirral, 3, Millwood (3), in grounds SJ315849 Vertical (D) SRN3943
Higher Bebington, Wirral, 3, Millwood (2), in grounds SJ315849 Noon mark SRN3944
Higher Bebington, Wirral, 14 Village Road, above front door. SJ317848 Vertical (S) SRN4521
Higher Bebington, Wirral, 3, Millwood (1) SJ315849 Equatorial SRN2901
Higher Bebington, Wirral, 3, Millwood (6) SJ315849 Equatorial SRN5663
Higher Bebington, Wirral, 3, Millwood (5) SJ315849 Horizontal SRN2891
Liverpool, Building in North John Street, SJ343905 Vertical (D) SRN5665
Lower Bebington, Wirral St Andrew's Church SJ333839 Horizontal SRN2428
Moreton, Wirral, Christ Church Garden of Remembrance SJ262899 Horizontal SRN2427
Moreton, Wirral, Christ Church Churchyard SJ262899 Horizontal SRN2426
Port Sunlight, Wirral, Osborne Court, in centre of Courtyard SJ337850 Horizontal SRN5666
Port Sunlight, Wirral, Lever Bros factory SJ339840 Horizontal SRN2890
Port Sunlight, Wirral, 11, Bath Street SJ337843 Polar SRN2419
Port Sunlight, Wirral, Dell Bridge, Bridge Street SJ337842 Vertical (D) SRN2420
Prescot Churchyard, some way from church SJ475918 Horizontal SRN1345
Spital, Wirral, 5, Gotham Road SJ334828 Polar SRN3990
St Helens Friends' Meeting House, Church St. Vertical (S) SRN2625
Thornton Hough, Wirral, Thornton Manor, in the front garden SJ300817 Equatorial SRN3045
Thornton Hough, Wirral, The Manor SJ300817 Vertical (S) SRN3046
Thornton Hough, Wirral, North Lodge, Thornton Common Road SJ306814 Horizontal SRN3050
Thornton Hough, Wirral, Thornton Hall Lodge SJ298804 Horizontal SRN2900
Thurstaston, Wirral Parish Churchyard SJ247842 Horizontal SRN3253
Wallasey, St George's Primary School SJ295924 Horizontal SRN2896 (Permission needed to view).
MASS DIALS - For reasons that are not well understood there is something of a 'desert' for Mass Dials on the West side of England extending from Lancashire down to the Liverpool area.
Few if any have been reported there. If any are known please let the webmaster know and we shall announce their presence here!

SUNDIAL CORRECTION APPLICABLE AT THE TIME AND LOCATION OF THE CONFERENCE
The time correction needed to be applied to the reading of a sundial located at or near the Lat/Long of the hotel for the period of the Conference was:
Fri 15th April: Dial Slow by 11m 53s
Sat: 16th April: Dial Slow by 11m 38s
Sun: 17th April: Dial Slow by 11m 25s
These corrections incorporated the EoT for the date and the longitude correction from the Greenwich Meridian.
13.08.15, 01.09.15, 13.09.15, 18.01.16