The 2017 BSS Spring Conference, near Oxford
Friday 21 April to Sunday 23 April 2017
This page now reflects the planning and the outcome of the recent conference. There were 62 delegates, seven more than last year.
INTRODUCTION
The 2017 Annual Spring Conference of BSS took place just North of Oxford at Jury's Inn, formerly the Oxford Hotel, roughly mid-way between Oxford and Woodstock. BSS last visited Oxford in 2014 when they stayed in one of the Colleges. This time the conference was run outside the city centre, in an hotel setting giving a comfortable environment for all delegates and especially for those who might be a little infirm and who might appreciate less walking between hotel and lectures. The Conference was expected to run to what might be described as the 'usual' format; arriving on the Friday afternoon and finishing after lunch on the Sunday. Dependant on the lengths and numbers of papers that are offered and accepted for presentation at the meeting, talks might be started on the Friday evening after dinner. The Council had hoped that this popular city would attract rather more delegates than have been seen at recent BSS conferences and SunInfo was pleased to be able to help in this by announcing its 2017 Conference Page as early as May 2016! 62 delegates registered.
THE USUAL CONFERENCE FORMAT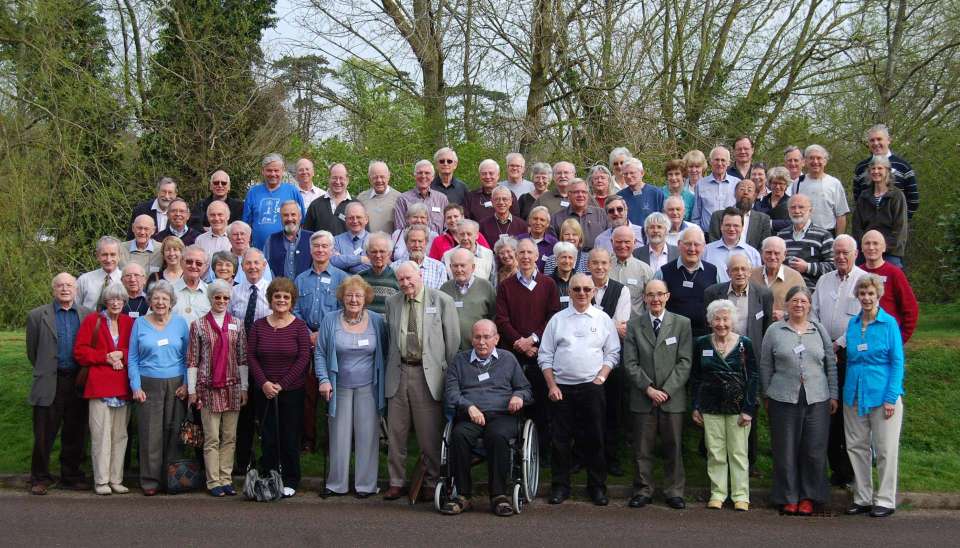 The format of each BSS Annual Conference is never rigidly fixed. It may be varied to suit individual circumstances and in any case there will always be differences over arrangements where eating, sleeping, drinking and lecturing take place. In 2017 however the accommodation and the Conference itself will be held once again under the one roof of the Jury's Hotel a short bus ride out of Oxford.
The usual format is as follows: Delegates normally arrive after about 2pm on the Friday and leave on the Sunday in the afternoon shortly after lunch. On arrival at the venue on the Friday, delegates will have been asked to report to Reception who will check them in for their accommodation. They then proceed to the Conference Registration.

Accommodation is usually available for occupation from about 3pm on the Friday ‐ possibly earlier though that depends on the specific arrangements that will be notified to attending delegates. The Reception staff will point out the assembly area of the conference suite where there will usually be several boxes of conference wallets. There may not be anyone present to greet every attendee at that time since BSS is only a small Society. Delegates will have been asked to look for their name(s) on the wallets ‐ they will usually be in alphabetical order of surname ‐ and so take theirs. Inside that will be the programme and a few other items that will give more details of the meeting.
It is common for the wallet to include one or more free gifts like a pen and possibly some insert of interest to a diallist. If there should be any problem, look for any other delegate with a name badge and ask him/her to point out the Conference Organiser or any other member of the Society's Council. They will always be able to help.

The assembly area of the conference suite (which frequently is close to a bar!) is where delegates can meet up with friends and relax. There will usually be a display nearby of sundial related items brought by delegates and in this area too will be the society's sales table, maybe a bookstall and even some other interesting items for sale by vendors. There will often be light refreshments available in the bar/assembly area on the Friday afternoon from about 4pm and the bar itself opens sometime before dinner ‐ which on this first evening may be at 6:30pm or so. You may sit anywhere for dinner, there are usually no reserved tables.
After the Friday dinner (that is to say typically around 8pm) the first two or perhaps three of the programme of talks usually takes place in the allocated lecture room; ending with delegates repairing to the bar.
Saturday morning after breakfast starts with the Society's short AGM followed by a chance for a similarly short society discussion. It should be noted that this post AGM discussion is not formally a part of the AGM and so no decisions taken at such a discussion can be binding on the trustees. Then the presentations start, interspersed by a 30 min break for coffee/tea and time to look around the exhibits. After lunch - and depending on the programme - a coach may depart for a tour of some local dials, returning around 6:30pm in readiness for a pre‐meal drink before the Conference Dinner at about 7pm.
The 2017 conference will however probably not operate a dial coach tour since there are so many dials in Oxford itself. Instead delegates will be free to explore the many sights of interest around the conference venue. We give links to two Oxford dial tours below.
Whilst not really formal the Saturday dinner is nevertheless the celebratory dinner of the Conference and smart dress is appreciated.
There are usually some speeches and even presentations of awards at the end of the Conference Dinner after which there will be a chance to meet other delegates over a drink or there may sometimes be some other event such as an auction of dial memorabilia. Sunday morning brings the final set of lectures (again with a coffee/tea break in the middle) followed by the one hour plenary lecture by an invited speaker which is given in memory of BSS's first chairman, Dr Andrew Somerville. Then follows lunch and if necessary, there can be occasionally (though rarely) be a continuation of any earlier discussions after that. Delegates depart after lunch or after any such later discussions.
At some point in the proceedings a delegate photograph is usually taken. The one shown here is that taken at the Cheltenham conference where there was a near-record attendance.
Additional booking options usually include B&B terms for delegates who may wish to arrive earlier in their accommodation than the Friday or leave later than the Sunday. On these additional days delegates will of course need to make their own arrangements for lunch and dinner.
Enjoy the meeting!
LOCATION OF THE 2017 CONFERENCE
The Jury's Inn, a few miles outside Oxford, is one of the city's leading four-star hotels and conference venues. Located off the A40 road and accessed from the West bound carriageway, this conference hotel is 4.9 miles from Oxford's railway station, 2.6 miles from the city centre and for those interested in golf, 1.1 miles from North Oxford Golf Club (Banbury Rd, Oxford OX2 8EZ). Bus services to the city run from across the road, a few minutes walk from the hotel. There is ample secure, complimentary parking.
This hotel offers free WiFi and air-conditioning. There are 168 bedrooms each en-suite. There is a coffee lounge, casual bar and a modern bistro restaurant serving 'seasonal comfort fare'. Amenities include a splash pool, gym and sauna, plus a spa offering (chargeable) treatments. There are no fewer than 20 meeting rooms, only some of which will be used by BSS. Parking is complimentary.
Address
The Inn's address and location is:
Jury's Inn, Godstow Rd, Oxford OX2 8AL
Phone: 01865 489 988
Email: jurysinnoxford@jurysinns.com
Check in times:
Check in: 2pm, Check out: 12pm
See some more of the hotel here:
Free DHTML scripts provided by
Dynamic Drive

Hotel facilities:
The hotel offers a range of places to enjoy food and drink from coffee and cocktails to grazing boards and an a la carte menu.

Their Medio Brasserie offers an allegedly mouth-watering menu, the Medio Bar can rustle up fruity cocktails and more, or you can enjoy a light bite in the Cappuccino Lounge.
Room service is available between 12pm and 10pm at Jurys Inn Oxford and a smaller night service menu is also available between 10pm and 6am. Choose from the hotel's selection of delicate wines, cold beers and soft drinks. Grab a quick lunch with a range of tasty small plates, salads and sandwiches all available for room service. If you'd prefer to eat a dinner in the comfort of your room, there is a range of main meals and home comforts to choose from too. Looking for something sweet? Treat yourself to one of the delicious desserts and enjoy it with a coffee.

Jurys Inn provides a number of wheelchair accessible bedrooms. These rooms have been designed to the highest specifications with wide doorways, floor space to manoeuvre, and accessible bathrooms to make your stay with Jury's Inn as easy and pleasurable as they can.

The Full Conference rate includes all meals. (NB The Day Delegate rate will not include breakfast)
Jury's Inn provides free WiFi throughout the hotel.
CHECK IT OUT: Jurys took over this hotel only in 2015 - or so. We suggested delegates took a look at Trip Advisor to see what visitors have thought following the recent change of ownership of this hotel:
Trip Advisor Review
GETTING THERE
1. By car. Set your SatNav to OX2 8AL, or to Lat/Long: 51.788152, -1.283540.
From the North or South, approach Oxford via the A34. Turn off at the sign to the A40 which is a roundabout North of the A40 itself. Take the A44 South from this to the next (Wolvercote) roundabout. Then take the fourth exit onto Godstow Road. The entrance to the hotel is 130 yards (120m) on the right hand side. If approaching from the East or West use the A40.
NB: Click on the map on the left for a larger image.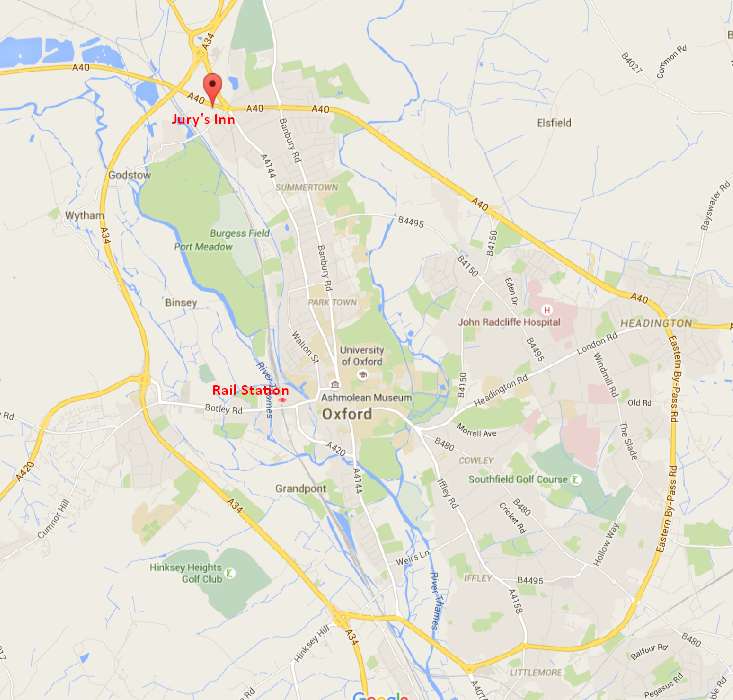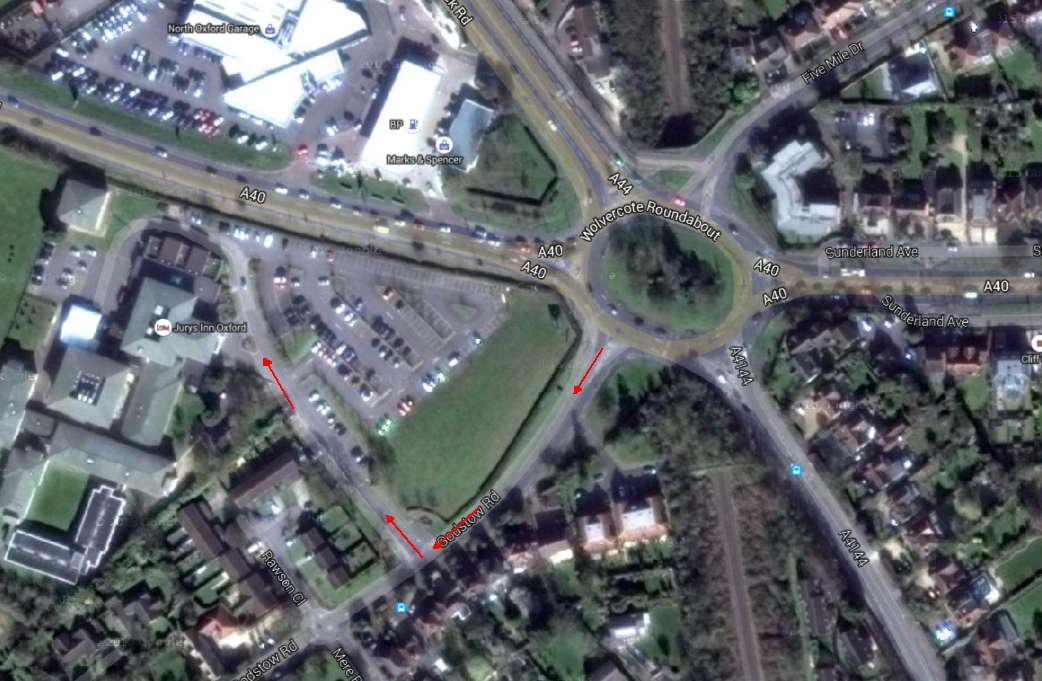 ©Google Inc

2. By Train

There is a frequent service to Oxford from London (Paddington). The fastest services take about an hour, others take around an hour and three quarters. Return on a Sunday is similar. Some direct services also run between Oxford and Manchester. These take around two and three quarters of an hour. There are also easy services from many other major cities of the UK too. Disabled assistance is available at Oxford.

3. Bus Service

There are several nearby bus services that serve Oxford City. A short walk from the hotel to just South of the Wolvercote Roundabout (at the bus stop for the S2, S3 and 18 services just outside No 392 Woodstock Rd) will take you to Oxford City Centre. The Railway Station is reached after 19 min (15 stops for the S3 (Stop R5)
It is then only about a 1 min walk (125 ft) to the Station entrance. Reverse this for the return journey.

There is a service that runs from outside the hotel and which goes to Magdalen Street (Stop C3). The 6 and 6C turn at Home Close near the hotel and can be boarded from outside No 15 Godstow Road - just outside the hotel entrance. The present timetable is here. Note that this service might revert to an earlier turn round point later in 2016, though this should not affect the ability to board it outside the hotel.


Where are the bus stops in Oxford itself? Where to stand for the bus in Oxford

4. Taxis

A Taxi Rank is available at the station entrance. If you require an 'accessible taxi' please approach a member of staff.

Several taxi services operate in Oxford (NB SunInfo has no recommendation to offer). Some are:

ABC Taxis: 01865 770077 / 01865 775577
Botley Taxis: 01865 423264 / 07866 423264
001 Taxis: 01865 240000
A2B Oxford Taxi: 01865 477777 / 01865 477477 / 01865 773333
RadioTaxis: 01865 242424 / 01865 249743
Royal Cars: 01865 777333
Oxford Cars: 01865 406070 / 01865 406080
Oxford City Cars: 01865 703030 / 01865 703333
Elite Cars: 01865 250500
Star Cars: 01865 987669
A1 Taxis: 01865 248000
Oxford Minicab Service: 01865 987749

More about cabs etc in Oxford.

5. Arrival by Air

Oxford is best reached by booking a flight to one of the London Airports and making your way to London Paddington Rail Station for an onward journey to Oxford by train - as above.

Buses travel between Oxford City and Heathrow and Gatwick. See City map for the locations of the stops for these buses.

Some taxi/hire firms specialise in airport transfers by private hire. However these are more expensive than public transport. For transport from Heathrow and Gatwick all the way to the hotel by taxi or private hire, direct your enquiries to any of the following (NB SunInfo has no recommendation to offer):

A2B Oxford Taxi: 01865 477777/01865 477477/01865 773333
Pryors Private Hire (based in Didcot) 01235 812345
Oxicars 01865 875900
Oxford Carriage Company 01865 423264
CCB Airport Cars 01865 876699
A1 Taxis: 01865 248000
Car 57 Private Hire (Based in Banbury) 01295 411 411
Oxford Minicab Service: 01865 987749

Oxford itself has its own small airport in nearby Kidlington - London Oxford Airport - which services private aircraft. More Information regarding landing fees and fuel charges are here.

Conference Booking Fees

In order to try and attract more delegates, booking charges for the 2017 Conference were held at the same as those for Liverpool 2016. Single delegate rate £340, Double: £525 with extra nights either side of the conference set at £85 single and £95 double. More for longer stays. For BSS members, a booking form was included with the September Bulletin and Newsletter mailing. Non-members will be able to obtain a booking form on line.

Prices for 2017...
Last year's rates, also at a Jury's Inn were largely retained:
With Single room: £340
With two people occupying a Double room: £525
Extra nights immediately either side of the conference: £85 single, £95 double
Extra nights for the Wednesday and Monday £125 single and £135 double.
Day Delegate Package (no accommodation or breakfast included) £160pp

All payments were to be made to BSS. You could also make payment to BSS from this SunInfo web site.

MoneySaver Idea: If the final fees prove too expensive for you and you were happy to stay at a cheaper hotel nearby and 'commute' - or walk 15mins (0.7m) each way - to the Jury's Inn as a day delegate, then there is a Travelodge which is situated at the 'Peartree' Park and Ride which might offer rates at £116 for two people Friday to Sunday (based on rates in 2016 made 4 months ahead on a non-refundable rate), food extra. At such rates and assuming the conference rates stay the same as those given above, that would leave £249 to provide food and the £8 two-day parking charge at the Travelodge. Rates at Travelodges vary and these possibilities should be regarded as guidance only. The Peartree Travel Lodge is at: Moto Service Area, Peartree Roundabout, Woodstock Road, Oxford OX2 8JZ. Tel: 08719 846206.

.

There was a planned walk to several of the College Dials just like there was during the VERY first BSS Conference in 1990.

This Special SunInfo BSS Conference web page now includes a link to Dr Philip Pattenden's notes provided for his conducted tour of The Sundials of Oxford Colleges as visited during the Inaugural BSS Conference in 1990! Print off this PDF of the notes so you can compare the dials then and and the dials now!! Only on SunInfo!!


SPEAKERS AT THIS YEAR'S CONFERENCE included:

►Ian Butson: Finding the declination angle of a wall
►Frank King: Two for the price of one? Double Vertical Dials
►Fred Sawyer: two seventeenth century eclipse dials


►The 2017 Andrew Somerville Memorial Lecture was given by Dr Allan Chapman: "Almanacks and Astrologers: The Mathematical Arts in the Tudor and Stuart Age".
Dr Chapman is a former presenter of the the Royal Society's history of science Wilkins Lecture, on the subject of Edmund Halley.


►Sarah Schechner: Time in the Wilderness: European Pocket Dials used in Colonial America

►Fred Sawyer: Solar Decliners or Sundials CLARAfied
►Johan Wikander: A carved compass rose in Norway and a Mass Dial
►John Davis: The Navicula
►John Lester: Fundials
►David Brown: Sundials for Peru
►Geoff Parsons: The recent discovery of two sundial books

THINGS TO SEE AND DO...
Why not add a day or two to your BSS break?

SOME NEARBY SUNDIALS

Below is a list of some of the sundials of Oxford. That highlighted in yellow and which is reproduced on the right, is an important dial designed by the BSS President, Christopher Daniel MBE.
It is the The Noon Mark at Green Templeton College, Oxford. Truly a dial to see.
| | | | |
| --- | --- | --- | --- |
| SRN | Dial Type | Location | Nat Grid |
| 0987 | Vertical (D) | All Souls' College, Codrington Library South wall | SP516063 |
| 2282 | Vertical (D) | Bodleian Library, Convocation House, S window | SP514064 |
| 2283 | Vertical (D) | Bodleian Library, Convocation House, W window | SP514064 |
| 5260 | Horizontal | Botanic Garden. In walled garden | SP520056 |
| 0988 | Vertical (D) | Brasenose College | SP515064 |
| 0607 | Vertical (D) | Christ Church, Killcanon Bldng, Peckwater Qd> | SP515060 |
| 5258 | Vertical (S) | Christ Church, on buttress behind Senior Common Room | SP515060 |
| 4072 | Multiple | Christ Church, Pocock Garden | SP515060 |
| 0989 | Multiple | Corpus Christi College, in main Quad | SP516061 |
| 2943 | Noon mark | Green College, Radcliffe Observatory,Woodstock Rd | SP506079 |
| 2280 | Vertical (E) | History of Science Museum, Curator's office | SP514064 |
| 2281 | Vertical (D) | History of Science Museum, Curator's office | SP514064 |
| 0622 | Vertical (D) | History of Science Museum, staircase window | SP514064 |
| 2593 | Multiple | History of Science Museum. In store | SP514064 |
| 4291 | Vertical (D) | Lincoln College, North wall of Chapel Quad. | SP515063 |
| 0582 | Vertical (W) | Merton College, high on Fellows' Quad, East wall. | SP518061 |
| 0606 | Equatorial | Merton College, in Fellows' Garden | SP518061 |
| 0583 | Vertical (E) | Merton College, on buttress to R, inside entrance | SP518061 |
| 3731 | Other | Milham Ford Sch. In grounds near entrance | SP530073 |
| 5806 | Mult Composite Facet Head | Museum of the History of Science | SP503600 |
| 4416 | Vertical (D) | New College, on Muniment Tower | SP518064 |
| 5311 | Horizontal | Queen Elizabeth House, 21 St Giles | SP511069 |
| 1982 | Horizontal | Somerville College, Fellows' Garden | SP509070 |
| 2259 | Horizontal | St Antony's College, on front lawn | SP510070 |
| 2257 | Vertical (D) | St Cross Church, on South wall of tower | SP519064 |
| 5911 | Vertical (S) | St Edmund Hall [New Dial], quadrangle | SP518063 |
| 2258 | Vertical (S) | St Edmund Hall [Old Dial], quadrangle | SP518063 |
| 5893 | Noon mark | St Edmund Hall Annexe, Dawson St | SP523059 |
| 5741 | Vertical (D) | St Edward's School | SP505089 |
| 1984 | Vertical (S) | St Thomas' Church, St Thomas' St | SP506061 |
| 5804 | Equatorial | Trinity College, Broad Street. In lavender garden | SP515064 |
| 2279 | Vertical (S) | University College staircase window | SP515062 |
| 4773 | Vertical (D) | Wadham College [1]. On SE Buttress of chapel. | SP515065 |
| 4774 | Vertical (D) | Wadham College [2]. On SE Buttress of chapel. | SP515065 |
| 2141 | Horizontal | Wolfson College, Linton Road in formal garden | SP515084 |
| 1983 | Equatorial | Woodstock Rd nr St Giles' Church> | SP511061 |


Image published with permission

This wonderful mean time noon mark by BSS President Christopher Daniel was designed, constructed and erected to celebrate the founding in Oxford, 200 years before, of the Radcliffe Observatory. It is unusual in that the dial plate itself is angled away from due South by 23 deg 50 mins East. The shadow of the gilded 'sunburst' gnomon mounted over the dial demonstrates the approach of noon from the left. The coincidence of the gnomon's illuminated central aperture with the gold analemma at the current date gives the moment of noon GMT, or of 1pm when summer time is in force. The spot's arrival at the white vertical line marked at the bottom with a cross, marks the moment of local solar noon; the time when the sun is on the Oxford meridian. The three gold lines at top, bottom and middle of the analemma each marked with the appropriate zodiacal signs, trace out the path of the spot of sunlight at the solstices and the equinoxes. The two stars either side of the analemma are a homage to the observation of the Transit of Venus in 1769. It was this event which Dr Thomas Hornsby, the then Savilian Professor of Astronomy, had observed from his room in the Bodleian Tower and which had prompted him to suggest building the Radcliffe Observatory - now part of Green Templeton College - in the first place.
Reading Local Sundials and Noonmarks during the Meeting
The total time correction needed to be applied to the reading of a sundial located at or near the Lat/Long of the hotel for the period of the Conference is:
Fri 21st April: Dial Slow by 3m 47s
Sat: 22nd April: Dial Slow by 3m 36s
Sun: 23rd April: Dial Slow by 3m 25s
These corrections incorporate the EoT for the date and the longitude correction from the Greenwich Meridian. Remember when reading dials over the conference weekend that BST will be in force. You will need to add one hour to a fully corrected sundial reading as per the corrections above.
---
Disclaimer: **** NB Information provided on this and other pages is for guidance only and is based on information available both from third parties and on previous practice. Although it will be maintained and any information found to have changed will be corrected, It may not be frequently updated. Information here is given in good faith but any persons wishing to rely upon any aspect should check it first. SunInfo cannot accept any responsibility for the accuracy of the information given on this and on other linked pages. E & O.E.****
---
Started 09.05.16, Updated 02/08/2017