Here we archive some of the older entries from SunInfo: but here we show only those from 2018 onwards (Want pre 2018?)
This is where we place the more recent older stories from the SunInfo page after they have been removed from the main page because we do have to make room for more recent news. So, if you want to look for something you once saw on SunInfo which is not there now, here's the place to look - alongside SunInfo Entry Archive 1.htm. Entries here are removed when their topic is less immediate or relevant- so they will not necessarily be in date order. They are frequently dated with their original dates of insertion or those of their amendment on the SunInfo page and they are placed here in order of their removal from the SunInfo web page. NB: Please note that links in this archive that are made to entries on other external websites are not maintained by SunInfo so occasionally some really old links here may not work.
---
Athens' Tower of the Winds Opens The so-called Horologion of Andronikos Kyrrhestes in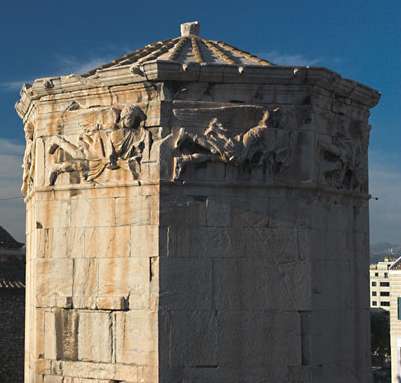 Athens is an octagonal Pentelic marble clocktower and early timepiece situated in the Roman Agora. It still features a combination of sundials, a water clock, and it probably held a weather vane too. Thought by some to have been built by Andronicus of Cyrrhus around 50 BC but possibly by another even as early as the 2nd century BC, the Athens Ephorate of Antiquities began cleaning and conserving the structure in 2014 and this has just been completed! The North American Sundial Society NASS has an excellent article about this fascinating building. Read it Here
30.08.16
---
The Dollar Academy Sundial Dollar is one of the 'Hillfoots' Villages of Clackmannanshire

lying as it does between Stirling and St Andrews. Its famous school, the Dollar Academy lies in the town and its main school building is a striking neoclassical design by the eminent Scottish architect William Henry Playfair.
When an additional school building was needed for modern languages and economics, the Westwater building was designed and completed at the end of June 2015. It is named after George Westwater, a private in the 1/4th Battalion, Royal Scots QER, who was killed at Gallipoli on 28 June 1915 at the age of 21, almost one 100 years to the day prior to the building's completion.
In time for the formal opening on the 23 March 2016 by Lord Brodie, a declining vertical sundial incorporating a sphere, was commissioned. The sphere demonstrates how the sun's light travels round the Earth in the course of the day. The two sided panel carries text on the reverse showing the Equation of Time and the longitude and latitude and the back half of the sphere emerges from the the reverse of the panel.
02.10.16
---
The first sundial to be made in Montreal? An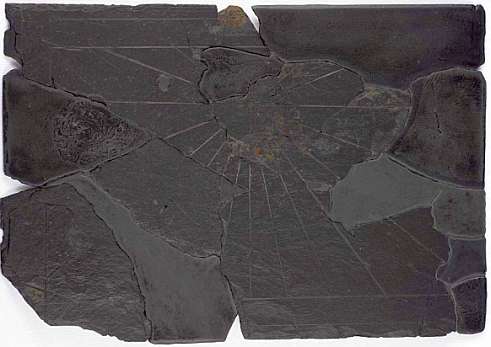 intriguing question. In April 2009 a fragment of a sundial was displayed at the Pointe-à-Callière museum in Montreal. Thought to date from the late 17thC and with a delineation that despite displaying lines above the horizon shows it might have adorned a wall on a building on the estate of Montreal's fifth appointed (rather than acting!) governor Louis-Hector de Callière, it may even be the first sundial to be made in Montreal.
Read more of this enigmatic discovery ►here
Image©Montréal Museum of Archaeology and History, 2009
---
Enjoy a spell at the Gaol House! That is enjoy the outside of the Gaol House in

King's Lynn, Norfolk! Sitting as it does next to the wonderful Town Hall in the area of the Saturday Market, it sports on its roof line, a majestic vertical west declining sundial dated, it is believed, to 1784 and delineated by S Bunnett. It has as its motto 'Tempus Fugit'. Click on the image for a close up of the dial face. The dial declines 10 degrees West of South and is marked with tall Roman lettering, quarter hours with the half hours having inward extending trefoil ended lines and rather less commonly, with an individual marker for each half hour engraved in the chapter ring. A really elegant dial. (Photos © VL Thomson 2016)
31.10.16
---
David Payne's suggestion for a Noon Mark gets approval!! Regular visitors to this site will know of David
Payne's extraordinary project to place sundials of various types along the Burlingham Woodland Walks in Norfolk. The walks are about 7 miles east of Norwich and they can be accessed at a number of start points, including that from North Burlingham.
Click the thumbnail for the impressive list of those sundials currently in place or under construction. The next one will make use of an existing 15 ft high beacon which was erected in 2012 to mark the Queen's Jubilee on playing fields nearby. This will be a Noon mark, with an analemma on the ground that marks the months, solstices and equinoxes.
We await further details with interest. SunInfo will provide progress reports as we have them. Contact the webmaster if you wish to sponsor any of the dials.
07.01.16, 15.01.16
---
Capt. Michael Francis Aston Maltin, DFC. Wartime pilot of Spitfires and then Lancaster bombers,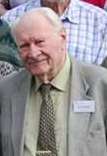 civilian pilot for BOAC and then British Airways and a long time horologist and sundial enthusiast, died peacefully in North Woodchester on 25th January 2015, aged 94 years with son Christopher, daughter Elaine and his beloved Vera by his side. Michael was the son of the late Rev Arthur Frank Maltin, former vicar of Stroud and of Amberley, the much loved husband of the late Christine Maltin and a cherished father, grandfather and great-grandfather. A lovely, unassuming man and Spitfire fanatic who will be much missed by those who had the privilege to know him. Read SunInfo's Obituary to a great man. The 2015 BSS Newbury Meeting included a fitting display to the memory of the life and times of Michael.
25.02.15
---
Martins Gills of Riga in Latvia has an interesting website which

contains more than two hundred pages altogether but within that, no fewer than 41 pages of lovely images of dials around the world, several other links about dials and dialling and a map showing the location of more than twenty dials in Latvia. Saules pulkstensis is the Latvian for 'Sundial' and the web site is in Latvian but Google Translate does a reasonable job of making it understandable to those who do not read the language. Well worth a look. It may be found ►here.
---
Martins Gills has a second website which describes a unique post card dial and a few of the dials that he has designed himself. Have a look ► here Martins presentation at the recent 2014 BSS Conference may be viewed ►here (4MB PDF)
---
The extraordinary (and to many, the appalling) comments made by the BSS's Council at the April 2013 Edinburgh BSS Conference contributed to no fewer than 340 visits to this site in April 2013 alone and a further 364 in May with 51 of the visitors in May spending more that half an hour on the site - 37 of those for more than an hour and 42 for more than one hour in June! Not surprising given the facts. Now we have received copies of the text of quite astonishing emails from the Council about their attempts to restrict this website and about the way the BSS President (no less) has been bullied by this Council!
If you were a delegate at the April 2013 Edinburgh Conference, our advice is not to dismiss as baseless the criticisms that had been made about the present Council's 'Integrity' until you know all the facts. We shall have more to say on this not least on the strange matter of a misinformed and complaining letter sent by the BSS Chairman which of course prompted a robust correcting response and which on its receipt was swiftly followed by the Council back-tracking and saying: (and remember it was BSS who initiated this particular correspondence) 'We shall not engage in such correspondence'!
Pleading the 5th or what?
All that glisters is most certainly not gold in all this. It's really gratifying that so many just do not believe what was said by the Council at Edinburgh - nor what was included in an insert with the June Bulletin - and have turned to this web page and even directly to the webmaster for information. It's also pleasing that so many spend such a long time on this site in the process; many for more than one hour!. Thanks so much for coming and please do keep coming back - there's still a lot more to add - and especially more to comment on! You really will find facts here.
---

Long Term future of the BSS Library FINALLY assured. BSS members will have noted the recent and welcome change of heart by the Council of BSS Trustees that was announced by BSS Librarian Nick Orders in the December 2014 Newsletter. In this the security of the BSS Library was affirmed at last and the on-going commitment of the trustees to its support and maintenance was finally confirmed.
As a result of this BSS President Christopher Daniel has decided that his loaned collection is not now at risk of unauthorised disposal and accordingly at the 2015 Conference he confirmed his intention to leave his highly valuable works at the BSS Library in Bromley House, Nottingham.

As a part of that address Christopher disclosed that he had asked Frank King, as Chairman (and Chris Williams, as Secretary) to put their signatures to the document to endorse it.
Churlishly in the circumstances, it seems they refused to do so. Members will simply not understand this extraordinary attitude, one which has already led to such dissension within the Society. Nor will they understand why such earlier misguided calls for the dissolution of the library had not been thrown out MUCH earlier by the Council. Blunders in today's management of the BSS seem to many members to be occurring far too frequently and the absence of any apology is not only worrying, it is astonishing.
A few copies of the donation document were circulated - see this copy below.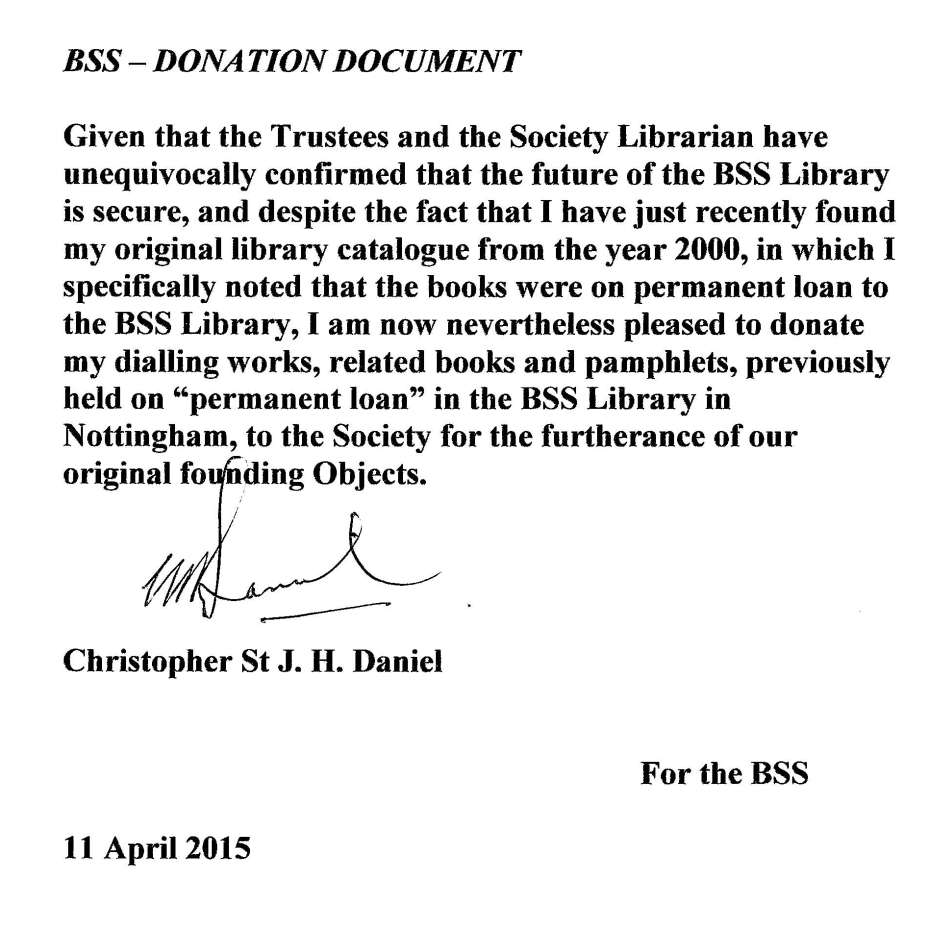 To see more of the 2015 BSS Conference please click here
13.04.13, 09.05.15, 22.06.15
---
NOW, Christopher Daniel has replied to the unfounded comments made in a Member's September letter to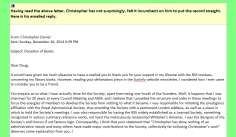 the Council which has already been reported below and which is to be seen in our special page about the Books Issue. Read Christopher's reply here. It of course confirms what all members of the Society - except apparently the complainant - already knew. Yet most BSS Members will surely also be baffled as to why such comments - which are entirely irrelevant to the Books issue and are in any case incorrect - came to be raised in the first place.
17.11.14 Published with permission
---
Yet again, the BSS Council says 'take it or leave it'. Prominent BSS Member and fellow academic, Dr Martin Jenkins, recently wrote to BSS Chairman Frank King suggesting a meeting to help resolve the matter of the ownership of the President's books. The approach was rebuffed and the Chairman's reply was once again only to 'urge Chris to accept the original offer'. This was the unreasonable, non-negotiated 'take it or leave it' offer made a long time ago. There was no mention let alone discussion of Christopher's generous alternative 50 year loan offer which would be of such importance to the membership. BSS Members will surely be appalled at what they must see as the clear contempt being shown by their Council over this important issue. Not only that but can anyone really believe that even now the entire BSS library contents are STILL at risk of an ill-considered majority decision by any board of trustees in the future. This is unacceptable.
04.11.14
---
Now in connection with the matter of Christopher Daniel's Books, SunInfo has received two copies of what can only be described as an astonishing document, one written in support of the Council by a BSS Member. See if you agree that it demonstrates the paucity of logic that such a stance brings with it and the need of some to resort to unnecessary and even quite unfounded criticism in an attempt to lend what might be considered misguided support to the Council's argument. The ordinary BSS Member will surely be aghast at this sort of attack which does the Council no credit over its handling of the matter of Christopher's Books.. Visit our special page on this matter for more details here.
Then look at just how much Christopher has actually written to date here
04.11.14
---
Some of the BSS Membership have now responded to the Council's extraordinary letter that was emailed to them by Frank King on 11.09.14. Follow this wholly unnecessary saga at our special page devoted to the way in which the BSS Council is still treating its eminent President, Christopher Daniel MBE here. Latest news is at the bottom of that page. Or simply jump to the membership's response now.
30.09.14
---
Still the comments come in about the issue of Christopher Daniel's books and the BSS library. The Council recently issued members with what some see as an almost completely incorrect summary of the position, because it claims that it is Christopher who will not negotiate and who blocks acceptance of a deal.. To many however, a deeper analysis of it indicates that:

By anybody's standards it is surely the Council of BSS who have bullied Christopher, it is they who have twice refused to meet him at his home on a one to one basis and it is they who tried twice to insist that he travels to Cambridge when he now no longer drives and at 81 finds train journeys a problem.

Then the Council has tried to insist that they, and only they, determine the agreement process. It is they (not Christopher) who refuse to negotiate, it is they who try to insist on no lawyers being involved and it is they who have imposed their own arbitrary deadline for 'agreement' - but, be it noted, only an agreement on their terms – after which they are now trying to suggest that the matter is closed.
The reaction of the Membership was swift and predictable:

"[We] are now angry enough at Frank and Council to support a revolt! Frank's last dismissive diatribe is not acceptable. The OED defines "amicable" as "done in a friendly spirit" implying such applies to all parties and has been the word applied by Frank many times to achieving settlement of this matter. When I asked Chris Williams at the AGM about the problem, his attitude toward me was not amicable. Nothing I am aware of from Frank about this issue has been amicable".
extract published with permission
---
And Now (1), in another twist and three months after first being formally asked for its evidence to support its stance that Christopher Daniel's books were indeed a gift, the Society had to be asked again. That was dated 16th July and there was still no reply from BSS more than another month later!!!!! Members must now be wondering if this 'evidence' really does exist. See the latest requesting letter from the solicitor ►here.
And Now (2), in yet another twist it turns out that the Council, despite having spent (in 2013 alone), roughly the equivalent of 117 membership subscriptions on two London Legal firms' advice to change the status of the charity to a CIO (Info here), they appear only later to have discovered that they do not own the BSS Trademark Logo! You really could not make this up.
And Now (3), One opinion seen by SunInfo suggests that it seems that charity law fully provides for gifts to be returned to their original donor! So, no matter what argument BSS chooses, there appears to be no excuse not to return Christopher's books!!
And Now (4), Keen to ensure that they can continue to use the BSS logo when the new CIO (Info here) came into effect, the trustees of BSS proposed a swap of books for title to the logo - take it or leave it. So now we know. The trustees are NOT after all prevented from returning Christopher's books! Just why has this issue ever arisen and just what does it say about trustee 'competence'?
---

We celebrate John Harrison The 3rd April 2018 would have been his 325th birthday.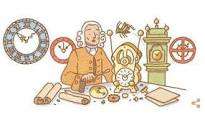 Courtesy (and copyright) of Google Inc who on the day placed this excellent Doodle on their website, we too would like to mark the life and more importantly the determination of self-taught John Harrison, winner of the 1714 Longitude Prize which had been put up to prevent naval disasters. The Board of Longitude offered a reward of £20,000 to anyone who could devise a navigational instrument that could be used to determine a ship's longitude to within 30 miles even after a long sea voyage.
Harrison set to work in 1728 and completed it seven years later in 1735. He followed up this feat with three more watches that were even smaller and more accurate than his first.
03.04.18
---
Dial of the Month. Church of St. Vincent Ferrer, Ragusa, Sicily.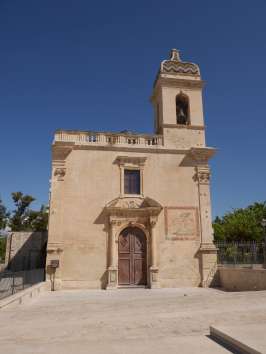 This month we show the sundial that is on the facade of the Church of St. Vincent Ferrer in Ragusa, Sicily. The dial is delineated in Italian hours (shown in black). The red lines show the equinox and mid summer declination lines and the Taurus/Cancer zodiac symbols. The dial lies at 36.93N, 14.75E and appears to decline approximately S105 degs W.
At the bottom are the words 'LINE S. VINC. Ferreri'.
Click the image for two photographs.
25.09.16 Photo ©copyright VL Thomson, 2016.
---
A Cumbrian Riders' Dial can be found in the lovely churchyard of Hall Waberthwaite in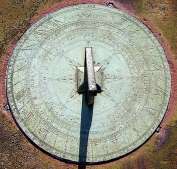 Cumbria on the shore of the Esk Estuary. Installed in 1830 in memory of the Rev J Stanley, it is mounted on a pedestal five or so feet high, placed there for horse riders!
The dial is well made by Watkins & Hill and is nicely and accurately delineated. Set on a moulded square plinth, turned upright, and moulded square top with inset circular brass plate and gnomon. Read about it in a recent Guardian article
17.08.16
---
The Istiwak clock that shows dhuhur and asr prayer times. The Grand Mosque of

Surakarta in Central Java still uses a sundial, locally known as an 'istiwak clock', to determine the exact time for Muslims in the city to perform dhuhur (midday) and asr (afternoon) prayers.
Although Muslims now use modern clocks for prayer time guidance, the istiwak clock remains the main attraction for people to visit the Surakarta Grand Mosque. Read more about this interesting dial from the Jakarta Post.
30.12.16
---

"Ladies and gentlemen, we call time on a 50-year-old scam, in which a small number of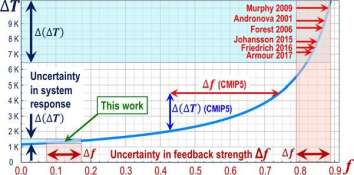 corrupt and politicized scientists, paid for by scientifically-illiterate governments panicked by questionable lobby-groups funded by dubious billionaires and foreign governments intent on doing down the West, and egged on by the inept and increasingly totalitarian news media, have conspired to perpetrate a single falsehood: that the science was settled.

Well, it wasn't". [Quote from Monckton 2018. E.&O.E.]

Read the analysis HERE or this summary HERE
20.03.18
---
The June 2017 edition of the BSS Bulletin is available to Members. In this edition:
The Brighton i360, a Giant Gnomonic Possibility - Frank King
In the Footsteps of Thomas Ross. Part 19 Some Sundials of East Lothian - Dennis Cowan
The Navicula: Made in Medieval East Anglia? - John Davis
Newly Reported Dials 2016 - John Foad
Throwing Light on a Sundial at Newstead Abbey - John Wilson
A Replacement Armillary Dial for Christchurch Park Ipswich - John Davis
A Curious Oxford Sundial - Frank King
Two Interesting Slate Dials - Mike Cowham
Allan Mills - Obituary - John Davis (The WUR Obituary}
A Very Personal Sundial - Ortwin Feustel
Review BSS Annual Conference: Oxford, 21-23 April 2017 - Jackie Jones & Jenny Brown
Minutes of the 28th BSS Annual General Meeting, Oxford, April 2017
A Host of Fundials - John Lester
13.07.17
---

A New Polar Sundial designed by BSS Member David Payne has now been placed in Farrows Wood as a further extension to the fascinating Burlingham Walks Sundial Trail in Norfolk, UK. The dial has been dedicated to the memory of Kevin Pettigrew with the quote from Sylvia Plath "There Was a Beautiful Time".
---
BSS Newbury Meeting 2017
The Annual BSS One Day Meeting in Newbury took place on Saturday 23 September 2017 and ran from 9-4. All were welcome not just BSS Members. BSS President Christopher Daniel MBE attended too.
More information was available on our Newbury 2017 page.
---
Celebrating 115 years since the discovery of the Antikythera Mechanism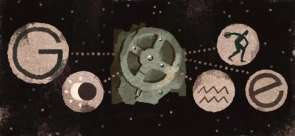 On 17 May 1902, Greek archaeologist Valerios Stais found a corroded chunk of metal which turned out to be part of the world's first computer and became known as the Antikythera Mechanism.
The Google Doodle of May 17 2017 commemorates the 115th anniversary of the device's discovery showing just how a rusty remnant can open up a skyful of knowledge and inspiration.
Read more about this here
17.05.17
---
Frans Maes has recently recovered the information prepared by the late Fer de Vries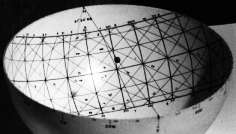 on the construction of an Hemispherium.
He has now very kindly placed it on his own website here.
29.09.15
---
'Enid Blyton's Dial' - Rediscovery and Restoration For the last 30 years of her life Enid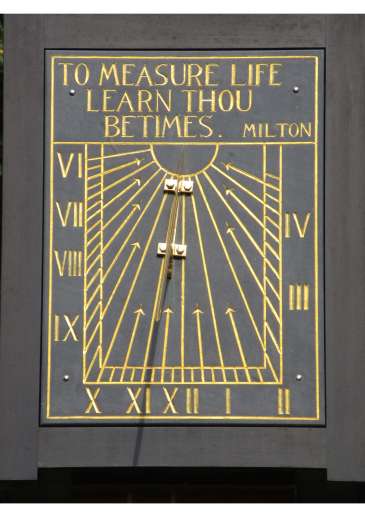 Blyton lived at Green Hedges, 42 Penn Road in Beaconsfield. The house had been built by one Charles Maggs around 1912 and it was he who commissioned a sundial which was originally positioned high up on the south gable of the house. All trace of the dial was lost after the house came to be demolished in 1973. Then in 2013 it was found, bought by Kari Dorme, a committee member of The Beaconsfield Society and it has now been restored and installed at Bekonscot Model Village in Beaconsfield - a place much loved by Blyton. See the restored dial and read about its discovery and the restoration here.
13.11.16
---
The Dial at Sherborne Castle is listed as SRN 1929 in the UK's National Register. It was first
recorded in 1992 and hasn't been recorded frequently since. Also it isn't easy to study. Set high on the tower to the left of the entrance to this delightful castle it is a pedimented vertical declining dial which declines slightly East.

Click on the image here for a close up.
Image taken 13.10.16 at 13:38:46 GMT
Although these images do not show it well, an observer at the tower can just discern traces of its Roman numerals which are now only faintly visible. Oddly, these numerals appear to be recessed rather than proud so suggesting that the dial was originally engraved as well as painted rather than simply painted on a flat ground. (Usually formerly painted dials protect the background from erosion so resulting in raised lettering).
Apart from this, the dial, its mounting and its gnomon are in good condition. A pity that it hasn't yet been restored to its earlier elegance.
10.10.16
---
Oldest or second oldest surviving portable sundial? Found in Herculaneum in the 1760s, a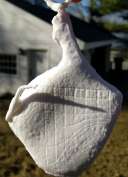 portable sundial in the shape of an Italian ham has been copied and a 3D replica generated in order to test its design. The dial is hung from a string so that the sun falls on its left side, allowing the attached 'pig's tail' gnomon to cast a shadow across the grid.
The user aligns the dial so that the tip of the tail's shadow falls on the vertical line for the current month whereupon the hour may be estimated from the number of horizontal lines from the top horizontal line to the horizontal line closest to the tip of the shadow.
Wesleyan University's Christopher Parslow, a professor of classical studies and Roman archaeology who made the 3-D reconstruction claims it does represent a knowledge of how the sun works, and it can be used to tell time.
Read more of the dial The original as found in the Villa dei Papiri has been dated to the 1st Century AD and can be seen here.
14.02.17
---
In 1925 The Perkins Observatory was one year old. As a gift to Ohio Wesleyan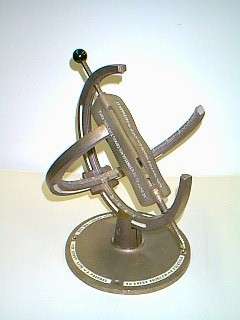 University, the graduating class of 1925 raised money to present a sundial to the observatory. The sundial itself was made of bronze and sat atop a stone pedestal carved to represent the Mayan or Aztec sun god.

Sadly, that sundial was stolen sometime around 1944. But in 1998, it was decided that it was time to do something about it.

Read about Perkins' Schmoyer sundial and the problem that it too had with theft.
10.05.17
---

Archaeologists Find Rare Ancient Roman Sundial Cambridge University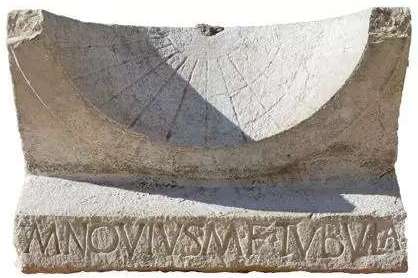 archaeologists digging at the Roman town of Interamna Lirenas [between Rome and Naples] have uncovered a near-complete Roman sundial still inscribed with its owner's name!
Read more about this unusual discovery here

08.11.2017
---
---
'Rescued' perhaps - But... Nether Winchendon House, near Thame in Oxfordshire is a
delightful crenellated, mediaeval and Tudor property with seven acres of gardens and 600 acres of parkland. Not surprisingly it is listed Grade 1 by Historic England. Outside the house is an attractive pedestal surmounted by what can only be described as a 'rescued' stone sundial which is in a sorry state. The stone dialplate is cracked and clumsily repaired in the ancient manner by two forged clamps. No dial furniture is visible and the gnomon is a modern attempt to make the dial look like a dial. The pedestal is however quite charming and worth seeing for that alone.
Click to see a series of three images that show the sad outcome for what must once have been an interesting sundial. Guesses as to age?
28.08.17 - Photos © VL Thomson 2017
---
Some Welcome Restoration News! In our 2017 edition of Dial Time and courtesy of NASS, it had been reported that the 1695 vertical sundial on the wall of the Jesuits' Church, next to the Old University entrance on St. Paul Street in Valleta, Malta was in a severe state of disrepair. Alexei Pace now reports that "Restoration of the 1695 sundial in Valletta, has now been completed. All the vegetation and fungal growth/mould has been removed and the stonework re-pointed."
24.08.17
---
---
Brian Asquith and a so far 'unrecorded' Christopher Daniel dial!

Brian Asquith, who died in 2008 aged 78, was a sculptor, designer and silversmith whose work remained in the forefront of contemporary design and manufacture for some 40 years. Asquith drew his inspiration from artists and designers who had been shown at the 1951 Festival of Britain, and also from European Modernism. He also designed a centrepiece in silver commissioned by the British government and presented to Mauritius on the occasion of its independence in 1966; personal gifts given to the Prince of Wales on his investiture in 1969, and a prestigious sundial commissioned by the Victoria Cross and George Cross Association and presented to the Queen Mother on her 80th birthday. This unbelievably elegant dial shown here was delineated by Christopher Daniel and which has so far escaped being included in the Christopher Daniel Collection though it is recorded in the National Register as SRN2206.
Click the image for a closer look and Click Here to read Brian Asquith's obituary.
25.04.17
---
---
The September 2017 edition of the BSS Bulletin is available to Members. In this edition:
Modern Observations using the 1702 Meridian Line of the Basilica of Santa Maria degli Angeli e dei Martiri (Rome) - Woodruff Sullivan, Mallory Thorp, Guadalupe Tovar and Jennifer Look
How Long was I Walking? - Graham Stapleton
A Sundial Serenade - Wg Cdr James Hepburn Sindall DSO RAF, with a little editing by Kevin Karney
An 80th Birthday Sundial - David Brown
Sundials in the Science Museum, Geneva - Doug Bateman
In the Footsteps of Thomas Ross. Part 20: The Other Dials of Lennoxlove- Dennis Cowan
Obituary: Peter-Jochen Kunath - Ortwin Feustel
Polar Sundial in Darwin - Margaret Folkard
A Missed Opportunity? - David Brown
A Pop-up Sundial for Wroxton - David Brown, Graham Stapleton and Jackie Jones
An Interesting Slate Sundial by Griffith Davies, FRS - Sue Manston
Portable Dial in a Calendar Box - Mike Cowham
A DIY Garden Heliochronometer - Brian Huggett
A Standing Ring Dial by J. Sisson - David Hawker
The Esperance Stonehenge in Australia - John Ward and Margaret Folkard
Sundial on Mullachgearr Memorial, Mullaghrnore, County Sligo - Michael J. Harley
Old Sundial Books: A Survey by Mike Cowham and Fred Sawyer
14.09.17
---
---
Finding the sun in cloud.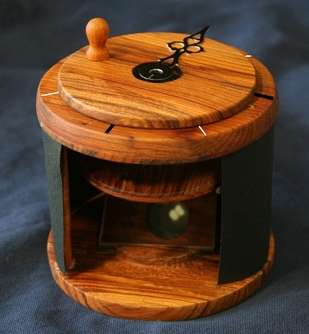 An interesting device was made in 2011 in the University of Rennes (France) by which the Vikings' ability to locate position of the sun on cloudy days may be replicated.
Click the image for an interesting article on this device which (as we now know) uses light polarisation with what the Vikings called a 'sunstone' crystal.. There are other interesting links there too on the same topic.
31.03.15
---
---

Rochester's New Sundial. That's Rochester in Michigan, USA of course and not Rochester Kent, UK.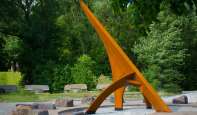 2017 saw the celebration of Rochester's bicentennial year, 200 years as a city.

To commemorate the event, they unveiled a sundial monument at Municipal Park, located behind city hall at 400 6th St. It includes materials such as reclaimed brick from the old Main Street downtown and stone from a Michigan quarry. The gnomon has a brown rusted look and is constructed of the same corten steel used throughout the old knitting mills of historic Rochester.

Twenty rocks made with reclaimed brick from old downtown Main Street encircle the gnomon; each weighing 1,000 pounds and representing one decade. Click on the image for a larger picture and More
18.10.17
---
---
---
---
Did you know?
Sundials made out of coffee cups? At one time the Eden Project in Cornwall processed waste plastic coffee cups to make and sell horizontal and vertical sundials! Sadly these are no longer available.

A Sundial in the British Passport? Since 2010, the current UK passport has used a number of background images on its pages. These are there to prevent counterfeiting of course but in an imaginative move they contain images of a wide variety of scenes. The Formal Park scene on page 20/21 is taken from the Italian Garden at Blenheim Palace and includes a close up of the sundial there (SRN 2183 in the National Register)! ►More

Sundials out of beer glasses? The Daily Mail reported recently on BSS Trustee Jackie Jones and her partner's design for a sundial made from a beer glass.
Another Beer Glass Sundial - though made in Switzerland - is available for purchase ►here.

Make your own sundial? You can easily make a sundial that is far more accurate than many available from garden centres using materials you can probably find in the home. It has the potential to be accurate to the minute. You can use our sundial anywhere in Europe or the US, and you can even set it to tell summer time.
---
---
Historic sundial back at Ipswich's Christchurch Park after nearly 100 years. An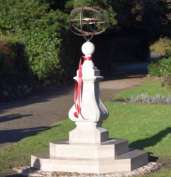 historic sundial has been restored to its former glory – and has now been dedicated to author and historian Dr John Blatchly. The armillary sphere was previously in the Christchurch Park arboretum way back in the early 1920s, but it fell into disrepair and was moved to the back of Christchurch Mansion.

After decades at the back of the mansion, a dedicated fundraising project was launched by the Friends of Christchurch Park in June to bring it back to life. See the story here

08.01.17
---
---
A really historic sundial designed for and used in Manchester's Liverpool Road Station. This is the world's oldest surviving railway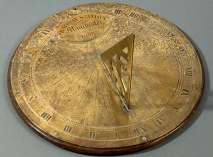 station and the world's first railway warehouse; now restored and serving as a museum.

This sundial was made in 1833, only four years after the purchase of land for this Manchester terminus of the Liverpool & Manchester Railway (L&MR) and still years from the eventual introduction of mean time.
Click on the image for a larger view. The dial measures 53 cms diameter and the gnomon is some 28cms high.
25.08.15
---
This Month's Dial of Interest This time we have a private image of the famous 'portable'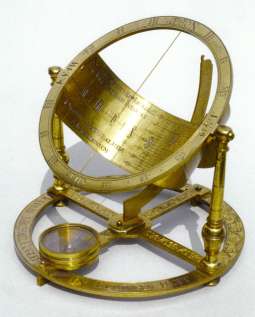 equinoctial dial held in the National Maritime Museum and executed by Johan Michael Uogler of Ellingen. It covers the full range of Northern latitudes and is set with its own compass and a scratched value of the then current magnetic declination. The hours are marked VI-XII and I-VI and a scale for the equation of time at noon is displayed as a figure of eight in the centre. A zodiacal scale is provided too. A brass wire carries a small bead at its centre whose shadow at midday yields the declination and the equation of time. A wonderful dial. Click on the image here for a larger version or of course go the NMM link for even more information.
24.11.17 (Image courtesy CStJH Daniel)
---
The Siberian Times: Reports of a spectacular 'UFO'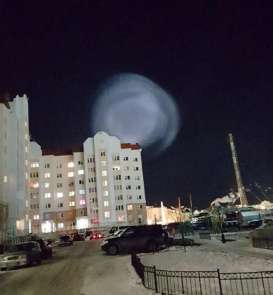 The Siberian Times reports a giant glowing ball lighting the sky – in Siberia.

There were fears from locals of 'aliens arriving', but there is a surprising explanation and, yes, there was indeed an unusual object in the sky.

There is more here
29.10.17
---
'Know Thy Time' - Heiner Thiessen's 'Chime Dial'. This sundial was inspired by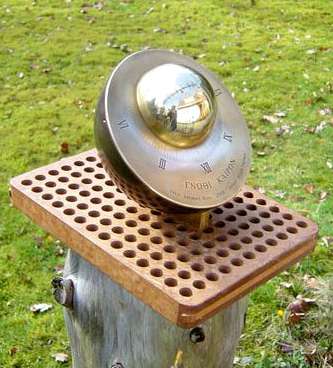 attempts to mark solar midday by an acoustic signal, as happened with the noon cannons of the early 1600s - though using rather more modern technology.

This is effectively a solar alarm clock! Turn the small hemisphere to the time of your choice and (if the sun shines at that time) the dial will chime.
Read Heiner Thiessen's 2010 article on this dial and also Tony Moss's description of how he constructed one of these dials. The article is here
05.08.17
---
Obituary: Richard Mallett It is with very great regret that SunInfo has to

announce that Richard Mallett, former BSS Trustee, Council Member and experienced Webmaster for the Society, died on Nov 7th 2016. His funeral was held at St Mary's Church, Eaton Bray, on Monday Dec 12, 2016. Our sincere condolences go to his cousin, family and friends.
Read our obituary for Richard here.
11.12.16, 12.12.16, 20.12.16
---
The December 2017 edition of the BSS Bulletin is now available to Members.
In this edition:
A Quality Dial by Joshua Springer - John Davis
The Chord Rediscovered - Graham Stapleton
Sundial-Themed Products from Red Bubble - Frank King
Sundial Restoration at St Mary's Church, Mentmore, Bucks - Ian Butson
Two Unusual Eighteenth-Century Sundials - Sue Manston
William Lumb of Swillington: Schoolmaster, land surveyor and dial designer - John Davis
Newbury One-Day Meeting, 23 September 2017
In the Footsteps of Thomas Ross. Part 21: Pencaitland Parish Church (and Bowden Kirk) - Dennis Cowan
A Trip to Southern France - Mike Cowham
A Pebble Dial by Greg McDonough - Frank King
Frank Evans— Obituary - Tony Moss (Read our obituary to Frank here)
Two Scottish Harbour Dials - Alan Mitchell
12.12.17
---
An Unusual Birthday Sundial. Back in 2012 Christopher Daniel took a commission to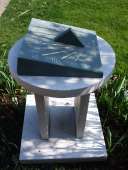 design a sundial for the husband of a friend on the occasion of the husband's 40th Birthday. It was to a very tight timescale yet nevertheless the outcome was not only a success but it also culminated in a very unusual inclined horizontal dial with some additional features of interest to all diallists.
Read about the commission in this edited account of Christopher's subsequent article which was first published in the BSS Bulletin here.
11.04.17
---

A West Side Story? In 1998 Christopher Daniel MBE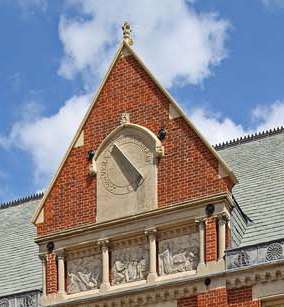 wrote an article for the magazine of the Old Boys of Highgate School in North London. It described the background to their most elegant vertical West declining stone dial which is set above the main entrance. Read the text of the article here
19.11.17
---

The March 2018 Edition of the BSS Bulletin is published.
A Gamble that Paid Off: A Horizontal Dial by Chadbum Bros, Sheffield - John Davis
How are the Mighty Fallen - David Brown
Andrew James: Master of the Worshipful Company of Clockmakers – Frank King
In the Footsteps of Thomas Ross Part 22: An Aberdonian Triad - Dennis Cowan
Introducing a New Mass Dial - Frank King
New Life for an Old Calendar - John Foad
A Wine for Diallists? - Jackie Jones and Rob Stephenson
An Illustration of Serendipity: the Relocated Detroit Sundial - Frank H. King
New Sundial Unveiled - Michael J. Harley
The Riddle of the Tower - Anthony Capon
A Second DIY Garden Heliochronometer - Brian Huggett
The 2017 American Eclipse: Postscript - Frank King
String Gnomon Dials - Mike Cowham
08.06.18
---
---
The Formal (Re) Dedication of the Territorial Sundial on the Washington State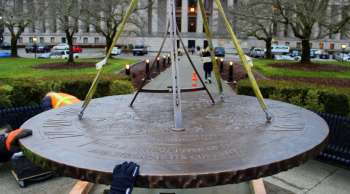 Capitol Campus (USA) took place on January 30th 2018.
The Territorial Sundial is located between the Legislative Building and the Joel Pritchard Library and it has been restored and placed back at its original location after being taken to Seattle for repairs for the past 6 months. The restoration work included making a new stronger gnomon, a replica of the original with improved attachments. Repairs have also been made to the face of the sundial and other improvements to the mounting. Read more here
22.01.18
---
Tried LightTrac yet? - a useful App for iPhone, iPad, iPod Touch and Android. LightTrac calculates and plots the angle of the Sun and Moon on top of a map, for any location. Pick any day and time and visualize the position and elevation of Sun and Moon for any location and much more. Useful for judging sites for dials. See it ►here Interested in some other dial related Apps?
For the iPhone? Try: LunaSolCal or Pocket Sundial
For Android devices? Try Sol Et Umbra (SEU). It can be downloaded through the Google Play Store app.
---

Retrograde Asteroid Discovered Asteroid 2015 BZ509 had already been revealed as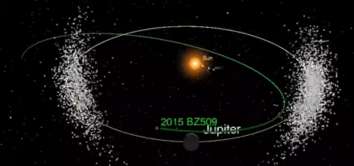 having its origins in another star system but it is now thought to be a permanent member of our solar system. The 'visitor' is about 3km across and was first spotted in late 2014 by the Pan-Starrs project at the Haleakala Observatory in Hawaii. Experts quickly realised that the asteroid travelled around the sun in the opposite direction to the planets – a retrograde orbit. Additional studies now show that it has probably been in this stable orbit for 4.5bn years and the discovery of a body from another star system in the midst of the solar system is quite extraordinary.
More here.
22.05.18
---

Ancient stone calendar hidden for 900 years. Archaeologists suggest that a slab of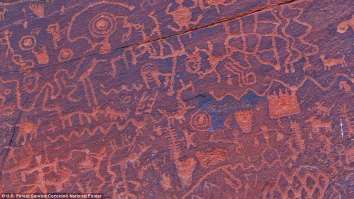 sandstone in Arizona's Verde Valley may have served as a calendar or as a clock hundreds of years ago, marking the passing seasons and the onset of important agricultural periods by the position of the sun.

Roughly 1,000 petroglyphs were carved into the rock as far back as 900 years ago by the Southern Sinagua people. As the sun's position in the sky changes, the light and the shadows cast by features in the rock line up with specific images that each hold agricultural or ceremonial significance. More can be seen about this here
19.05.18
---

The Dial of Ahaz December 2017 marked ten years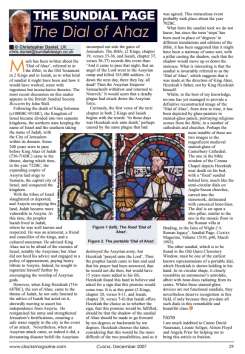 since Christopher Daniel wrote his article covering the mystery of the Dial of Ahaz in his then regular column of 'Clocks Magazine'.
Read the article for yourself Here and see what some others have concluded about this ancient mystery.
20.10.17
---

BSS Newbury 2018. This annual one day meeting, open to all not just BSS Members, will take place TODAY Saturday 22 September 2018 from 9am to 4pm at Sutton Hall, Stockcross near Newbury RG20 8LN. No entry fee but a door donation of £10 is suggested to cover expenses. Rough Programme:
Morning: Informal gathering and display of exhibits, Bookstall, Short 10-minute talks from 10:00 am.
Bring a picnic lunch and chat with friends indoors or in the lovely grounds. Hot and soft drinks provided.
Afternoon: Further short 10-minute talks/chats. Tour around all exhibits. More information from David Pawley.
09.09.18
---
NOW ON MARKING TIME; A JOINT EXHIBITION BY TIM CHALK AND SASKIA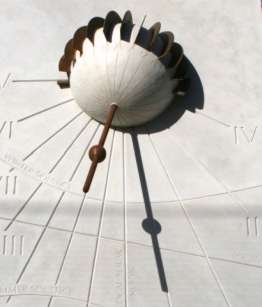 GAVIN. "Marking Time" is an exploration of the passage of time through artworks, some overtly measuring time, others expressing different experiences of it through the medium of sculpture, drawing and jewellery.

Mark your diary for 'Marking Time' - NOW! In the meantime click on the image here to look at Tim Chalk's website

21ST - 29TH SEPTEMBER 2018; At the DUNDAS STREET GALLERY, 6 Dundas Street, EDINBURGH EH3 6HZ.
---
A 'Mayan style' projection sundial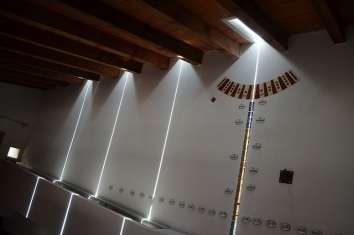 Courtesy of an article on the NASS website we learn that Ruben Nohuitol of Queretaro, Mexico has built his own solarium which he calls his "cosmic room" to observe the rays of the sun throughout the year.

Have a look at his extraordinary website he

re. There are several other pages of intriguing displays to look at too.

27.09.17
---
Way back in 1991 The UK's Cumbrian sundial super-sleuth Robert Sylvester first recorded the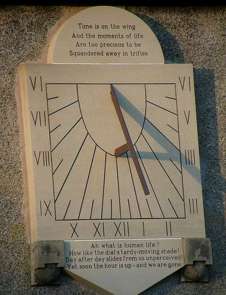 18C sundial at the Parish Church of St Mary's Church in High Hesket, It was designated SRN 1006 in the National register. By then the 700x800mm sandstone dial had split, was missing its gnomon and it had been removed from the wall and placed in store. Then, on Saturday 2nd April 2005 a replica was rededicated by the Rev. Beth Smith after a three-year restoration project by members of Hesket Local History Group. The dial is notable for its two lengthy mottoes.
Have a look at it by clicking on the thumbnail here.
Photos Trevor Harris, CC BY-SA 2.0, https://commons.wikimedia.org/w/index.php?curid=13691987
20.05.17
---
The June 2017 BSS Newsletter reports a concern about declining society membership, about

how the Society might use social media to advertise itself and about the possibility of establishing an online discussion forum. Since publication of this Newsletter SunInfo has been contacted by several members and former members to express their surprise since every one of these issues was comprehensively discussed by Christopher Daniel's council way back in 2011, a summary of ideas to remedy a reducing membership was then given to the current council when they took office but from the information so far received, it appears that little or none of these has been considered let alone have any of the solutions been enacted in the intervening years! More than that, the 2011 social media implementation of the Society's Facebook page has never been updated for over four years and, guess what? its designer had already built in a discussion forum and even made provision for future advertising facilities none of which have simply ever been tried, let alone used. Indeed former trustees recall that the concept of using Facebook for any sort of advertising was specifically abandoned almost from the time the present council took office - despite the easy way costs for it could be limited.
Perhaps then, it's little wonder that these five (or so) years of council inaction on such well understood and well documented issues have finally led to today's problems? Maybe the Society would be better placed now had other circumstances prevailed?
22.07.17
---
Nearly one year on... It's now coming up for one year since Dudley Council reinstated a long
lost sundial which went missing from Stourbridge town centre in the 1980s and which was unveiled at its new home in Mary Stevens Park on the 10th October 2016.
The sundial, which had been erected in a small public garden next to the town clock and market hall by King Edward VI Grammar School in 1952 to mark the quarter centenary of its charter, became damaged before disappearing from the town. It is presumed that the sundial was removed in the early 1980s when the garden was replaced by the Crown Centre shopping development. It's a pity that Medway Council in Kent cannot do likewise with Christopher Daniel's wonderful Nelson Dial which has been so ignorantly removed from the town centre of Chatham. Dudley's council are indeed enlightened, and are to be congratulated. Medway Council most certainly are not.
04.09.17
---
Christopher Daniel's 1981 Trigon! A real discovery this!! Way back in 1981 BSS President
Christopher Daniel MBE drew out for himself a very simple design for a Trigon.
Such devices were used long ago to lay out sundials on any fixed surface and they are useful when the surfaces are not as accessible as one might wish. Modern versions usually make use of theodolite mechanisms and a laser but such isn't necessary. This hand drawn diagram explains the theory and demonstrates the use of this device and all on one page too!
View the page here - or click on the thumbnail.
01.03.17
---
Charity Commission confirms Donors' Rights. In February 2017 and as a part of a public

response, the Charity Commission of England and Wales issued a concise summary of the duties of charities in respect of their activities and, more importantly their accountability to donors, beneficiaries and indeed the public. The short summary says:


It is important that the financial activities of charities are properly recorded and their financial governance is transparent. Charities are accountable to their donors, beneficiaries and the public.
Donors to charity are entitled to have confidence that their money is going to legitimate causes and reaches the places that it is intended to. This is key to ensuring public trust and confidence in charities.

SunInfo much welcomes this important statement and all the policies that now lie behind it behind it, not least those in respect of the operation of the BSS Library which - after suggestions that it should even be closed - has only recently been subjected to significant concerns as to its long term viability.
22.02.17
---
Here's an interesting Cumberland sundial

Hidden away in the West Lakes is this gem that is very well preserved. Not only that but it appears to be one of only two existing dials made by Chadburn of Liverpool - Optician to Prince Albert no less - and it is mounted on a quite extraordinary pedestal.
Just take a closer look here and judge for yourself.
31.07.17, 12.09,17 [Images © Robert Sylvester]
---
Penrith's Unusual Sundial In a garden near Penrith stands an elegant octagonal sundial

which at first glance looks as if it is simply an example of a pleasant well made sundial mounted on a rather unusual tapered stone pedestal.

Closer inspection however shows that it is anything but ordinary.

See more about this most unusual sundial here

19.08.17, 12.09.17 [Images

© Robert Sylvester]
---
The Moorish Dial. The origins of the sundial are lost in the mists of antiquity; but there is no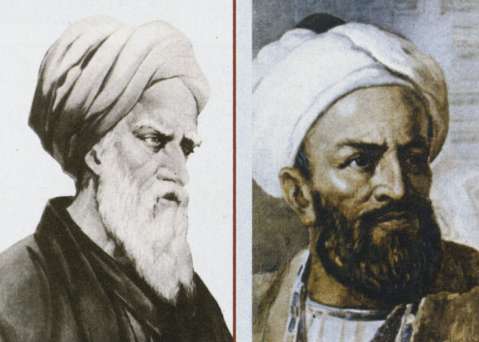 doubt that the very earliest civilisations made use of the shadows of objects to gauge the time of the day and the season of the year. In 2008 Christopher Daniel published a page in Clocks Magazine about the Arabic Origins of the Scientific Sundial.
There were many bright stars in the glittering Arabian firmament of science and art; but these were perhaps the brightest of those most able to invent the scientific sundial.
13.08.17
---
Dr Frank Evans. At the end of 2017, SunInfo was sad to report the death of Dr Frank Evans, an eminent Marine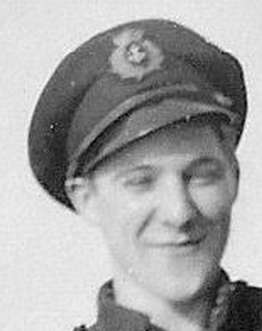 Biologist and a British Sundial Society member of long standing.

Frank suffered a stroke aged 91 whilst on his way with his daughter to go ice skating in North Shields.

An esteemed member of the British Sundial community, Frank was the life and soul of any party bringing as he did his own humour to any conversation!

Read our obituary to Frank here
13.12.17
---
THE FAVERSHAM DIAL
| | |
| --- | --- |
| | |
BSS President Christopher Daniel's latest sundial commission, a Noon mark on Faversham's Guildhall in the Market Place, was formally inaugurated by the Mayor at a ceremony at 12:45 BST on Wednesday 3rd April 2013. It was followed by a viewing of an exhibition at the Upper Gallery of Gallery Studios, 1 Abbey Street, Faversham of Christopher's extensive sundial works entitled
'Marking Time'. After the opening Christopher remarked to the local press that it was quite an honour for the town council to give him permission to paint a sundial on the Guildhall as, after all, it is a listed building. He wanted it to be something special to mark the Queen's Diamond Jubilee. The dial was painted by Simon Scamp, a local sign-writer and it was funded by local brewers Shepherd Neame as well as by a number of anonymous donors. See it installed here and (Courtesy of This is Kent) in 'close up' here. Some background to the construction of this dial may be found here. See Christopher Daniel's own article about the dial here.
NOW
See some images of the actual dial in situ at our SunInfo Photogallery
Here
---
In yet another strange decision the BSS Council announced that it was (astonishingly) consulting members over the possible abandonment of its Grants Policy. It was indeed later abandoned. Some say this was an action made before finding out why the policy was as it is. More on this here.
---
RHS Gardens at Hyde Hall are to be congratulated! An April visit to the gardens at Hyde Hall near Chelmsford in Essex, by one of SunInfo's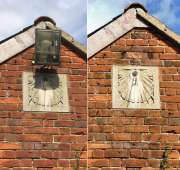 correspondents revealed that a floodlight had been positioned above the vertical sundial on the gable end of one of the out buildings there. See the photo on the left.
When this was brought to the attention of the management of RHS the problem was very swiftly addressed; the light removed and even two nearby mature trees that screened the dial removed also.
As can be seen in the second image, the sundial now 'shines in its own glory' once again.
Notification of the main problem to the final fix was accomplished in only 17 days! That really is amazing.
RHS Hyde Hall management are much to be commended.
SunInfo visitors might consider dropping in when next they are in the area - there's even more to Hyde Hall than just the sundial!
28.04.17
---
Remembering Andrew Somerville Andrew was born in Paisley. He studied Organic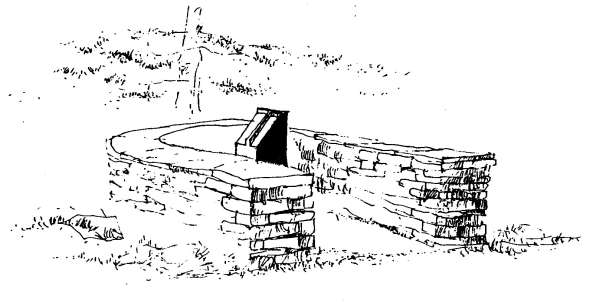 Chemistry at Glasgow University and worked on aniline dyes and later on cancer drug research.
He retired in 1982 and resumed his interest in sundials. His book on the elaborate Scottish sundials 'The Ancient Sundials of Scotland' is still an important work. It was under his guidance that the British Sundial Society was founded and he became its first Chairman. Sadly he died in 1990 aged 67, only one year after BSS's founding.
A memorial stone sundial was designed by Christopher Daniel, the Society's current President, twenty-five years ago this year and it's our pleasure to record that event as it was recorded in the Bollington Arts Centre Magazine of Autumn 1992.
15.11.17
---
Huddersfield's most popular rail attraction? Brian Taylor – who died in 2009 – will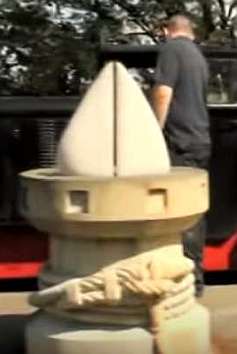 live on at Kirklees Light Railway thanks to the unveiling of a fitting memorial. The model steam vehicle enthusiast brought his hobby to life in 1991 with the creation of the railway at Clayton West. The line was first constructed to take passengers to Cuckoo's Nest. It was later expanded to Skelmanthorpe and then to Shelley where all journeys now terminate.
The Golcar-born man built all the locomotives and carriages for the three-and-a-half-mile route himself in his home workshop. To mark Brian's involvement, a sundial memorial has been unveiled by his widow on the platform of Clayton West station. It has a nautical theme of a windlass with two sails on the top, the gap between which allows the sun to shine a line over the dial face. The sundial was created by Shepley sculptor Dave Bradbury. Images here and here.
31.10.17 [Dial kindly reported by SunInfo reader Gerald Stancey]
---

Gianni Ferrari The Sundial Mail List today reported the death of Gianni Ferrari on the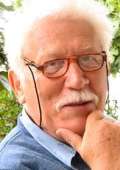 27th March 2019. Gianni's definitive contributions to dialling discussions raised over many years on the Sundial Mail List have contributed much to the education of diallists everywhere and have delighted them in equal measure. His book about Islamic sundials has been acclaimed by many as a masterpiece but it will surely serve as only one aspect of his amazing dialling legacy.
The gnomonic world has indeed lost a leader.

28.03.19 [Image©NASS and used with permission]
---
Andrew James

SunInfo is sad to have to report the untimely death in October 2019 of an experienced, accomplished and well liked British diallist, Andrew James FRSA HonMBHI. Born in Somerset, Andrew learnt from his father, before he went to school, that skilled hands could, with simple tools, transform raw materials into useful and beautiful objects.
After studying both Natural Sciences and Computer Science at Cambridge, he joined the Computing Development Department of the Central Electricity Generating Board and was soon given the task of creating software for a revolutionary new meter – the precursor of today's smart meters. He later spent 25 years as chief scientist for a meter manufacturer.
While never his career, horology always remained his true passion and from 2000 to 2016 he chaired the Wessex BHI Branch. Later he was elected to be the Master of the Worshipful Company of Clockmakers. He was installed at a special ceremony at Panter-Stainers' Hall, London, followed by a Thanksgiving Service at St James Garlickhythe Church.
Andrew combined a love of calligraphy and carved lettering with a strong interest in sundials, and with an interest in accurate assessments of the Equation of Time and, for the BSS Registrar, an invaluable interest in resolving the several uncertainties of dial recording not least the resolution of the long standing problem of whether or not there was a dial in Woolfardisworthy in Devon. After successive searches by BSS Members over several years had (almost alternately) found the dial or reported its loss, it was Andrew who discovered that almost unbelievably to mere mortals, there are two villages in Devon called Woolfardisworthy one with a dial and one without!
The Society benefitted from yet another of Andrew's hidden skills when he generated the then new index of Bulletin Articles. Later he won one of the Society's prizes for sundial design and construction.
Andrew will certainly be remembered as one of those few people who left this world better than he found it. He will be sorely missed.
14.06.20
---
David Young and Gordon Taylor
SunInfo is sad to report the recent deaths of two important British diallists.


David Young
who was a founder member of the British Sundial Society and during the early days with what might be described as an 'all hands to the pumps' regime, it was he who took on multiple roles at the same time being the first Secretary and the Society's first Registrar. He and his wife Lilli took amazing care of the fledgling society alongside Christopher Daniel at that time to the point that he would take time to visit and effectively interview potential members of the Committee that may have been proposed and had agreed to serve. David was a prolific reporter of sundials for the newly established Register, vying alternately (it then seemed) with Tony Wood as the two BSS Members who had arguably discovered the most dials in the UK. Always friendly towards new members he was supportive of any new ideas by which the society could be improved and so, perhaps unsurprisingly, he became highly critical after a new Committee took over following Christopher's retirement as Chairman, when he perceived a succession of mistakes in charity management. In later life David moved more towards his other passion, that of the history of his local area. David will be much missed by all his friends in British dialling.


Gordon Taylor
was another early committee member of the Society who provided much expertise and academic flair which materially helped the acceptance of a new professional Society and moreover one which was seeking to change the then habit of the National Trust in using dials as ornaments that could be moved from garden to garden. Thankfully and to the credit of the Trust, that was quickly corrected and today both the Trust and English Heritage are most vigilant in that regard. Gordon will be particularly remembered by BSS Members for his design of the first public Equiangular Dial in the UK and for his 1975 book on the topic. Designated SRN 1773 the dial was designed for the Royal Greenwich Observatory then located at Herstmonceaux Castle. After a temporary move to Cambridge the dial is now back there at the castle once again, as a fitting memorial to a memorable diallist. See more here

06.06.20
---
The Dial at Mackerye End is rarely seen since it is a painted stone declining vertical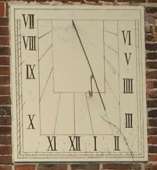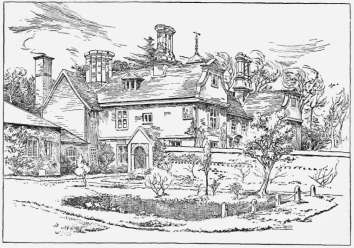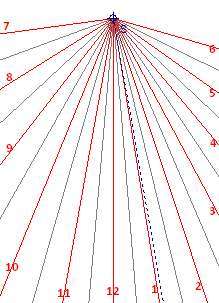 dial dating back to the 18/19thC and mounted on an end wall of the manor house, deep inside its own grounds. In truth it is not a particularly unusual dial though it does indicate time intervals down to 5 minutes and is well constructed. The images here also show a pre-WW2 drawing of the house - with dial in place and an approximate calculation of the dialplate using the declination of S13W established here by using Google Earth and the alignment of the roof line of that wing of the house. It shows a close correlation though interestingly, it is slightly different to the original - probably indicating that the actual wall on which the dial is mounted is not quite in line with the roof and in turn, there is a small difference in estimated declination! Such are the vicissitudes of 18thC architecture... Click on the images for larger versions.
03.06.18 [photo © CPowers, 2018]
---
The June 2018 edition of the BSS Bulletin is published.
A Singular Cross Dial in Moorfields - Graham Stapleton
In the Footsteps of Thomas Ross. Part 23: West Fife Sundials - Dennis Cowan
Some Early French Dials - Mike Cowham
Newly Reported Dials 2017 - John Foad
A Sundial Commission with a Circular Enoch Calendar - Alastair Hunter
Livery Schools Link Showcase Event 2018 - Joanna Migdal
Sundial at Hotel Casino Ridola, Matera, South Eastern Italy - Martin Jenkins
The Very Last Scratchings of an Old Bird - Tony Moss
Miniature Sundials for Some Wonderful People - Valery Dmitriev
A Sundial that Unites: Teddy Park Sundial, Jerusalem, Israel - Lupe Feria
North American Sundial Conference, St Louis, August 2017 - Geoff Parsons
BSS Photographic Competition 2017-18 - David Hawker
BSS Annual Conference: Norwich, 20-22 April 2018
A Dial Displaced by a Bridge: Dial Square, Norwich - David Payne
13.06.18
---
A Very Wet Sundial at Hatfield House! The sundial at Hatfield House in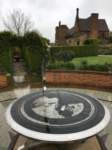 Hertfordshire UK was installed in June 2011 in the garden near the Old Palace. It was designed by William Andrewes of Concord, Massachusetts, USA and is shown here on a very wet Spring day!
In many ways a conventional sundial but there is a twist! The dialplate is made up of a gnomonic map with the location of the dial at its centre.

Explanatory plaques are arranged around the supporting pedestal and a selection of images of these and of the dial itself can be seen, though sadly not made very easy to read because of the weather at the time. More
15.06.18
---
A Real Victory for Science After an academic career of more than 30 years, Peter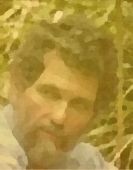 Ridd had his employment terminated as a professor of physics at James Cook University in Townsville, Australia. Peter had spoken out against the accepted orthodoxy that climate change was 'killing' the Great Barrier Reef. He was able to crowd fund his chance to prosecute the University by raising $AUS 250,000 in five days! Peter writes: "My lawyers have told me that the judge handed down his decision and we seem to have won on all counts".
Peter's court case has enormous implications for the international debate about climate change, and for the ongoing crisis surrounding freedom of speech in academia.
More here. Full Judgement here
16.04.19, 18.04.19
---
St Martin's Cathedral, Leicester has an interesting declining dial on its otherwise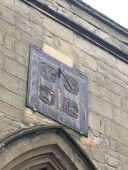 South wall somewhat to the right of the porch. The Cathedral is not built to the conventional E-W axis and the dial in fact declines approximately 15 degrees East. Designated in the BSS Register as SRN 0854, it is some 600mm square. Its Motto reads: "Coeli Enarrant Gloriam Dei". The dial displats solar time from 5am to 3pm in hours. Curiously no half hour markers or actual hour lines are drawn. The dial's design encompasses four squares around a small centre boss each with carvings clockwise from the upper left: angel, bird, winged ox, winged lion. There are some traces of gold infill. Click on the image for a larger version
16.03.19 Image © VL Thomson 2019
---
Maciej Lose invites you! You are invited to the SOL OMNIA REGIT sundial exhibition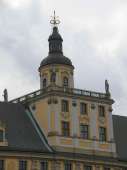 in Wroclaw, Poland. The opening ceremony will take place on the Day of Equinox, 20th March 2019 at 13:00 CET (13:01:29 solar time) in the Mathematical Tower of the main building of University of Wroclaw, 1 University Square. However the exhibition will remain open for about a year. Here there is the 1791 meridian line as well some 87 items on display
including dials by: John Allen, Robert Jole, John Rowley, Thomas Wright, William Deane (attr.), John Coggs, Samuel Saunders, Thomas Heath, Benjamin Cole II etc. More Here (then use Google translate to convert to your language)
11.03.19
---
The Famous Blackamoor Dial of Dunham Massey. This important

National Trust dial dates from 1721, is 450mm in diameter and is listed by Heritage England as "Early C18 and is thought to be either by Van Nost or by Carpentiere".

Stone with a bronze dial. 2-step stone base with nosings on which is a kneeling African figure clad in leaves carrying the sundial above his head. Nat Grid Ref: SJ7350787376. Thought to be one of five such original figures only three of which are known today.

Click on the image here to see a few close-ups of this now (sadly) very corroded dial which nonetheless can still (just!) be used to tell the approximate solar time.
16.02.19 (© VL & M Thomson, 2019)
---
New H.E. record for a pedestal at Wardley Hall. Here's a Valentine's Day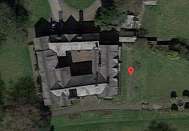 present for those interested in dial pedestals! An Historic England list entry discovered by SunInfo on 14-Feb-2019 describes a pedestal (sundial shaft), now forming the base of a table. C18. Stone. Bulbous stone baluster with moulded head and base. The dial has been replaced by a stone table top probably during the C19. Listing: NGR: SD 75787 02185.
Not often a pedestal gets listed without the dial! Can anyone send in a picture of the pedestal that we can publish? Click on the picture for Google's locational image. (©Google Inc)
14.02.19
---
Further Dial Development Planned at Luton Hoo The ever popular

2013 analemmatic sundial at the Luton Hoo walled garden is to be partially relaid and better marked out during the off season of 2018/19 so as to be ready for the good weather next year.
It will be recalled that In 2013 the octagonal Luton Hoo Walled Garden celebrated the tercentenary of its builder - the 3rd Earl of Bute. An eminent scientist of his day (though a particularly unpopular Prime Minister!), it was he who, in the 18thC, had been instrumental in the establishment of Kew Gardens. As a part of the celebrations for this tercentenary celebration, an analemmatic dial was commissioned and largely constructed by the Garden's own team of volunteers.
However, what had basically been a straightforward dial delineation task ended up uncovering an extraordinary fact. The garden is nearly aligned to the sunrises and sunsets at the solstices and equinoxes of its location - and it is not clear why!
Read about the Earl of Bute and how, with 'Capability' Lancelot Brown, he moved his original walled garden from near the river up no less than 200 feet to the top of a hill, arguably to the most inconvenient location on the estate for a huge five acre garden and one that requires similarly huge amounts of water.
Bute combined his interests of botany, astronomy and philosophical instruments all of which appear to be significant in the concepts behind the walled garden. Why was it built like this? It looks like it was the appeal of exotic soft fruits!
Read about it all here.
07.03.17, 30.11.18
---
RA (Nick) Nicholls SunInfo SunInfo is sad to have to report that former Trustee and meticulous Treasurer of the British Sundial Society, Nick Nicholls died on the 2nd October 2018. He was aged 92. Nick was a Civil Engineer by training who brought the welcome discipline of an engineer to the management of the young and developing Society. He was BSS Member No.47 and he joined the other founding members as the first formally defined Treasurer. He also contributed much in the founding years when the Society struggled to advertise itself and somehow managed to fund and publish the first Bulletins. These were the years before the internet when information about basic dialling was very scarce. The early Bulletins were vital to recruit solitary diallists from their isolation and those who wanted to learn more about sundials. A lovely man with an equally lovely, dry sense of humour, Nick will indeed be sorely missed.
A fuller obituary is here
10.10.18, 26.10.18
---
The September 2018 BSS Bulletin is published:
On the Origins and Meaning of a Sundial Centre Panel - Anthony Turner
Sundials at the Chelsea Flower Show - Douglas Bateman
A Couple of Cumbrian Dials. Part 1: The Ambleside Dial - Sue Mansion
Butterfield Dial Gnomons - Mike Cowham
In the Footsteps of Thomas Ross. Part 24: The Carberry House Sundials - Dennis Cowan
A Couple of Cumbrian Dials. Part 2: The Penrith Dial - Sue Mansion and John Davis
The British Sundial Society's Library - John Wilson
The Mystery of the Lumbutts Sundial - Robert Sylvester
Holiday Sundial: Ahakista, West Cork, Ireland - Peter Meadows
Ian Wootton (obituary) - Douglas Bateman (link to SunInfo's obituary of Ian)
John Wright of London and Bristol: The beginning of the scientific instrument trade in Bristol - John Davis
Sundial at the Friends' Meeting House, Brant Broughton, North Kesteven - John Wilson
The 'Ingenious Beilbys' and a Dial Made in Bristol - Kevin Fuller
18.09.18
---
The History of UK Summertime/DST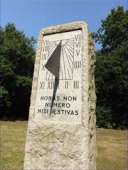 In 2016 the BBC broadcast a programme describing how Britain introduced Summertime (daylight saving time) 100+ years ago – a move that was quickly followed by countries worldwide.

A quarter of the world now use DST. Like it or not, there's a persistent British campaigner you can thank.. He came to be supported by Winston Churchill and Sir Arthur Conan Doyle too.

Read about the builder from Chislehurst who changed the world! And why his sundial memorial is in a clearing of Petts Wood.

01.09.18
---
A Sundial Missing in Zimbabwe... Imagine, if you will, the interest to a sundial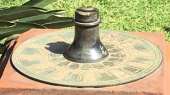 enthusiast when this was spotted in the formal gardens of an hotel near the Victoria Falls in Zimbabwe. Then imagine discovering that the company who made it is still in existence in London yet they have no records of it. A real mystery.
Read a bit more about this intriguing puzzle here. Do let the webmaster know if you have any information about what must have been a very well made equinoctial English sundial.
07.07.18
---
Barnwell sundial 'stands the test of time'. On a bright, sunny day outside the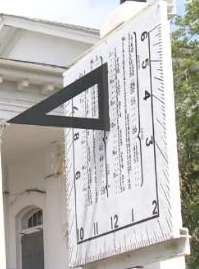 Barnwell County Courthouse (that's in South Carolina, USA) there's no need to check your watch to know what time it is. It is said possibly to be the only 'free-standing' vertical sundial left standing in the USA - can this really be? Installed in 1858 after it was given to the county by State Senator Joseph D. Allen it has recently been restored.

It includes an EoT correction table and is additionally unusual to British eyes in having Arabic numerals viewed from the inside of a vertical dial.
Read more about this recent restoration.
03.07.18
---
The Clifford A. Phaneuf Environmental Center in Springfield's Forest Park, Mass,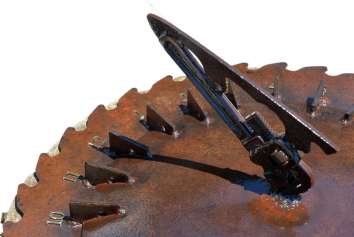 USA dedicated a new sundial built by artist James Kitchen and commissioned by the Edward Peck family in memory of Ruth Mahoney Peck who shared a great love for the park. The dial is fabricated in steel using a skate blade as the gnomon and a saw blade as a base. It was declared 'open' on June 21 2018.
More photos, Short Youtube clip
04.07.18 Marking Independence Day
---
Astonishing Neolithic Clay Disc from E Jutland appears to record 2 stages of a full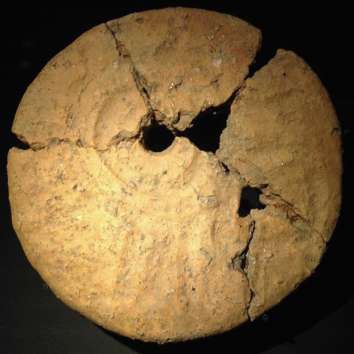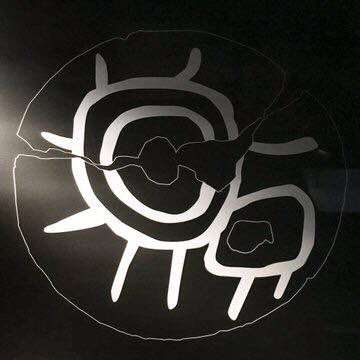 solar eclipse on 5 May 2789 BC. Dr Oosthuizen (Reader in Medieval Archaeology, University of Cambridge) suggests the sun is the larger circle, its rays radiating out like a child's drawing; the moon approaches it from bottom right, & then moves in front of the sun - all as per the diagram.... Click on the images for slightly larger view.
But, might this be akin to one of the Los Millares multi-sun artefacts known from Andalucía, Spain, which appear to be connected with the visibility of the constellation Orion and the time of deer rutting? What do you think?
28.05.18
---
The Website Devoted to the Burlingham Walks Sundial Trail in Norfolk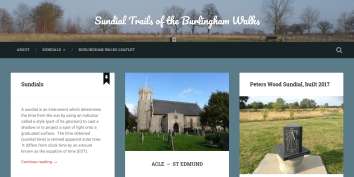 is now operative and may be seen here.
A map of how to look round the seven sundials (and some mass dials on the church) is provided and the whole is accompanied by a series of photographs.
Well worth a look. Click the link above or on the image here to visit the site.
26.04.18
---
Happy Birthday, Sundial Atlas! The Sundial Atlas was started 8 years ago, on April 25th 2010, and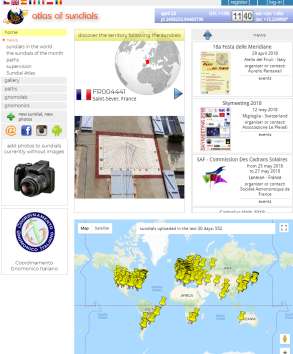 today it has a new look with new software, renewed graphics, a new faster server and several new features.

There is a guide for users (home page, click 'Sundial Atlas' on the left, then click 'logo & guides').


Find The Sundial Atlas at http://sundialatlas.net or click the image


25.04.18
---
'Unrecorded' dial discovered on the BSS Conference coach tour.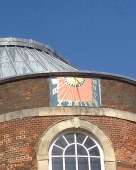 This year's BSS conference reinstated the earlier practice of a coach tour of dials and by all accounts it proved a success, not least because a dial was spotted by one of the delegates which seems to be unknown as far as the UK National Register is concerned! The dial is located high on St George's Theatre in King Street, Great Yarmouth. It is a West declining dial painted in bright colours. Click on the image here for a closer look.
27.04.18
---
The Craigdarroch Dial - found under a bush!
A dial dated 1777 has been found hidden under bushes in an overgrown garden in a small village near Inverness. Known as the Craigdarroch stone after the place where it was found, it was recently restored by Macmillan Hunter Sundials of Edinburgh. It carries the remarkable motto "Each one that reads remember ye the time that is no more shall be."
Read a little more about the dial HERE

21.04.18
---
The Sundial, Lichfield Cathedral, Staffordshire. This sundial, previously located near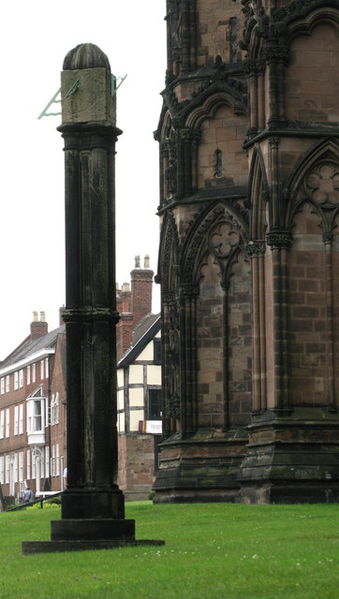 the South door of the Cathedral was removed in 1781 and re-erected in 1785 at the West end to regulate the clock on the tower.
It was removed again in 1881 and passed into private hands but it was returned to the cathedral in 1929 and put on a pedestal in its present position south of the nave.
It takes the form of a cube dial with gnomons and time scales on each face.
Photo 2009. © David Rogers / Cathedral Sundial, Lichfield

20.04.18
---
A Roman Sundial dating to the 1st century B.C. has been found in Interamna Lirenas, Italy. It was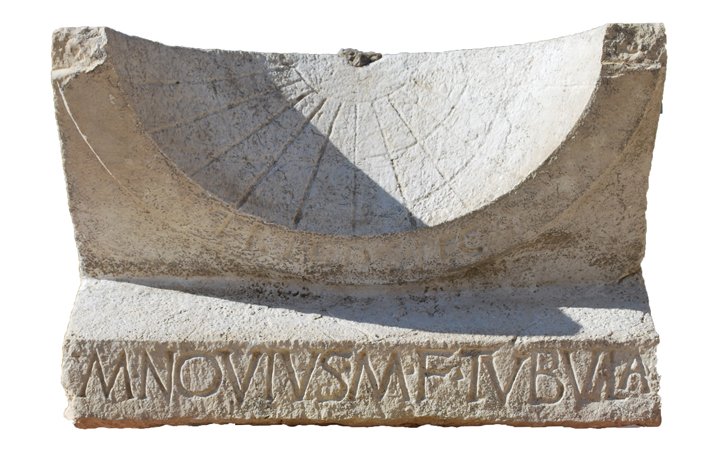 commissioned by a man named Marcus Novius Tubula to celebrate his election to the office of tribune of the plebs.
He had his name inscribed on the base of the sundial, and paid for the whole thing "De Sua PECUNIA," or with his own money.
The dial is in astonishing condition and is complete with its inscription - a rare find indeed.


06.05.18
---
The Slate Sundials of Joseph McNally. The slate dials of Joseph McNally are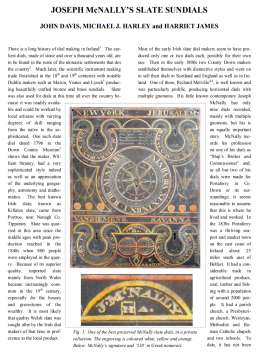 delightfully pictorial and they add to a long tradition of slate dial making in Ireland.

Read this excellent article from the BSS Bulletin by joint authors John Davis, Michael Harley and Harriet James which is available to read on the web courtesy of Flowton Dials.
The article may be read HERE.
14.04.18 [ EU C-466/12]
---
The Queen and Sir David Attenborough saw the funny side when they came across a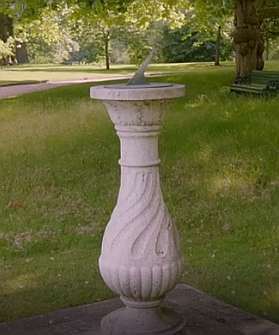 strangely placed sundial in the grounds of Buckingham Palace.. The dial, once placed in a suitable place now rests in the shade of nearby trees.
The scene is from a forthcoming BBC documentary, The Queen's Green Planet, to be broadcast in the UK on ITV at 9pm on Monday 16 April 2018.
We read on 13th April that the dial has already been resited!
10.04.18
---
Howard House sundial restored at last. One of Norwich's most significant historic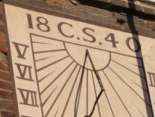 houses has been restored at last. The Grade II* listed Howard House had stood empty for more than 25 years and it had even been designated as at risk owing to its deteriorating condition. But after the restoration, its roof and external facades have now been carefully repaired and restored.
Howard House, on King Street, dates from the late 16th century and originally was owned by Henry Howard, Duke of Norfolk. The picture shows the West declining 1840s sundial as it is now following the restoration. Click on the image for a larger version..
10.04.18 Images © Orbit
---
There is a wonderful dial in the gardens of the moated manor house 'Menkema Manor',
in Uithuizen, Holland 53.4°N, 6.7°E. Information sent to the Sundial Mail List courtesy of Frans Maes tells us that it is an elaborate multiple dial, dating from 1722. The base is formed from two stacked cubes, one rotated by 45° compared to the other. Each side of the cubes has a vertical dial, though the gnomon of one has been wrongly aligned..

The gilded head is surmounted by a twelve-pointed star. The edge of each point serves as the style of a small polar dial, the dial plate of which is split over the two adjoining sides.

Then on the top of this astonishing dial, there are two equatorial dials, on the top and on on the bottom faces of the star. Altogether, this sculpture carries 34 dials. More pictures of the dial thanks to Frans Maes and The wonderful moated manor house (image courtesy Gouwenaar - Own work, CC0, https://commons.wikimedia.org/w/index.php?curid=14840961)
22.03.18
---
The Rousham Sundial is February's dialling 'find'. A lovely small sundial by Dolland set in
a wonderful garden designed by William Kent in the 18thC.
Rousham remains one of the few gardens of this date to have escaped alteration, with many features still to be seen such as the ponds and cascades in Venus's Vale, the Cold Bath, the seven arched Praeneste, Townsend's Building, etc, etc
There in front of the dovecote - or more correctly, the pigeon house - stands a lovely horizontal sundial by Dolland which is registered with the British Sundial Society as SRN 5989. See a few images here
31.01.18
---
The Cannon Bridge House Sundial - Revealed!! This is rather a hidden gem in London.

Part of an immense Roof Garden that once was open to the public this is now a private garden - about an acre in area!
When open it was available for hire for events in London but now it is sadly closed and only very rarely available to view.
SunInfo has however been able to obtain a few photographs of the garden and - more importantly of the dial - and these may be seen by clicking on the image here or on our link to our Cannon Bridge House page. A rare opportunity to see this particular dial - and one by a relatively unknown modern maker too! Can you help identify the maker?
28.01.18
---
Why not Join our Mail List? We don't send out many mailshots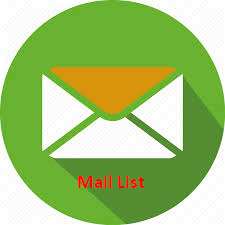 from SunInfo but they can be a useful reminder for a number of interesting Sundial matters. New EU regulations mean that unless you have explicitly given us permission to receive mailings from us, future newsletters will not be sent to you. By sending us an email to Yes@ppowers.com (it doesn't even need a subject or any content!) you will give us us your permission and we shall include your email address on our mailing list from now on. SunInfo Privacy Policy.
Make sure to email Yes@ppowers.com today!!
15.05.18
---